Discover the Kia Seltos X Line: Price, Mileage, Performance, and Comfort – Full Review
The Kia Seltos X Line is a premium variant of the popular Seltos SUV, featuring a sporty design, luxurious interiors, and advanced features. This SUV offers impressive performance, great fuel efficiency, and comfortable rides. In this full review, you'll find all the details about the Kia Seltos X Line, including its price, mileage, performance, and comfort features.
The Kia Seltos X line is the range-topping trim level. Kia's success in the Indian market can be attributed in large part to the popularity of the Seltos, a compact sedan. It's safe to argue that the Seltos is Kia's trump card in India.
In reality, Seltos is an excellent compact SUV that comes loaded with numerous premium options at a reasonable price. Even so, Kia provides commendable service and consistently grows its presence in the region. The full review of the brand-new Kia Seltos X-line will begin right now.
Kia Seltos x line exterior
The new Kia emblem is prominently shown up front. Matte graphite paint complements Kia's iconic tiger-nose grille, while the glossy black diamond cut design around the grille strip adds a sporty touch. The arching LED light bar and pulsing LED DRLs found here are the crown jewels of LED type headlamps. This small SUV has a lot going for it in terms of aesthetics.
You also receive beautifully crafted LED turn signals and fog lights in the style of an ice cube. The fog light housings on this X-line model are finished in a sleek piano black. You will receive a skid plate in piano black with a stripe of sun orange.
The fresh paint job and 18-inch alloy wheels significantly improve the side profile. The automatic folding and adjusting outside mirrors (ORVMs) with a piano black finish are also included. Formerly, the back grille and logo were both offered in chrome, so the logo did not stand out as much. Nevertheless, with the new black piano finish, the new Kia logo is hard to miss.
Classic blinkers and LED taillights with a heartbeat pattern are included. The dual muffler design on the bumper gives the vehicle a more aggressive appearance. A skid plate in piano black with an orange stripe is included as well. Shark Fin Antenna is installed on the roof.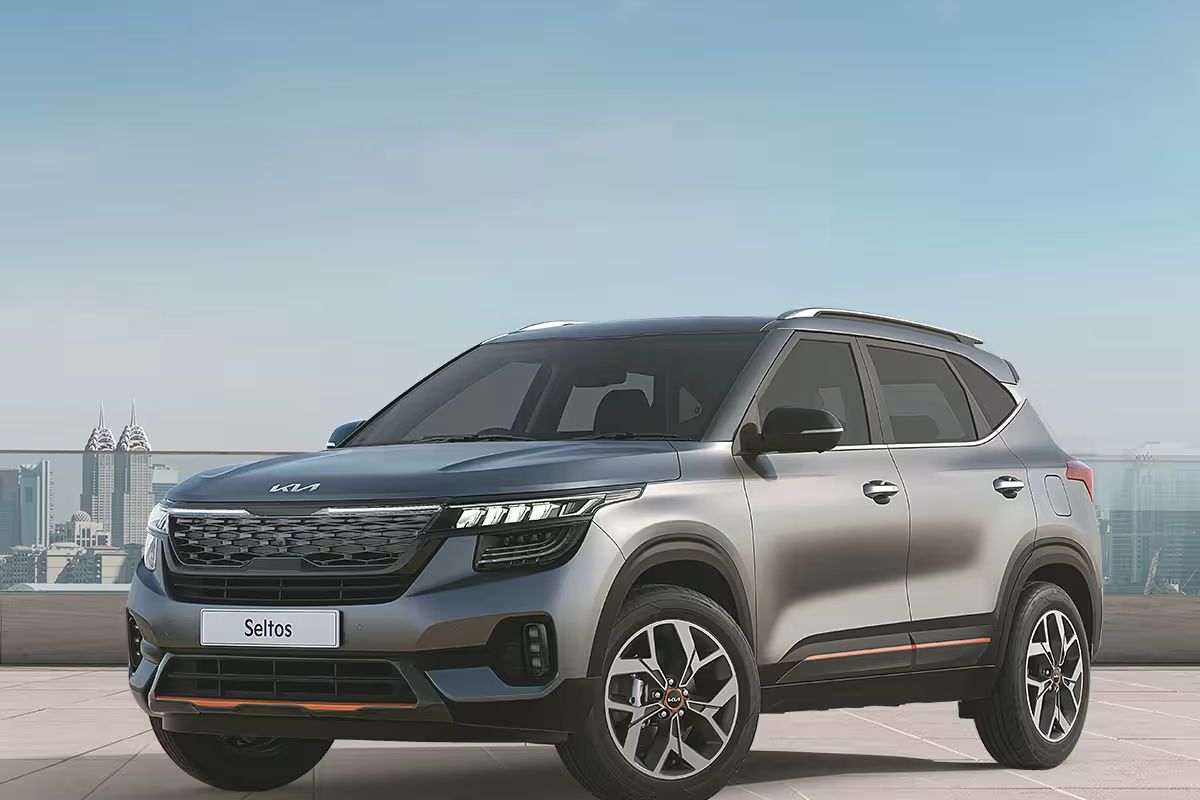 Kia Seltos x line interior
The cabin is so comfortable that you won't want to get out of the automobile. The indigo Perra color scheme is complemented by grey and silver accents. The Honeycomb pattern on the Indigo Perra leatherette is a nice touch.
Be comfortable behind the wheel of your Seltos with the help of the electric power D cut steering's tilt and telescopic feature. The dashboard is attractive, and the 10 inches display is both spacious and brilliant. The use of leather and other high-quality materials all over the interior gives the automobile an air of sophistication.
There is mood lighting, automatic climate control, rear air vents, a push-button start, and front and back USB charging connections.
Kia Seltos x line space
The front seats of the Kia Seltos are high-quality and comfortable, with enough of space for your legs and a solid backrest. The seat may be adjusted electrically in eight different ways. Ventilated seats are available for the driver and front passenger.
There is a deep storage compartment between the two seats, additional storage in the armrest box, and a dedicated spot for your sunglasses. You can put your water bottles in either of the door pockets.
There is plenty of space for your legs, knees, and head in the back seats. The Kia Seltos's second row can comfortably fit 2 adults and 1 child, but three adults will also fit if necessary. A rear center armrest and cup holders are also available. This vehicle's rear seats recline in two positions and split 60:40, making long trips much more bearable.
This automobile has the largest trunk capacity available at 433 liters. So much of your baggage will fit comfortably in there. You can stop stressing over taking a weeklong vacation.
Kia Seltos x line drive experience
The new Kia Seltos x series is a delight to operate. There is zero lag in the transmission regardless of whether you choose the gasoline or diesel engine. Both the gasoline and diesel versions are fantastic, but the gasoline model equipped with a dual clutch transmission (DCT) comes out on top.
Although while Kias typically have more rigidly tuned suspensions, the larger wheel diameter of 18 inches muffles the effect. Road-noise, tyre-noise, and engine noise will not enter the Seltos's cabin because the NVH levels are so low.
The handling is excellent and the steering is responsive.
Kia Seltos x line Infotainment system
x-line Kia Seltos The 26.03 cm (10.25′′) HD touchscreen is compatible with both Apple CarPlay and Android Auto. You also receive a GPS with a built-in AI assistant.
Bose's 8-speaker dynamic speed-compensating audio system is standard in the Seltos x lineup. Two tweeters, a midrange, and a subwoofer make up the total of four speakers here. In addition, the cluster of gauges is an innovative 7-inch color display with head-up display technology.
Kia Seltos x line features
Kia Seltos x line packed with lots of features, these features makes this car more competitive at this price point. These features are:
Indigo Perra Leatherette Seats
Six Airbags
Isofix Child Anchor
BOSE premium 8 speaker system
360 degree camera with Blind view Monitor
Paddle Shifter (AT/DCT only)
Height adjustable front seatbelts
front and rear parking sensors
Auto Cruise control
Rain sensing wipers
Smartphone Wireless Charger
Smart Pure Air purifier with Virus & Bacteria protection
Kia Seltos x line safety
You get lots of safety features in the Kia Seltos x line. These are:
6 airbags
ABS with EBD
4 Disc brakes
Vehicle stability control
Traction control
Vehicle stability management
Kia Seltos x line colour options
Kia Seltos x line variant comes only in Matte Graphite colour.
Kia Seltos x line mileage
Kia Seltos x line with petrol variant in the city you get 11 to 12 kmpl and on the highway, you get around 15 to 16 kmpl but with diesel variant, you get around 12 to 14 kmpl in city and around 16 to 19 kmpl on highways.
Kia Seltos x line engine Option
Kia Seltos x line comes with two engine options. First is 1.4-litre turbo petrol which produces 140 ps of power and 242 nm of torque. The second is a 1.5-litre diesel engine with a 6-speed torque convertor which produces 115 ps of power and 250 nm of torque.
Kia Seltos x line transmission
The Kia Seltos X-Line is exclusively available with automatic transmissions (7-speed DCT for gasoline and 6-speed automatic for diesel).
Kia Seltos x line tyres
You get crystal cut matte graphite alloy wheels with 18 inches 215/55 R-18 apollo tyres with this all-new Kia Seltos x line. These new styles 18 inches alloy wheels change the whole looks of the car.
Kia Seltos x line Price
The Kia Seltos x line price of petrol variant is Rs 17.79 Lakhs ex-showroom and for the diesel variant, it is Rs 18.10 Lakhs ex-showroom.
Kia Seltos x line: Verdict
The Kia Seltos X-Line is exclusively available with automatic transmissions (7-speed DCT for gasoline and 6-speed automatic for diesel).
Read More: