Volkswagen Virtus: Beauty of a sedan
Those first three cardboard boxes are the catalyst for a lifelong love of automobiles. Everyone's passion of vehicles began in the same place: doodling a three-box 'car' in their composition books. Sedans have traditionally been thought of as the most "car-like," but in recent years, the popularity of sedans has declined as other types of automobiles and SUVs have been invented to fill voids and attract new customers. Sedans' market share is decreasing as crossovers and SUVs of all sizes take sales away from them.
Nonetheless, it's not as though sedans are giving up the ghost. Now that city streets are packed with crossovers of every stripe and colour, the classic body style is making a comeback, and Volkswagen is cashing in on the trend with the Virtus. The profile is unmistakably that of a car, and we talk to Sudhir Sharma, a prominent designer who is also well-versed in automobile design, to find out more about what makes sedans like the Virtus so beautiful.
Back in the 1970s, when automobiles were still a rarity, Sudhir was a graduate student at Ahmedabad's National Institute of Design. IndiDesign, his design firm, was founded by happy coincidence in Pune, a centre for major automobile manufacturers. As Sudhir looks back, he adds, "What I gathered from the industry people is that I must travel to the Frankfurt Motor Show, very early." He reflects, "Every company was there, and they displayed the complete idea behind that car, not just the car itself. They showed you every step of how the car was made.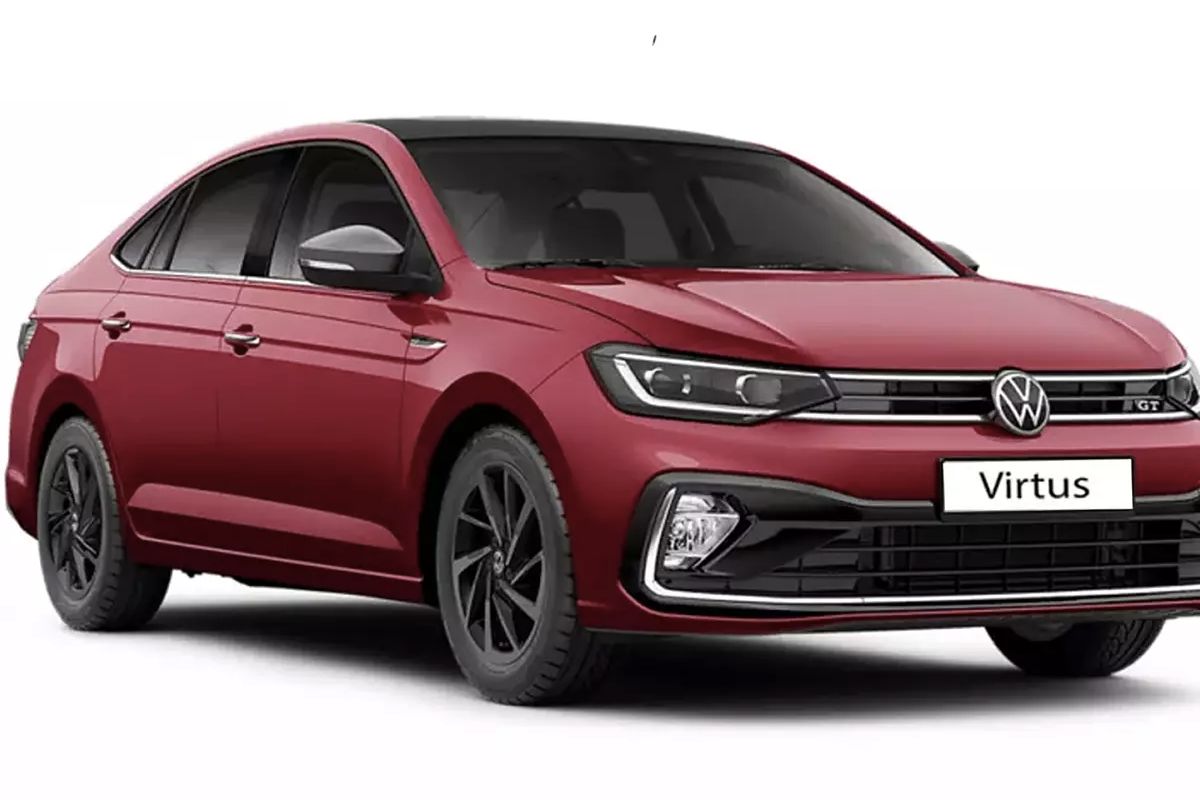 Sudhir has met with "Bossman" Adil Jal Darukhanawala thanks to his experience working with automakers, and he has served on the prize juries of numerous auto publications. When we arrived at Sudhir's house on the outskirts of Pune, the senior designer's eyes lit up at the sight of the Virtus GT, demonstrating his obvious expertise in the field of automobile design. The sedan's vivid cherry red paint made it stand out even in a garage full of expensive vehicles.
Sudhir, noticing our Virtus's profile, says, "Sedans have always meant a full car." What this implies is that the engine is up front, the trunk is in the back, and I have my own little space in the middle. Because the engine is in the front of an SUV or hatchback and I'm in the middle, there's suddenly nowhere to put the luggage! The Virtus follows in the footsteps of Volkswagen's other sedans, such as the Vento and the Jetta and Passat, with styling cues that are instantly recognisable as being from the German automaker.
They are no-nonsense vehicles, and that's something that really shines through. They have a strict goal in mind when designing and developing the vehicle, and they never deviate from it. They aren't going out of their way to mislead you. Engineering that is both practical and trustworthy in its functionality. By observing the arcs and straight lines employed, you can tell that this concept has been carried over into the design. Take a look at the front of any Volkswagen and you will notice that the nose has no superfluous, unneeded lines. Next, Sudhir examines the shoulder line of the Virtus and comments, "Whatever lines are there, they are neither needlessly thinner or thicker." This is the perfect amount. The layout is simple but effective. That really provides a lot of value for someone who is spending a lot of money," Sudhir continues to say.
While aesthetic preferences vary, even critics must admit that the Virtus has a striking profile. The Virtus takes design inspiration from earlier Volkswagens, especially the Jetta, yet it manages to look and feel much more modern and youthful. Sudhir continues, "The Virtus is a really tight, attractive, artistic, and proportional form." The design doesn't go crazy with chrome, and the lines are ageless. In fact, that's the first thing you notice. Then you take a look at it and realise that it's impossible for this to have happened even two years ago. For that reason, it might be considered a thoroughly contemporary style. The visual components that are specific to this GT Line version contribute to this sensation.
The red paint job and black 16-inch alloy wheels give this GT Line a stylish appearance that is unique to the 1.5 TSI engine. The roof is also completely black, lending an air of aggressiveness to the Virtus. On closer inspection, you'll notice that the Virtus has ground clearance similar to that of a mid-size SUV, making it ride higher than a regular sedan. The greater ground clearance is really useful, yet it doesn't detract from the Virtus's sleek profile. Our design guru chimes in, "The higher ground clearance has been well-integrated," and judging by Sudhir's intense scrutiny of the Virtus, it's evident that the sedan's aesthetics have won him over.
While Sudhir's short commute to work is convenient, the fact that he is mostly self-driven means that he focuses greater emphasis on the usefulness of the interior, rather than just the form element. Sudhir, who has driven a Volkswagen before, says, "When I was driving it, nothing felt like it was out of place," praising the Virtus' two-tone dashboard. You can find it all in the book. The structure is excellent.
The Virtus GT's dashboard has been accented with body colour, which helps the inside feel more modern, but the design isn't overly cheesy. Seat coolers in the Virtus alleviate any concerns you may have about the durability of the leather upholstery, which is upholstered in black leather with red contrast stitching to give it a more upscale appearance. Backseat passengers will appreciate the sedan's increased space and comfort, while tech-savvy buyers will appreciate the sedan's digital cockpit and snappy touchscreen that supports wireless Apple CarPlay and Android Auto.
A vehicle's designer faces a formidable obstacle when trying to strike a balance between aesthetics and practicality, as Sudhir describes. When I'm in my automobile, I feel safe, secure, familiar, comfortable, clean, and healthy. It's like floating through space in a bubble. What makes it good is how safe and inexpensive you can create that bubble. With so many new car models on the market, attractiveness is another important consideration. For many people, an automobile is an external possession. To them, the car is only a mode of transportation, but they recognise the significance of the influence it has on others. It makes a statement about who you are and where you stand in the world. That is the first step in creating a car. If someone is going to buy anything, they should want it and feel like it will help them achieve their goals in life. But it also needs to be able to swiftly transport them while keeping them safe. That is not negotiable, however, is the component that actually works. Therefore, safety and security are paramount. More than that, the attractiveness of the design is essential. When we say "this car is sexy," we usually mean "this car is something you want, something you want to have, something you want to get into."
However, what about tomorrow's automobiles? Would the architecture of automobiles radically shift if more and more EVs pushed the limits of what's possible? The reply from Sudhir has opened my eyes. Getting sentimental over a vehicle's silhouette, in my opinion, is a mistake. Forms are governed by more than just energy needs, however. There will be a market for automobiles so long as people can gaze at them and fall in love with them. It just so happens that in a specific age group, we've grown up with the idea that 'this' is a car," Sudhir explains, referencing our shared appreciation for the Virtus' traditional sedan silhouette. So it's a pleasant feeling to know that's back on the road again. To hear you explain it, that's how an automobile is intended to function. Feelings of the past are being evoked. It's not even the sentimental value of an antique automobile. This type of nostalgia is experienced when one sees an old automobile. You like how the Virtus, a cutting-edge sedan, improves upon the traditions you cherish. It looks like a classic automobile and drives like one, but in reality it's from the future. As long as your car is cutting edge in terms of technology, usefulness, and desirability, that will always be the case. There will always be a market for sedans. In my opinion, they will persist forever.
I find myself pining away for the Virtus at this juncture. My entire life, I've dreamed of the day I can afford to buy a classic sedan and drive it as a symbol of my success. As a result of maturing. The more time I spend in SUVs, the more I come to appreciate the elegance of a sedan. Part of my sentiment stems from rosy memories of the past, but the Virtus is also an aesthetically pleasing and emotionally comforting piece of machinery. Although other, more bizarre-looking machines may be in the horizon, I think the Virtus, with its sedan profile, has a good shot at becoming a classic of the future. Even though there is a lot of competition in the fashion industry now, the Virtus has maintained its status as a frontrunner.
Read More: