Get Charged Up: Mahindra Electric XUV 900 Poised to Take India by Storm with Anticipated Launch, Exciting Features, and Unbeatable Price!
The much-anticipated Mahindra XUV700 SUV went on sale in India on August 14, 2021, for a starting price of Rs 11.99 lakh. Several factors contribute to this SUV's groundbreaking success, including its commanding on-road presence and innovative features like adaptive cruise control (ADAS).
"Mahindra has done a tremendous job, and this vehicle has enhanced the entire sale of Mahindra cars since the XUV 700 has been a huge success despite the kind of term, which is 18-24 months and despite producing 5,000 vehicles a month," said an industry analyst. The positive reception from customers has prompted Mahindra to introduce the Mahindra XUV 900 electric coupe.
Indian automaker Mahindra has released a teaser image of the XUV900 Electric Coupe SUV that will debut on August 15 in the country.
The XUV900 may be included in the automaker's August 15 unveiling of its new "born electric" line of electric SUVs. The rumoured next-gen XUV900 will reportedly be a 'born electric' global SUV. Mahindra Advanced Design Europe (MADE) is designing this sport utility vehicle (SUV), and Pratap Bose is in charge of design there.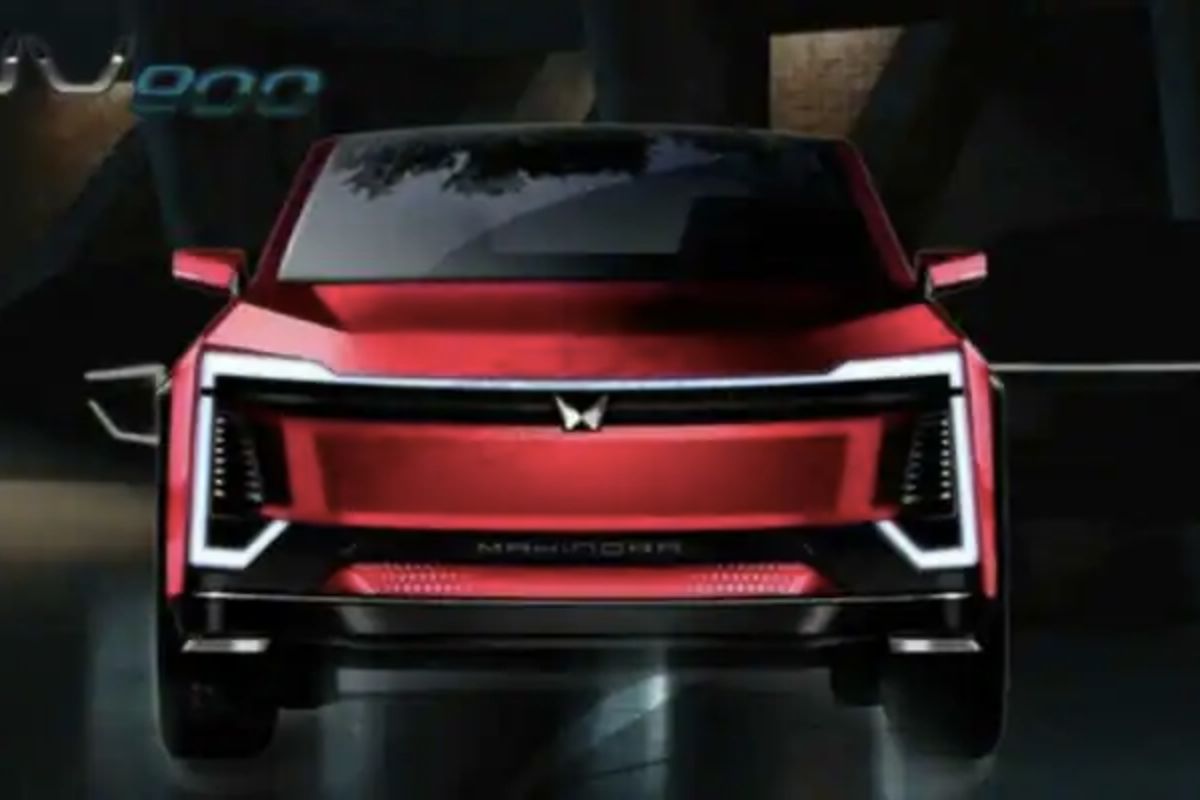 Features of Premium Electric XUV 900
The SUV Mahindra XUV 900 has a lot of features to offer. It is going to come with a square-shaped steering wheel sporting Mahindra's logo sitting on the display.
The central dashboard seems to be stretching to the back of the vehicle, separating the driver and passenger areas. The infotainment provided in Mahindra XUV 900 is going to be the upgraded version of the infotainment used in Mahindra XUV 700.
SUV has razor-sharp body panels, star-shaped wheels, a landscape-oriented digital instrument console, and bucket seats, which will help the company to attract consumers.
SUV is offering ventilated seats, body cladding, a square wheel arch, large air vents, and roof-mounted spoilers. There is going to be an Upgraded and way more attractive look which was offered in XUV 700. This vehicle will have a better road presence with a bulky style.
Mahindra Electric XUV 900Price in India
Future Mahindra XUV 900 EV prices in India are predicted to range from Rs 25 to 28 lakhs. On this day of independence, Mahindra is anticipated to reveal their new vehicle. As with the Mahindra Electric XUV 300, this one is slated to hit the market soon.
On April 12th, the corporation issued a video preview. In spite of the lack of internet hints about the next electric SUV, we might speculate that it will be the luxury electric XUV900. The commercial version is scheduled for release in 2023 or 2024.
How about look and features?

The next Mahindra XUV900 SUV will have a futuristic appearance and set of amenities, according to what has been made public so far. The XUV900, with its coupe design, will stand out visually from the rest of the SUV lineup and offer exceptional roominess. In addition to the greatest and most luxurious cabin, the XUV700 will also include more and more cutting-edge amenities than the Scorpio-N. Connected car technology and ADAS (Advanced Driver Assistance System) will also be on display.
powerful engine

Mahindra's soon-to-be-released SUV is expected to be equipped with either a 2.0-liter four-cylinder mStallion turbo petrol engine or a 2.2-liter four-cylinder mHawk diesel engine, the latter of which has the potential to produce anywhere between 185 and 210 horsepower. The XUV900 features cutting-edge transmission choices. The other sturdy SUV platform from Mahindra, one that is famed for its road presence and luxury, will be used for the XUV900.
Engine capacity:2.2-litre diesel/2.0-litre petrol

Seating capacity:9-seater SUV

Gearbox: Manual and automatic

Expected price:Rs. 25 lakh onwards
Mahindra Electric XUV 900 competitors
| Model | Price Range | Range | Battery Capacity | Power Output | Transmission | Seating Capacity |
| --- | --- | --- | --- | --- | --- | --- |
| Mahindra Electric XUV 900 | Expected Rs 20-25 lakh | Up to 400 km (approx.) | 70 kWh | 200 hp | Automatic | 5 |
| Tata Nexon EV | Rs 14 – 16.5 lakh | Up to 312 km (ARAI) | 30.2 kWh | 127 hp | Automatic | 5 |
| Hyundai Kona Electric | Rs 23.75 – 23.94 lakh | Up to 452 km (ARAI) | 39.2 kWh | 134 hp | Automatic | 5 |
| MG ZS EV | Rs 21.0 – 24.18 lakh | Up to 419 km (ARAI) | 44.5 kWh | 141 hp | Automatic | 5 |
| Nissan Leaf | Rs 32.0 – 40.0 lakh | Up to 270 km (approx.) | 40 kWh | 147 hp | Automatic | 5 |
Read More: