Skoda Enyaq iV Price And Specifications
Real Range Estimation between 300 – 615 km
| | |
| --- | --- |
| City – Cold Weather * | 415 km |
| Highway – Cold Weather * | 300 km |
| Combined – Cold Weather * | 355 km |
| | |
| --- | --- |
| City – Mild Weather * | 615 km |
| Highway – Mild Weather * | 385 km |
| Combined – Mild Weather * | 485 km |
Performance
| | |
| --- | --- |
| Acceleration 0 – 100 km/h | 8.6 sec |
| Top Speed | 160 km/h |
| Electric Range * | 420 km |
| | |
| --- | --- |
| Total Power | 150 kW (204 PS) |
| Total Torque | 310 Nm |
| Drive | Rear |
Battery and Charging
Europe
| | |
| --- | --- |
| Charge Port | Type 2 |
| Port Location | Right Side – Rear |
| Charge Power | 11 kW AC |
| Charge Time (0->420 km) | 8h15m |
| Charge Speed | 51 km/h |
| | |
| --- | --- |
| Fastcharge Port | CCS |
| FC Port Location | Right Side – Rear |
| Fastcharge Power (max) | 135 kW DC |
| Fastcharge Time (42->336 km) | 33 min |
| Fastcharge Speed | 530 km/h |
Energy Consumption
EVDB Real Range
| | |
| --- | --- |
| Range * | 420 km |
| Vehicle Consumption * | 183 Wh/km |
| | |
| --- | --- |
| CO2 Emissions | 0 g/km |
| Vehicle Fuel Equivalent * | 2.1 l/100km |
WLTP Ratings (TEL)
| | |
| --- | --- |
| Range | 534 km |
| Rated Consumption | 167 Wh/km |
| Vehicle Consumption | 144 Wh/km |
| | |
| --- | --- |
| CO2 Emissions | 0 g/km |
| Rated Fuel Equivalent | 1.9 l/100km |
| Vehicle Fuel Equivalent | 1.6 l/100km |
WLTP Ratings (TEH)
| | |
| --- | --- |
| Range | 510 km |
| Rated Consumption | No Data |
| Vehicle Consumption | 151 Wh/km |
| | |
| --- | --- |
| CO2 Emissions | 0 g/km |
| Rated Fuel Equivalent | No Data |
| Vehicle Fuel Equivalent | 1.7 l/100km |
Real Energy Consumption Estimationbetween 125 – 257 Wh/km
| | |
| --- | --- |
| City – Cold Weather * | 186 Wh/km |
| Highway – Cold Weather * | 257 Wh/km |
| Combined – Cold Weather * | 217 Wh/km |
| | |
| --- | --- |
| City – Mild Weather * | 125 Wh/km |
| Highway – Mild Weather * | 200 Wh/km |
| Combined – Mild Weather * | 159 Wh/km |
Safety (Euro NCAP)
| | |
| --- | --- |
| Safety Rating | |
| Adult Occupant | 94% |
| Child Occupant | 89% |
| | |
| --- | --- |
| Rating Year | 2021 |
| Vulnerable Road Users | 71% |
| Safety Assist | 82% |
Dimensions and Weight
| | |
| --- | --- |
| Length | 4649 mm |
| Width | 1879 mm |
| Width with mirrors | 2148 mm |
| Height | 1616 mm |
| Wheelbase | 2765 mm |
| Weight Unladen (EU) | 2090 kg |
| Gross Vehicle Weight (GVWR) | 2616 kg |
| Max. Payload | 601 kg |
| | |
| --- | --- |
| Cargo Volume | 585 L |
| Cargo Volume Max | 1710 L |
| Cargo Volume Frunk | 0 L |
| Roof Load | 75 kg |
| Tow Hitch Possible | Yes |
| Towing Weight Unbraked | 750 kg |
| Towing Weight Braked | 1000 kg |
| Vertical Load Max | 75 kg |
Miscellaneous
| | |
| --- | --- |
| Seats | 5 people |
| Isofix | Yes, 3 seats |
| Turning Circle | 9.3 m |
| Platform | VW MEB |
| | |
| --- | --- |
| Car Body | SUV |
| Segment | JC – Medium |
| Roof Rails | Yes |
| EV Dedicated Platform | Yes |
Home and Destination Charging (0 -> 100%)
A conventional wall plug or a charging station can be used for charging. A charging station is always used for public charging. The maximum charging capacity of the EV and the charging station (EVSE) being utilised determine how quickly the EV can charge. The Skoda Enyaq iV 80's charging choices are listed in the table below. Each choice illustrates how quickly the battery can go from empty to full.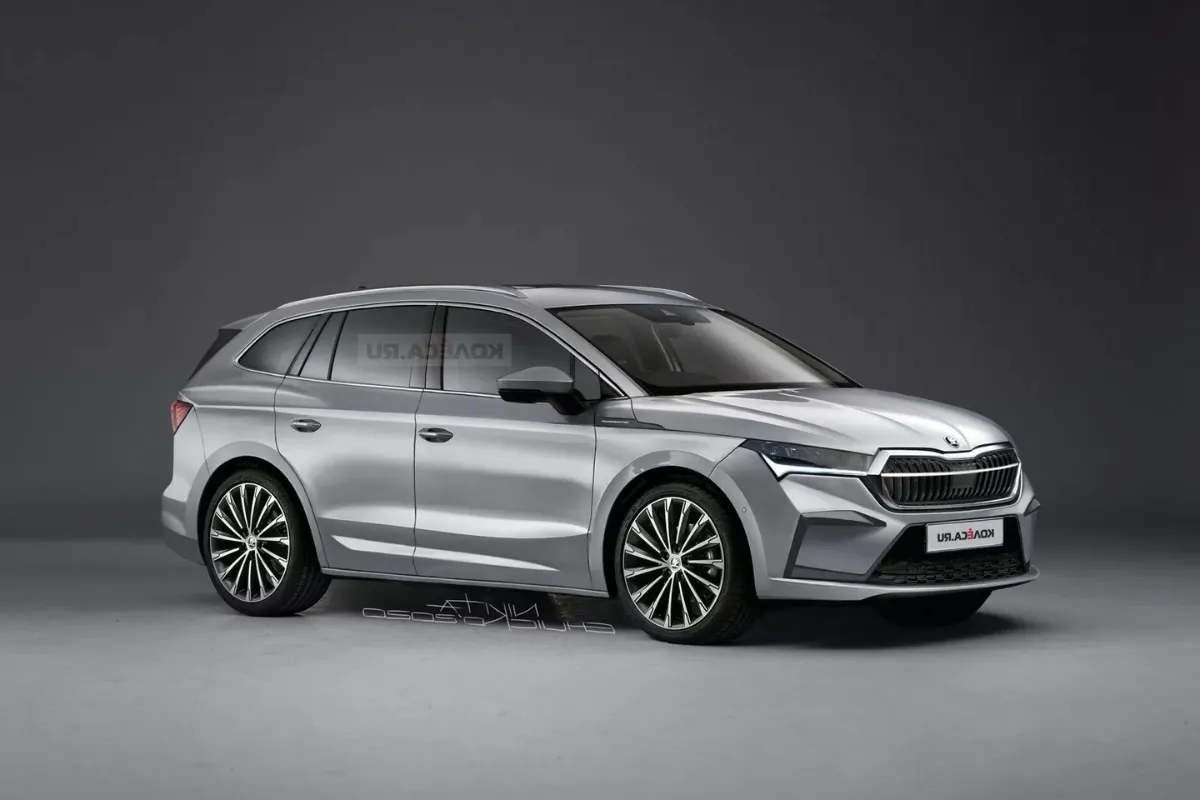 Europe
Europe has various methods for EV charging. While some European nations virtually exclusively employ 3-phase connections to the grid, others largely use 1-phase connections. The Skoda Enyaq iV 80 can be charged in every way conceivable, as shown in the table below, albeit some methods may not be readily accessible in all nations.
Type 2 (Mennekes – IEC 62196)
Charging Point
Max.

Power

Power
Time
Rate
Wall Plug

(2.3 kW)

230V /

1x10A

2.3 kW
39h30m
11 km/h
1-phase 16A

(3.7 kW)

230V /

1x16A

3.7 kW
24h30m
17 km/h
1-phase 32A

(7.4 kW)

230V /

1x32A

7.4 kW
12h15m
34 km/h
3-phase 16A

(11 kW)

400V /

3x16A

11 kW
8h15m
51 km/h
3-phase 32A

(22 kW)

400V /

3x16A

11 kW †
8h15m
51 km/h
Fast Charging (10 -> 80%)
Longer trips are made feasible by rapid charging because it adds the most range in the shortest period of time. After 80% state-of-charge has been obtained, charging power will dramatically drop. Therefore, a normal quick charge rarely goes over 80% SoC. The charger being used and the maximum charging power an EV can manage determine the rapid charge rate of the EV. The Skoda Enyaq iV 80's rapid charging specifications are listed in the table below.
Maximum power offered by the charging point
Power: The charge point's average power over a session, which ranges from 10% to 80%
Time required to charge a battery from 10% to 80%
Rate: a session's typical charging speed ranges from 10% to 80%