The All NEW Skoda Fabia 2022 – Price, Mileage And Other Details
With the release of the all-new Fabia Monte Carlo priced at $38,000, Skoda has committed to the high-end of the Light Car market. Do you think the price tag adequately reflects the value of this cute little hatchback?
What is the Skoda Fabia's price in Australia?
While the Australian public may not be as familiar with the Skoda name as they are with Toyota and Mazda, that hasn't stopped the Czech Republic-based David from taking on the Japanese and Korean Goliaths in the Light Car and Small Car markets.
Small passenger vehicle sales are dominated by Japanese manufacturers Toyota, Hyundai, and Mazda, although Skoda has no plans to compete in this segment. Skoda claims that Australian customers weren't interested in the base model, so they've eliminated it from the 2022 Skoda Fabia five-door hatchback lineup entirely and stuffed the remaining model to the gills.
Skoda claims that Fabia customers desire a model with every available option, and their sales should reflect this demand. It could also be indicative of the cutthroat nature of the market at the lower price points.
This brand-new fourth-generation Skoda Fabia comes in only one trim level: the $37,990 Monte Carlo.
An economical and peppy 110kW/250Nm 1.5-liter turbo petrol engine drives the front wheels through a seven-speed dual-clutch automatic transmission in this compact five-door hatchback built on a variation of the Volkswagen Group's ubiquitous MQB platform (the light car MQB-A0 chassis).
The new Fabia is 116mm longer and 48mm wider than the previous generation, measuring 4108mm in length, 1780mm in width, and 1459mm in height. The Skoda is longer (by 43mm), broader (by 85mm), and lower (by 25mm) than a Mazda 2 five-door hatchback (-36mm).
From a sizing perspective, the 2022 Skoda Fabia Monte Carlo is on par with competitors like the Mazda 2 and the Toyota Yaris and Volkswagen Polo in the Light Car segment. Some buyers may look at the Hyundai i30, Mazda 3, and Toyota Corolla as alternatives due to their larger size and higher horsepower given the over $40K price tag of this new car, which is significantly higher than the range-topping versions of those vehicles.
Also in the same price range are the more recognisable and prestigious Mini Cooper and Audi A1.
If you trust Skoda's assertion that the new Fabia comes with more than $15,000 in more equipment, then the MY22 Skoda Fabia Monte Carlo is $6,700 greater value than the previous Fabia, despite being $8,500 more expensive.
So, let's investigate this matter in greater detail.
Key details
2022 Skoda Fabia Monte Carlo 110TSI
Price
$37,990 drive-away
Colour of test car
Velvet Red
Options
Options
– Park assist – $1000
– Metallic paint – $500
Price as tested
$39,490 drive-away
Rivals
Mazda 2 | Toyota Yaris | Volkswagen Polo
What is the interior volume of a Skoda Fabia?
The interior of the Skoda Fabia Monte Carlo appears high-end and sophisticated at first glance, as befits a little car that costs $38,000 to park in your driveway. Let's call it the spirited sportiness of Europe.
On the dashboard, a red metallic horizontal flourish contrasts with a soft-touch carbon fiber-look material and leather with white stitching, setting a high aesthetic bar that is met throughout the cabin.
Although they're not leather, the front seats nevertheless appear sharp thanks to some stylish white perimeter stitching and a vertical colour scheme with five distinct strokes. Their side bolstering is excellent, and they are soft and supportive overall.
This colour and material concept is carried throughout the car, from the front to the back seats. This helps to hide the hard plastic used for door uppers.
There is no power adjustment for the front seats, however they can be adjusted manually. The seat may be adjusted to meet a wide range of driver heights and is otherwise perfect. There is a good amount of height and reach adjustment available for the leather steering wheel.
Visibility is excellent in all directions, and the thick A-pillars on each side of the windshield don't get in the way.
The test vehicle we rode in featured bottle holders in the doors but no cupholders in the front. Skoda claims this is an oversight during manufacturing that will be fixed soon.
Keyless entry and start, LED ambient lighting, and dual-zone climate control with rear air vents are just some of the high-end features available on the Fabia Monte Carlo.
For adults of average height, the back seat is snug yet adequate. There is plenty space for your feet under the seat, as well as for your knees and head. There is no centre armrest, however the seatback is tilted for comfort. An optional bin was installed in the hump in the floor between the legs of the driver and front passenger in the test vehicle.
For such a compact vehicle, the hatchback provides a surprising amount of storage space and a wide variety of ingenious ways to keep your belongings safe. Storage space starts at 380 litres (VDA) when the rear seats are in their upright position, and increases to 1190 litres when the seats are folded (60/40).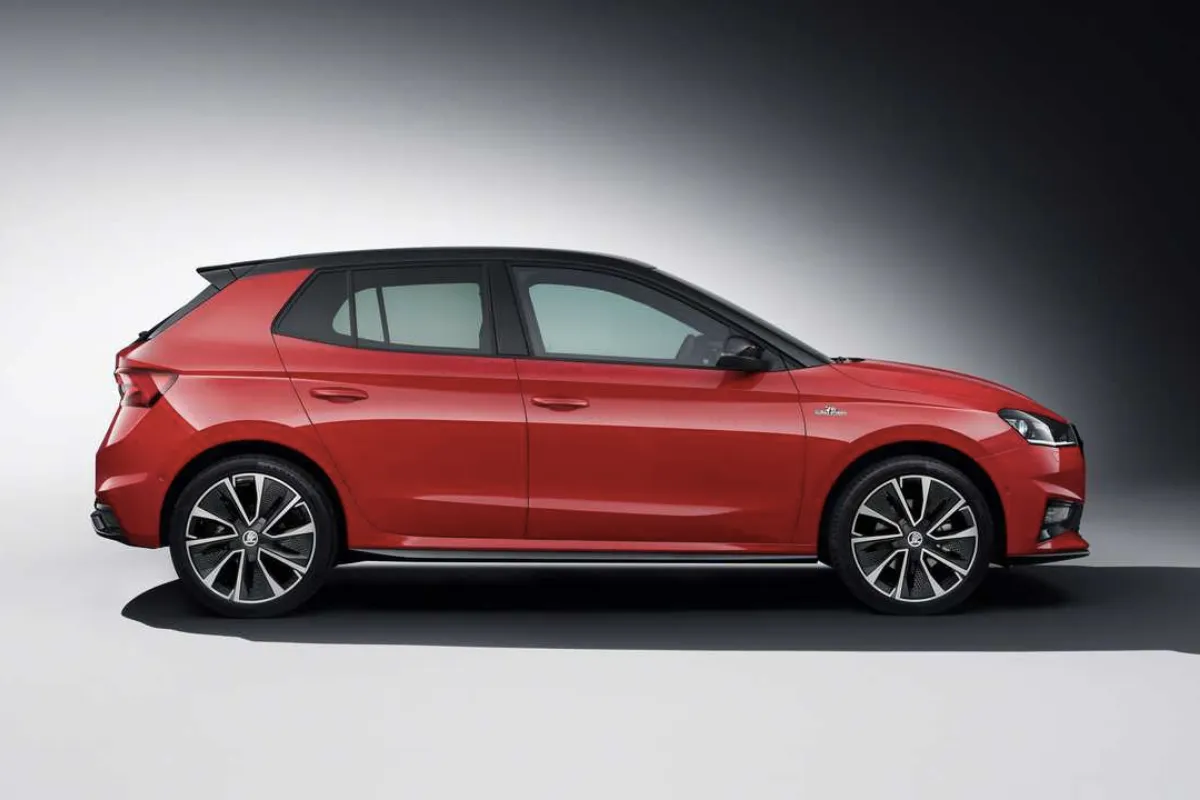 Seats in place, the Mazda 2 has a cargo space of 250 litres.
Boot storage nets and a two-sided boot mat, a door panel garbage bin, a windscreen ticket holder, and an umbrella concealed in the driver's door are just some of the standard Skoda'simply clever' features.
2022 Skoda Fabia Monte Carlo 110TSI
Seats
Five
Boot volume
380L seats up
1190L seats folded
Length
4108mm
Width
1780mm
Height
1459mm
Wheelbase
2564mm
Is Apple CarPlay available on the Skoda Fabia?
Both the 10.25-inch instrument binnacle and the 9.2-inch multimedia display in the Skoda Fabia are of excellent size and resolution. Not only is the multimedia screen incredibly quick to respond to touches, but it also predicts your next move and automatically displays additional controls as you get closer. That's typical on several models from the Volkswagen Group.
Digital radio, wireless smartphone mirroring (Android Auto and Apple CarPlay), and voice control join satellite navigation as standard features.
A smartphone charging mat is standard equipment in the Fabia Monte Carlo, located in front of the shifter.
Backseat passengers now get access to two more USB-C ports, in addition to a 12-volt power outlet and two front-facing ports.
Is it safe to drive a Skoda Fabia?
With ratings of 85% for adult occupant protection, 81.5% for child occupant protection, 70% for vulnerable road user protection, and 71.5% for safety assist systems, the 2022 Skoda Fabia receives ANCAP's top rating of five stars.
There is no frontal or knee airbag in the Fabia.
Autonomous emergency braking (city, pedestrian, and bike detection), adaptive cruise control, lane assist, blind-spot recognition, rear traffic warning, and manoeuvre brake aid (below 8km/h) are just some of the active safety features that come standard on the Fabia.
Our test vehicle's parking aid was installed at an additional cost of $1,000.
However, the Fabia's AEB system does not function in reverse or at road junctions while turning across oncoming traffic, and it does not feature blind-spot active aid.
The Fabia comes equipped with parking sensors in the front and back. Furthermore, it boasts automatic rain-sensing wipers and dusk-sensing headlamps.
2022 Skoda Fabia Monte Carlo 110TSI
ANCAP rating
Five stars (tested 2021)
Safety report
Link to ANCAP
How much does it cost to keep a Skoda Fabia running?
The five-year, unlimited-mileage warranty on all Skoda vehicles.
Skoda offers two different service plans for the Fabia, one lasting five years for $1500 and the other lasting seven years for $2100.
Skoda has introduced a monthly membership option in an effort to reduce the first sticker shock associated with service work performed once a year. Subscription prices range from about $34.50 to $39 per month to $49.50 per month for those who drive 15,000 kilometres per year.
Plan costs double after the initial three years.
Scheduled maintenance, a replacement car, and roadside assistance are all included in the Value category of subscriptions. Replacing food that spoils quickly is not included. You'll need to upgrade to the more expensive Essential tier for that.
If your tyres need to be replaced, that's covered under the comprehensive Complete plan.
In the event of owner-caused damage, none of the plans will pay for repairs.
In comparison to the lower-tier Servicing Packs, which cost $1500 over five years and $2100 over seven, the middle-tier Essential package will set owners back $1404 in the first three years, $3276 in the fifth, and $5148 in the seventh.
The Skoda Fabia has insurance premium estimates of $1156 per year, over $200 higher than the Mazda 3 G25 GT hatchback of the same price range ($978). All insurance costs are based on a single quote comparison for a male driver age 35 living in Chatswood, New South Wales. Your location, driving record, and other factors can affect your insurance quote.
At a glance
2022 Skoda Fabia Monte Carlo 110TSI
Warranty
Five years, unlimited km
Service intervals
12 months or 15,000km
Servicing costs
$1500 (5 years)
$2100 (7 years)
Is it true that the Skoda Fabia gets great gas mileage?
Skoda estimates the Fabia's fuel economy to be 6.3L/100km in the city and 4.1L/100km on the highway. The combined efficiency rating is 4.9L/100km. We drove it for 150 kilometres and got an average of 5.3 litres per 100 kilometres, which is satisfactory. Be aware that the Fabia's 1.5-liter turbocharged engine requires the more expensive 95RON premium unleaded gasoline.
Can you describe what it's like to operate a Skoda Fabia?
An 81kW 1.0-liter turbocharged three-cylinder engine and a seven-speed double-clutch automated transmission propelled the previous-generation Skoda Fabia lineup. This underpowered motor gave the 1097-pound hatchback only mediocre acceleration (0-100 km/h in 10.1 seconds), never revealing the full potential of the chassis.
Everything, including the chassis, has been modified or improved, making the Skoda Fabia Monte Carlo a far more dynamic vehicle. While hardly a hot hatch, this vehicle has been given more pep and oomph than the boring predecessor it replaces.
This is despite the fact that the tare weight has increased from 173 to 1270 kilogrammes, which, interestingly, has had no negative impact on either performance or fuel efficiency. The new Fabia has an excellent power-to-weight ratio of 87kW/tonne (an increase of 13kW) and a fuel economy rating of 4.9L/100km (claimed) on a city/highway combined-usage cycle.
What's not to enjoy about better efficiency and increased power?
In if "sportified" isn't a word, the ride has been made more sporty. The Fabia now has greater agility in turns, although this comes at the expense of passenger comfort due to the suspension's increased firmness. This is not to mean that driving the automobile is unpleasant; rather, you will be acutely aware of any small or large changes in the road surface, including road junctions and worn tarmac.
The four available driving modes in the Fabia Monte Carlo (Eco, Normal, Sport, and Individual) do not improve the car's ride quality. They instead provide the driver control over the drivetrain's sensitivity, letting them prioritise fuel economy or response.
The Continental Conti Sport Contact 215/40 R18 tyres on our test vehicle also make a noticeable amount of noise as they wear.
| | |
| --- | --- |
| Key details | 2022 Skoda Fabia Monte Carlo 110TSI |
| Engine | 1.5-litre four-cylinder turbo petrol |
| Power | 110kW @ 6000rpm |
| Torque | 250Nm @ 1500–3500rpm |
| Drive type | Front-wheel drive |
| Transmission | Seven-speed dual-clutch automatic |
| Power to weight ratio | 87kW/t |
| Weight (tare) | 1270kg |
| Spare tyre type | Space-saver |
| Turning circle | 10.7m |
Can you tell me if the Skoda Fabia is a good car?
If you're looking for a well-equipped, fun-to-drive, and safe compact hatchback that won't break the bank but still fits the bill at $40,000 or less, your search is over.
Because not everyone will be satisfied by the Skoda Fabia Monte Carlo's highest-spec-fits-all approach, the model's sales have been insignificant compared to those of the industry's top dogs from Toyota, Hyundai, and Mazda.
The Skoda Fabia Monte Carlo is not for everyone, but if you want something unique, unusual, and European, it's worth looking into.