2022 GMC Hummer EV Price, Colors, Specs And Auto Facts
The gas-guzzling Hummer brand, which General Motors dropped in 2010, will make a comeback in 2022, but this time as an electric sub-brand of GMC. A pickup truck version of the revived Hummer will debut before an SUV version. The new pickup is quite the beast, with a top powertrain option that employs three electric motors to generate up to 1000 horsepower, travel an estimated 329 miles on a single charge, and reach 60 miles per hour in just 3.3 seconds.
The Hummer EV's detachable roof panels, optionally adjustable air suspension, and ability to "crab" (drive diagonally) with all four wheels under control are just a few of the characteristics that should make it exciting to take off-road. To compete in the electric car market, both upstarts like Rivian and Tesla and more established players like Ford are venturing into the pickup truck market.
GMC Hummer EV Price
Overall, the 2022 GMC Hummer EV is an impressive vehicle. A potential drawback is a cost. Start at $110,295 for the base "Edition 1," which includes all features and options. The base price of the upcoming $99,995 EV3X trim is more than GM's promised sub-$80,000 trim by Spring 2023.
While the Hummer is certainly not cheap, especially for a GMC, it is currently the only electric super truck on the market. The only others are the Rivian and the forthcoming Ford F-150 Lightning. The 2022 GMC Hummer EV brings back a long-forgotten name with stunning design, cutting-edge electronics, and exceptional efficiency. The GMC Hummer EV is quietly popular, with a waiting list of one year's length.
Hummer EV Edition 1: $110,295
Hummer EV 3X: $106,645
Hummer EV 2X: $96,645
Hummer EV 2: $86,645
EV Motor, Power, and Performance
At present, the Hummer EV can only be equipped with a powertrain consisting of three electric motors, which together can generate 1000 horsepower. Standard all-wheel drive and a "Watts to Freedom launch control" option that let the Hummer EV reach 60 mph in 3.3 seconds during our tests.
When it came to stopping, though, we were less than impressed. It took an unusually long 211 feet to bring the Hummer EV's mass to a stop from 70 miles per hour, and brake wear became obvious after repeated stops. Yikes. When moving slowly, the Hummer EV is surprisingly maneuverable thanks to its rear-wheel steering system; however, once you get up to speed, you'll find that it's just as awkward to handle as any other elevated brodozer.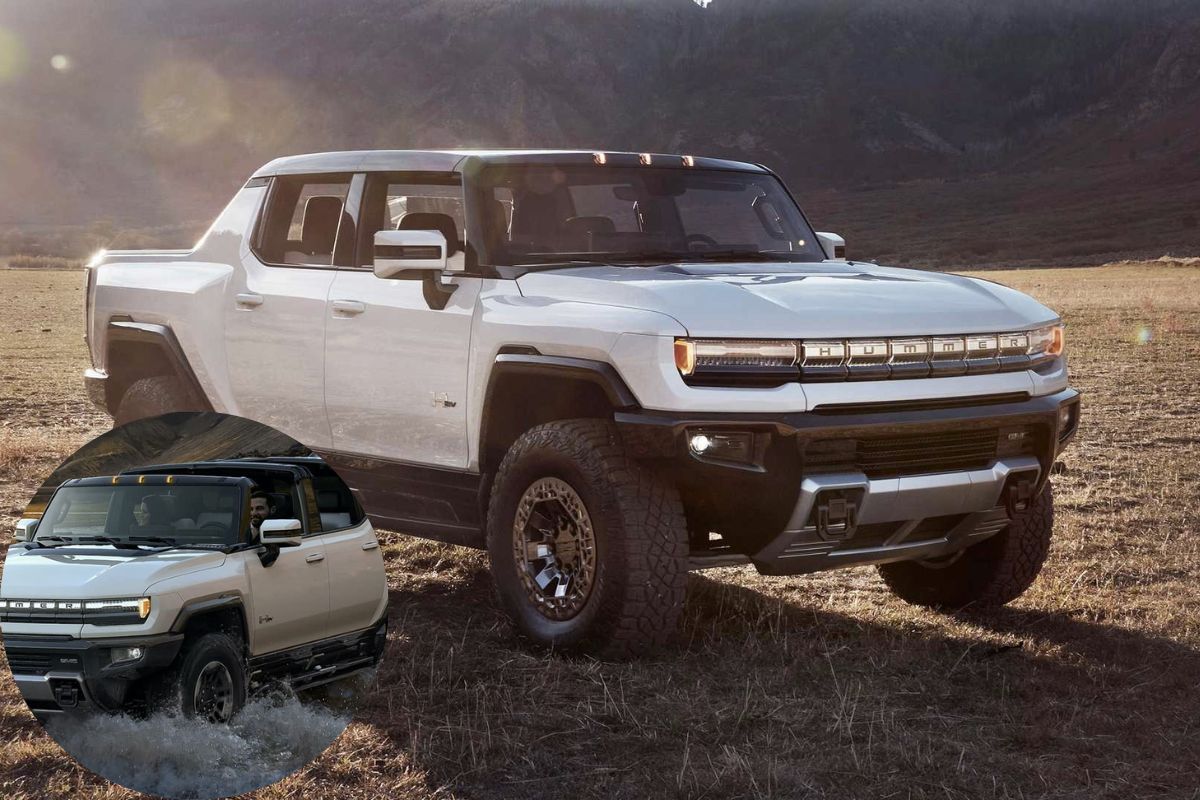 Towing and Payload Capacity
As for the Hummer EV's payload and trailering capacities, GMC claims 7500 pounds. However, other electric pickups, such as the Rivian R1T and the Ford F-150 Lightning, can tow up to 11,000 and 10,000 pounds, respectively. The Hummer EV's range plummeted to barely 140 miles at 70 mph when we towed a 6100-pound, double-axle camping trailer.
Range, Charging, and Battery Life
The electric Hummer utilizes General Motors' cutting-edge Ultium battery pack technology and can supposedly travel 329 miles on a single charge. After putting it through its paces, we found that it could travel 290 miles at 75 mph on a combination of city and highway terrain.
GMC claims that the Hummer's 800-volt electrical architecture and 350-kilowatt fast-charging capacity will add 100 miles of range in just 10 minutes. The Hummer EV can charge at standard public charging terminals or at home with the included adaptor for customers who don't have access to DC fast charging stations, however, this will take much longer.
Fuel Economy and Real-World MPGe
The Hummer EV has an estimated fuel economy of 51 MPGe in the city, 43 MPGe on the highway, and 47 MPGe overall, according to the EPA. The total fuel efficiency of the Rivian R1T is 70 MPGe, which is lower than the 74 MPGe it achieves in the city and the 66 MPGe it achieves on the highway.
Interior, Comfort, and Cargo
The Hummer EV is a pickup truck with a crew cab and a five-foot-long bed, despite the fact that most traditional Hummers were sport utility vehicles. However, the Hummer's cabin isn't as roomy as that of the GMC Sierra crew cab pickup truck, and the materials used inside could be of greater quality given the vehicle's price.
Nonetheless, the roof is easily removed, bringing back the T-top design of the 1970s and 1980s that was so popular in GM's sports and muscle vehicles. They function like a standard panoramic glass sunroof when in position, but can be removed and stored in the front trunk to transform the Hummer EV into a convertible. A moon-boot footprint on the dead pedal and speaker grilles depicting the Sea of Tranquility are two not-so-subtle reminders of GM's involvement in the development of the electrically powered Apollo 15 lunar rover that was used by NASA astronauts.
Infotainment and Connectivity
The infotainment system features a 13.4-inch screen, and the digital gauge cluster measures 12.3 inches. Epic Games, developers of the massively famous Fortnite video game, have been hired by GMC to design the visuals for the Hummer EV's infotainment system.
The high-resolution display and cutting-edge visuals are impressive, but the system's noticeable stuttering suggests it lacks the processing capacity to fully utilise the features of the software. Standard connectivity features include Apple CarPlay and Android Auto compatibility, a Wi-Fi hotspot, and General Motors' OnStar telematics system.
Specifications
2022 GMC Hummer EV Edition 1
Vehicle Type: front- and rear-motors, all-wheel-drive, 5-passenger, 4-door pickup
PRICE
Base/As Tested: $110,295/$118,039
Options: two spare tires with bed mounts, $5200; Illumination package (A-pillar off-road lights, mirror projection lights, tailgate step lighting, virtual auxiliary switches with power distribution box, interior LED lighting), $1695; tailgate speaker by Kicker, $849
POWERTRAIN
Front Motor: permanent-magnet synchronous AC
Rear Motors: permanent-magnet synchronous AC
Combined Power: 1000 hp
Combined Torque: 1200 lb-ft
Battery Pack: liquid-cooled lithium-ion, 212.7 kWh
Onboard Charger: 11.5 kW
Transmissions, F/R: direct-drive
CHASSIS
Suspension, F/R: control arms/control arms
Tires: Goodyear Wrangler Territory MT
LT305/70R-18 126/123R M+S TPC 2807
DIMENSIONS
Wheelbase: 135.6 in
Length: 216.8 in
Width: 86.7 in
Height: 79.1 in
Passenger Volume: 128 ft3
Cargo Volume: 11 ft3
Curb Weight: 9640 lb
C/DTEST RESULTS
60 mph: 3.3 sec
100 mph: 8.8 sec
1/4-Mile: 11.9 sec @ 106 mph
Results above omit 1-ft rollout of 0.2 sec.
Rolling Start, 5–60 mph: 4.9 sec
Top Gear, 30–50 mph: 1.9 sec
Top Gear, 50–70 mph: 2.3 sec
Top Speed (gov ltd): 106 mph
Braking, 70–0 mph: 211 ft
Braking, 100–0 mph: 504 ft
Roadholding, 300-ft Skidpad: 0.73 g
C/DFUEL ECONOMY
75-mph Highway Range: 290 mi