Unleash Your Adventurous Side with the Toyota Tacoma: Price, Specs, Features, Photos
Looking for a reliable and versatile pickup truck? Check out the Toyota Tacoma! Learn more about its price, specs, features, photos, and interesting facts. Discover why the Tacoma is a favorite among truck enthusiasts. Find all the information you need to make an informed decision about this impressive vehicle.
The Toyota Tacoma is a mid-size pickup truck manufactured by Toyota Motor Corporation since 1995. It is known for its ruggedness and off-road capabilities, as well as its durability and reliability. The Tacoma is offered in a variety of trims, including the SR, SR5, TRD Sport, TRD Off-Road, Limited, and TRD Pro.
It is available with either a 2.7-liter 4-cylinder engine or a 3.5-liter V6 engine, and comes in either a 6-speed manual or 6-speed automatic transmission. The Tacoma is also available in either a 4×2 or 4×4 configuration, and features advanced safety and technology features such as Toyota Safety Sense P, a 7-inch touchscreen display, and a JBL premium audio system.
2023 Toyota Tacoma Price
The 2023 Toyota Tacoma lineup consists of the SR, SR5, TRD Sport, TRD Off-Road, TRD Pro, and Limited midsize pickups. The base price for the SR model should be roughly $27,500 plus the destination fee.
In cases when it is not required, four-wheel drive may cost as much as $3,000.
The 2023 TRD Pro Tacoma is the top-tier model. The final price could be closer to $48k if extras like side steps and a remote tailgate lock are added.
Taking everything into account, the Tacoma is not the most affordable brand-new midsize truck. Comparatively, the base price of a Chevrolet Colorado is roughly $25.5k and a Ford Ranger is around $26k. However, the base price of a Nissan Frontier is around $29k. While the base price of a Jeep Gladiator is $37,000, the base price of a Tacoma TRD Off-Road is closer to $35,000. Pricing for the Honda Ridgeline (with a V6 engine as standard) is close to $38.5K.
KBB.com's Fair Purchase Price will help you determine how much other people in your region spent on a new Tacoma pickup. When it comes to midsize pickups, the Tacoma is one of the finest in terms of depreciation. It has been honored repeatedly as the class winner of Kelley Blue Book's Best Resale Value award. No other challenger has even been considered.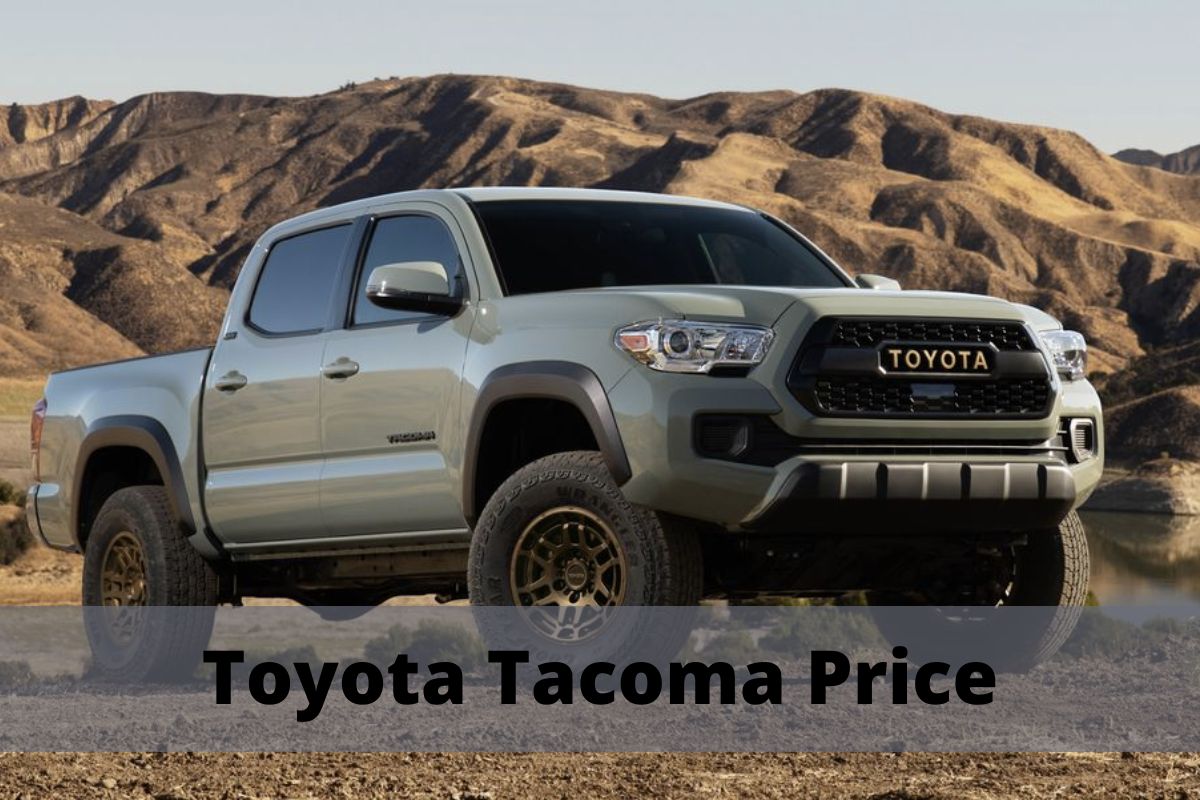 Driving The 2023 Toyota Tacoma
The 2023 Tacoma midsize truck series has a maximum payload of 1,685 pounds when equipped with rear-wheel drive and a 4-cylinder engine in an Access cab. If you switch to the V6, the weight drops to 1,500.
Everyday drivers may prefer the V6's additional power and acceleration, so it's possible they'd be willing to give up an extra 120 pounds of cargo space. When pushed to move significant mass, the 159-horsepower 4-cylinder unit begins to reveal its limitations, and it's not like the V6 is particularly thirsty in contrast.
The trailer equipment is standard on V6-powered models but not on the four-cylinder models. The Tacoma's rear-drive V6 engine allows it to tow up to 6,800 pounds. Or if you choose a 4-cylinder engine, you can get 3,500mph.
Tacoma's ability to perform well off-road is one of the reasons it stands out from the crowd. This midsize pickup can travel as deep into the woods as a Jeep with the correct accessories, like the Fox-sourced raised suspension in the TRD Pro.
It has a low-range transfer case, Crawl Control, and a terrain response feature for its four-wheel-drive system. In addition, both the TRD Off-Road and TRD Pro models have a Multi-Terrain Monitor to help with difficult terrain. Both of these models include a 6-speed manual transmission as an upgrade for the purist mud-lovers and rock climbers among us.
Interior Comfort
Both the Access and Double cab configurations of the 2023 Tacoma midsize truck suffer from a severe lack of rear legroom. This distance measures either 24.6 or 32.6 inches. You can fit four people in the Access, and one more in the Double. However, the commute to the office should be brief.
The quality of construction is high, as is typical for a Toyota vehicle, yet some of the plastics feel cheap. Although more storage space is only found under the back seats, more thoughtful and generous storage options inside the cabins would have been welcome.
Exterior Styling
Despite having four doors in total, the Access cab's rear doors are quite small and swing out in the opposite direction from the front doors. The Double cab is similar to a crew cab in that it has four full-sized doors that open in a standard fashion.
The Access cab has a 6-foot bed, while the Double cab in SR trim has a 5-foot bed. The Double bed length is optional for the rest of the 2023 Tacoma pickup lineup. Both the TRD Pro and the Limited only offer the Double cab configuration.
There are composite liners, storage bins, and a deck rail system with four movable cleats for securing cargo inside the steel beds. The back door can be removed and locked. Every one of the four premium packages also has a 120-volt power point.
The Trail Edition of the SR5 has a lower profile thanks to the absence of a front air dam and new alloy wheels in a bronze finish.
If you'd rather have the Toyota name spelled out in all capital letters over the grille than the generic company emblem, you'll have to go for the TRD Pro.
Favorite Features
ENTERTAINMENT AND INFORMATION SYSTEM
It's simple to operate, and even the entry-level SR trim includes features like Wi-Fi, satellite radio, and Apple CarPlay/Android Auto integration.
WIDE-AREA MONITORING SYSTEM
This feature, included on the TRD Off-Road and TRD Pro models, gives the driver a bird's-eye view of their vehicle from all angles, including the ability to zoom in on the truck's sides thanks to cameras installed in the mirrors.
Standard Features
The entry-level model, like the ones in other truck lines, is stripped down to the bare essentials and designed for hard work. The front seats of the 2023 Tacoma SR may be adjusted manually, and the vehicle rides on 16-inch steel wheels.
The 7-inch touchscreen infotainment system, on the other hand, supports Apple CarPlay and Android Auto for smartphones is compatible with Amazon Alexa and comes with Wi-Fi, three USB ports, satellite radio, Bluetooth, six speakers, and a high-quality audio system.
More advanced safety features include lane departure warning, automatic high beams, adaptive cruise control, and forward collision warning with automated emergency braking and pedestrian recognition.
Factory Options
The SR has 4WD and a V6 engine, but if you want extra bells and whistles, you'll need to upgrade to the SR5 trim. In addition to its 16-inch alloy wheels and 8-inch touchscreen, this vehicle has a leather-wrapped steering wheel. Options include a higher suspension, skid plates, Goodyear all-terrain tires, and a locking rear differential, in addition to blind-spot monitoring, GPS, and rear parking sensors.
SX package with black cladding on the fenders, black side mirror housings, black-finished alloy wheels, and black emblems are now available on the SR5 with the V6 engine. The Chrome package, which includes polished 18-inch alloy wheels, a chrome-finished exhaust tailpipe tip, and a chrome-finished external door handle, is now available on the SR5 Double Cab with the short bed and the V6 engine.
At the TRD Sport trim level, the V6 engine is standard, as are features like keyless entry/ignition, wireless charging, a 10-way power-adjustable driver's seat, and a 120-volt outlet in the truck bed. When the TRD Off-Road is equipped with the automatic transmission, a Multi-Terrain Monitor is available.
Fox, an established aftermarket manufacturer, supplies parts for the TRD Pro's off-road suspension. In addition, it has a power moonroof, dual-zone climate control, front seats wrapped in heated leather, and a premium sound system. The Limited trim level adds upscale features including a panoramic view monitor and 18-inch alloy wheels.
There are alternatives for lower-level trims that include some features seen in the higher-level trims. A lockable and water-resistant tonneau cover is available for all 2023 Tacoma models except the TRD Pro.
Engine & Transmission
The 2023 Tacoma SR and SR5 come standard with a 2.7-liter 4-cylinder engine that generates 159 hp and 180 lb-ft of torque. Even if the engine isn't being put under any undue strain, the lack of power is indicative of the small displacement.
The standard configuration is rear-wheel drive (RWD), but four-wheel drive (4WD) is a possible upgrade. Standard four-wheel drive is included only in the top-tier TRD Pro variant.
Starting with the TRD Sport grade and higher, a 3.5-liter V6 engine producing 278 hp and 265 lb-ft of torque is standard, while the base model and higher feature a 2.7-liter inline-four engine. This is the engine you choose for your new Tacoma if you plan on doing a lot of heavy lifting and/or hauling.
Where automatic transmissions are present, sturdy 6-speed units are used. However, a 6-speed manual gearbox is available on both the TRD Off-Road and the TRD Pro models.
Both engines may use regular gasoline. It's unlikely that the Environmental Protection Agency's (EPA) projected fuel economy for 2022 will alter by 2023.
2.7-liter inline-4
159 horsepower @ 5,200 rpm
180 lb-ft of torque @ 3,800 rpm
EPA city/highway fuel economy: 20/23 mpg (RWD), 19/22 mpg (4WD)
3.5-liter V6
278 horsepower @ 6,000 rpm
265 lb-ft of torque @ 4,600 rpm
EPA city/highway fuel economy: 19/24 mpg (RWD, auto), 18/22 mpg (4WD, automatic), 17/21 mpg (4WD, manual), 17/20 mpg (4WD, manual, TRD Off-Road/Pro)
Toyota Tacoma competitors
| Brand/Model | Base Price | Engine | Power Output | MPG (City/Hwy/Combined) |
| --- | --- | --- | --- | --- |
| Ford Ranger | $25,070 | 2.3L turbo 4-cylinder | 270 hp | 21/26/23 |
| Chevrolet Colorado | $26,395 | 2.5L 4-cylinder | 200 hp | 20/26/22 |
| GMC Canyon | $26,595 | 2.5L 4-cylinder | 200 hp | 20/26/22 |
| Nissan Frontier | $28,240 | 3.8L V6 | 310 hp | 18/24/20 |
| Jeep Gladiator | $34,040 | 3.6L V6 | 285 hp | 17/22/19 |
| Honda Ridgeline | $36,490 | 3.5L V6 | 280 hp | 18/24/21 |
Toyota Tacoma FAQs
What is the starting price of the Toyota Tacoma in the United States?
The starting price of the Toyota Tacoma in the United States is around $26,000.
What is the towing capacity of the Toyota Tacoma?
The towing capacity of the Toyota Tacoma varies depending on the configuration and model year. However, it ranges from 3,500 to 6,800 pounds.
Is the Toyota Tacoma a reliable truck?
Yes, the Toyota Tacoma is known for its reliability and durability. It has been rated highly in reliability by various sources and has a long-standing reputation for dependability.
How fuel-efficient is the Toyota Tacoma?
The fuel efficiency of the Toyota Tacoma varies depending on the configuration and model year. However, it ranges from around 18 to 20 miles per gallon in the city and 22 to 24 miles per gallon on the highway.
Does the Toyota Tacoma come with a manual transmission option?
Yes, the Toyota Tacoma is available with a 6-speed manual transmission option in select trims.
Is the Toyota Tacoma a good off-road vehicle?
Yes, the Toyota Tacoma is well-known for its off-road capabilities, especially in the TRD Off-Road and TRD Pro trims that come equipped with various features such as a locking rear differential, crawl control, and multi-terrain select system.
How many people can the Toyota Tacoma seat?
The Toyota Tacoma can seat up to five people in its Double Cab configuration, while the Access Cab configuration can seat up to four people.