2023 Toyota 4Runner Pricing, Photos and Specs
Toyota 4Runner: The 2023 Toyota 4Runner stands out from the crowd of similar midsize crossovers and SUVs that dominate suburban streets and parking lots. The 4Runner has a pickup truck frame and genuine off-road chops, making it more reminiscent of a classic truck than a modern car. Extra underbody protection, an electronic locking rear axle, upgraded suspension components, and knobby tyres are standard on the most capable models.
All models come standard with a 270-horsepower V-6 and automatic transmission, and either rear- or all-wheel drive. The powertrain is antiquated compared to competitors like the Ford Bronco and Jeep Wrangler, which use body-on-frame construction. Though Toyota's 4.0-liter engine is dependable, it consistently consumes fuel at an alarming rate.
There is plenty of room for passengers and cargo inside the truck, but the cabin is poorly made. This truck-based SUV has a loose steering feel and an unpleasant ride quality when driven on regular roads. To be sure, the 4Runner has some niche applications where its contemporaries fall short, but outside of those situations, it is hopelessly out of date.
What's New for 2023?
The 4Runner celebrates four decades as a model in the 2023 model year. Toyota has introduced a limited-edition variant of their base SR5 model to mark the occasion. Only 4040 of these vehicles will be manufactured. The 40th Anniversary Special Edition of the '23 4Runner is available in your choice of red, white, or black with amazing tricolor graphics on the body sides and grille.
The package also includes a set of bronze 17-inch wheels. Within, the leatherette seats and shift knob are stitched with a bronze color that echoes the exterior trim. The floormats, front headrests, and a couple of badges inside the vehicle all refer to the 4Runner's 40th anniversary. By 2023, blind-spot monitoring and rear cross-traffic alert become standard on all models.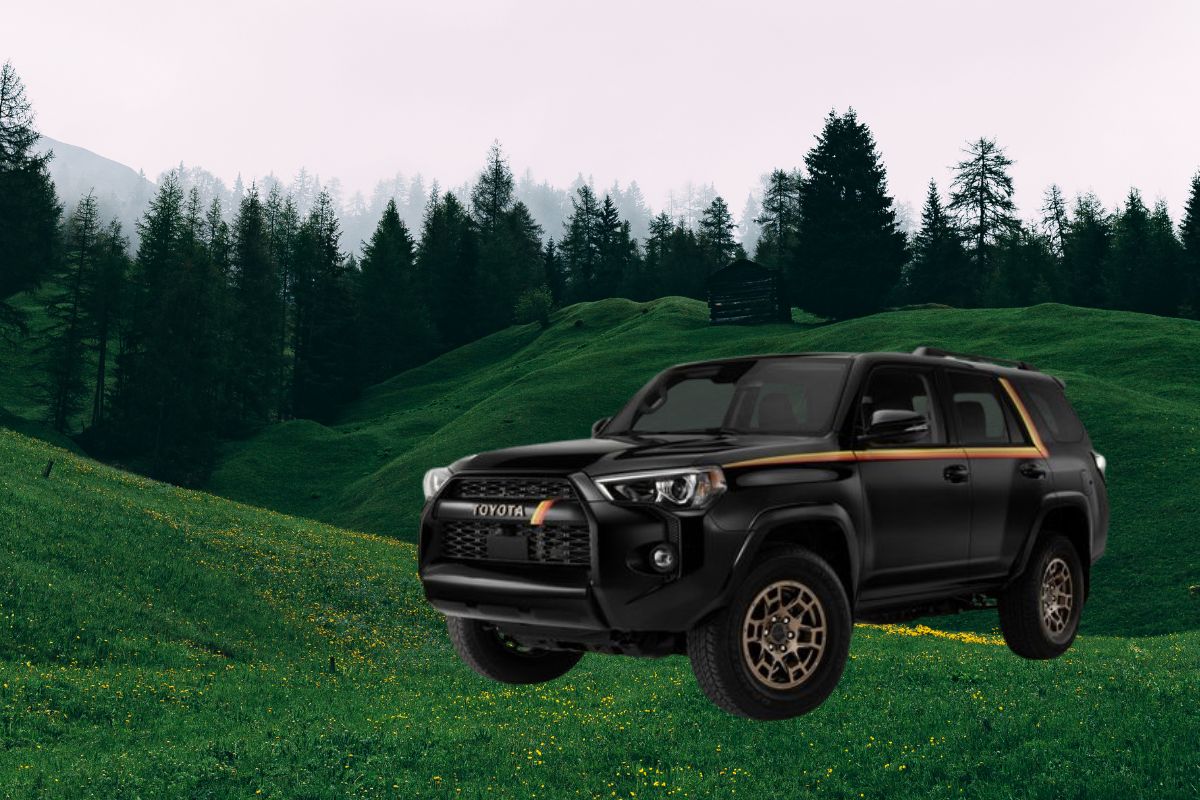 2023 Toyota 4Runner Pricing
The base price for a 2023 Toyota 4Runner SUV is $38,805, with the SR5 Premium going up to $41,865, the TRD Sport to $41,665, the TRD Off-Road to $42,650, the TRD Sport V6 to $43,540, the Limited to $48.04, and the Limited 4X4 V6 to $50.07. The base model for the 40th Anniversary Special Edition is the SR5 Premium ($46,370).
The Ford Bronco lacks the third row of seats found in many SUVs, but it has excellent off-road capabilities and can be had for less than $35,000 for the base 4-door model. For around $42k, you can get a Jeep Grand Cherokee L with seven seats, plenty of comfort features, and better-than-average performance off-road. The 3-row Nissan Pathfinder starts at around $34,000 and may be rugged enough for some families.
Check the KBB.com Fair Purchase Price for new 4Runner SUVs in your area before making a purchase. When it comes to resale value, the 4Runner shines.
Toyota 4Runner Price in India
New Toyota 4Runner Car prices in India ; Toyota 4Runner Limited 4WD 2023.INR 4,105,740 ; Toyota 4Runner TRD Off Road 2023. INR 3,497,300 ; Toyota 4Runner Trail
Engine, Transmission, and Performance
All 4Runners are powered by a 4.0-liter V-6 producing 270 hp and mated to a 5-speed automatic transmission. The outmoded powertrain offers unremarkable acceleration; the last model we tested took 7.7 seconds to reach 60 mph when equipped with rear-wheel drive and 11.1 seconds when equipped with full- or part-time four-wheel drive.
The automatic's sluggish responses do nothing to smooth out the engine's erratic behavior and downshifts frequently necessitate heavy right-foot inputs to propel the 4Runner forward. Despite this, the Toyota is easier to drive on the road than the ungainly Wrangler. Our test drives in the off-road version of the SUV highlighted its high ride height and demonstrated how well its body-on-frame construction and supple suspension handled the vehicle's wide range of terrain.
The 4Runner's steering is light and vague, which may turn off drivers looking for a sporty ride, but it's adequate for navigating tight trails and parking garages. The Toyota may feel its age when driving, but its performance is on par with newer rivals like the V-6 Dodge Durango. The Toyota has a higher towing capacity than the Ford Edge and Wrangler, at 5,000 pounds, and can tow up to 7,000 pounds less than the more powerful Durango.
Fuel Economy and Real-World MPG
Every 4Runner model's fuel economy is rated at a pitiful 16 mpg in the city and 19 mpg on the highway, a clear indicator of the vehicle's advanced age. The V-6-powered Wrangler, on the other hand, is expected to achieve up to 19 cities and 24 highway mpg. Our most recent 4Runner exceeded our expectations by returning 22 mpg on our highway fuel-economy route, which we drive at 75 mph as part of our comprehensive testing regimen.
Interior, Comfort, and Cargo
The 4Runner's interior is dated, with buttons and knobs that look like they were made at the turn of the millennium. Despite having below-average interior dimensions, it can still accommodate a full set of human passengers in both the front and back seats with relative ease. Although we haven't tried it out, we guess that the third row is ideal for kids.
The 4Runner is more than just a rock-crawler; its adaptable cargo area and numerous large, deep cubbies in the front row make it a capable hauler as well. The floor of the cargo hold is a painful distance from the ground, so unless you're a chiropractor, you probably shouldn't try to heave anything in there. A pull-out cargo deck was available on the two-row models we tested to facilitate the loading and unloading of heavy items (up to 440 pounds). It's a seat, and it's a tailgate. The flat load floor created by the collapsed second-row seats comes at the expense of some storage volume. Still, we were able to stow 14 bags behind the second row.
Specifications
2022 Toyota 4Runner TRD Pro
Vehicle Type: front-engine, rear/4-wheel-drive, 5-passenger, 4-door wagon
PRICE
Base/As Tested: $53,635/$55,003
Options: sliding cargo deck, $350; running boards, $345; cargo cover, $179; TRD floor mats, $169; hood protector, $165; blackout emblem overlays, $160
ENGINE
DOHC 24-valve V-6, aluminum block, and heads, port fuel injection
Displacement: 241 in3, 2956 cm3
Power: 270 hp @ 5600 rpm
Torque: 278 lb-ft @ 4400 rpm
TRANSMISSION
5-speed automatic
CHASSIS
Suspension, F/R: control arms/live axle
Brakes, F/R: 13.3-in vented disc/12.3-in vented disc
Tires: Nitto Terra Grappler All-Terrain
P265/70R-17 113S M+S
DIMENSIONS
Wheelbase: 109.8 in
Length: 191.3 in
Width: 75.8 in
Height: 71.5 in
Passenger Volume: 96 ft3
Cargo Volume: 46 ft3
Curb Weight: 4800 lb
C/DTEST RESULTS
60 mph: 7.7 sec
1/4-Mile: 16.0 sec @ 86 mph
100 mph: 23.8 sec
The results above omit a 1-ft rollout of 0.3 sec.
Rolling Start, 5–60 mph: 8.1 sec
Top Gear, 30–50 mph: 4.2 sec
Top Gear, 50–70 mph: 5.6 sec
Top Speed (gov): 113 mph
Braking, 70–0 mph: 192 ft
C/DFUEL ECONOMY
Observed: 15 mpg
75-mph Highway Driving: 17 mpg
Highway Range: 390 mi
EPA FUEL ECONOMY
Combined/City/Highway: 17/16/19 mpg
Read More: