Maruti Suzuki Eeco car accessories can be found on this page. Only authorized Maruti Suzuki dealers in India sell genuine Maruti Suzuki Eeco accessories. Wheel covers, alloy wheels, seat covers, fog lamps, mudflaps, and speakers are just a few of the popular Maruti Suzuki Eeco extras available. Accessories from Maruti Suzuki Eeco fall into five categories: Automotive Products, Infotainment Systems, External accessories (External), Internal accessories (Internal), Safety and Security, and Lifestyle. Your vehicle may require an air filter, oil filter, fuel filter, brake disc pad, timing belt, and other Maruti Suzuki Eeco Spares. To learn more about the Eeco from Maruti Suzuki.
Maruti Eeco Spare Parts
Get the list of genuine Maruti Eeco spare parts and accessories in India, check the price of the Front Bumper, Rear Bumper, Bonnet/Hood, Head Light, Tail Light, Front door & Rear door, Dicky, Side View Mirror, Front windshield glass, and other body parts.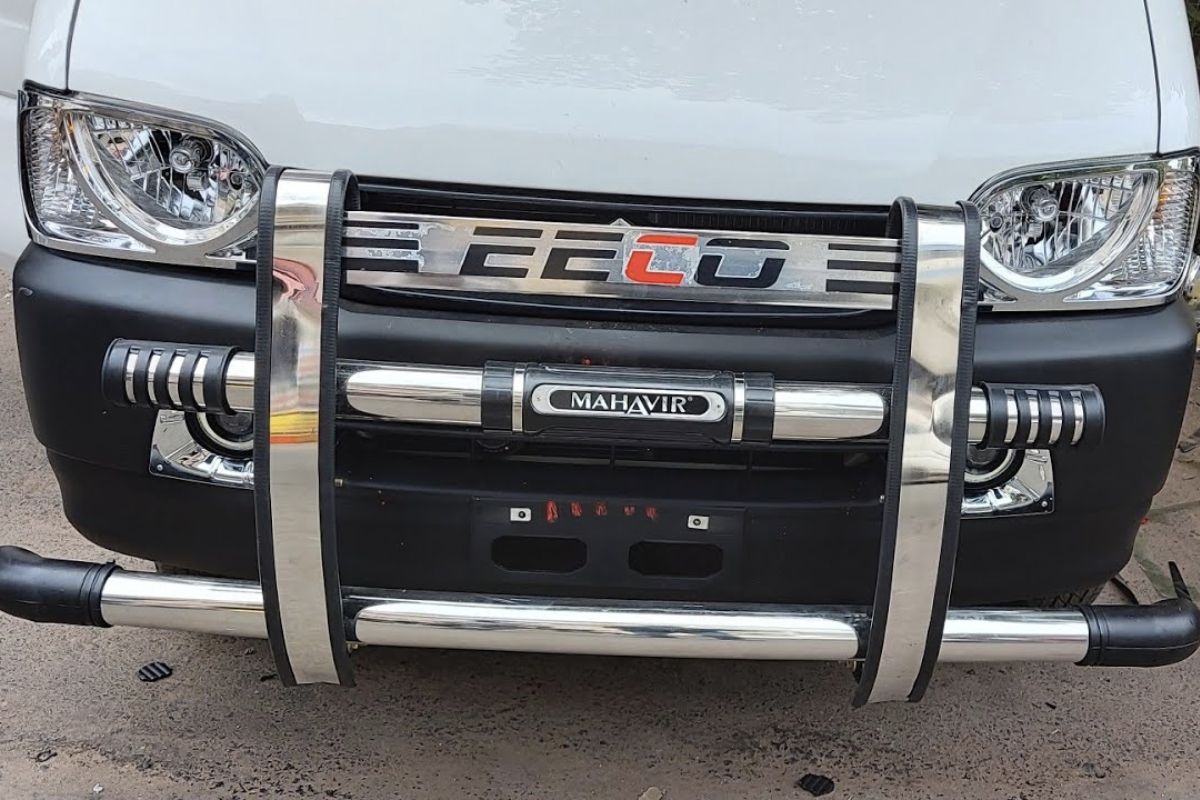 Eeco Spare Parts Price List
| | |
| --- | --- |
| Head Light (Left or Right ) | 5980 |
| Tail Light (Left or Right) | 960 |
| Front Door (Left or Right) | 5638 |
| Dicky | 9670 |
Engine Parts
| | |
| --- | --- |
| Radiator | 5,644 |
| Timing Chain | 770 |
| Spark Plug | 450 |
| Fan Belt | 139 |
| Clutch Plate | 1,820 |
Electric Parts
| | |
| --- | --- |
| Head Light (Left or Right ) | 5,980 |
| Tail Light (Left or Right) | 960 |
Body Parts
| | |
| --- | --- |
| Rear Windshield Glass | 1,249 |
| Fender (Left or Right) | 1,320 |
| Head Light (Left or Right ) | 5,980 |
| Tail Light (Left or Right) | 960 |
| Front Door (Left or Right) | 5,638 |
| Dicky | 9,670 |
Brakes & Suspension
| | |
| --- | --- |
| Disc Brake Front | 854 |
| Disc Brake Rear | 854 |
| Front Brake Pads | 1,049 |
| Rear Brake Pads | 1,049 |
Service Parts
| | |
| --- | --- |
| Air Filter | 239 |
| Fuel Filter | 300 |