MG Mifa 9 Price in India, Colours, Mileage, Top Speed, Specs and More
Maximum, Intelligent, Friendly, and Artistic are represented by the letters Mifa in the name of the MPV. The Mifa 9 comes with various eye-catching design features despite having the same boxy appearance as typical MPVs. The MPVs front end features a long, thin LED Daytime Running Light (DRL), a sizable air dam below it, and plenty of chrome accents.
The window frames on the sides and the diffuser at the back have chrome trim as well. The taillight covers the width of the MPV and is designed to resemble the LED DRLs up front. The electric Mifa 9 MPV was on show by MG Motor India at the most recent India Auto Expo. It is offered in international markets under the SAIC-owned Maxus brand.
It is marketed as Morris Garages in India. This year's Auto Expo featured participation from prestigious automakers including Maruti Suzuki, Hyundai, MG, Kia, BYD, Toyota, Lexus, Nissan, and Tata Motors. However, a number of well-known companies, including BMW, Skoda, VW, Audi, and Mercedes-Benz, decided not to take part in the event. Moreover, this year's Auto Fair featured no significant two-wheeler manufacturers.
MG Mifa 9 Price in India
In India, the price of the next MG MIFA 9 is anticipated to range from Rs 35 lakh to Rs 45 lakh (ex-showroom).
MG Mifa 9 Colours
In India, Mifa 9 cars come in a variety of colors, including Black.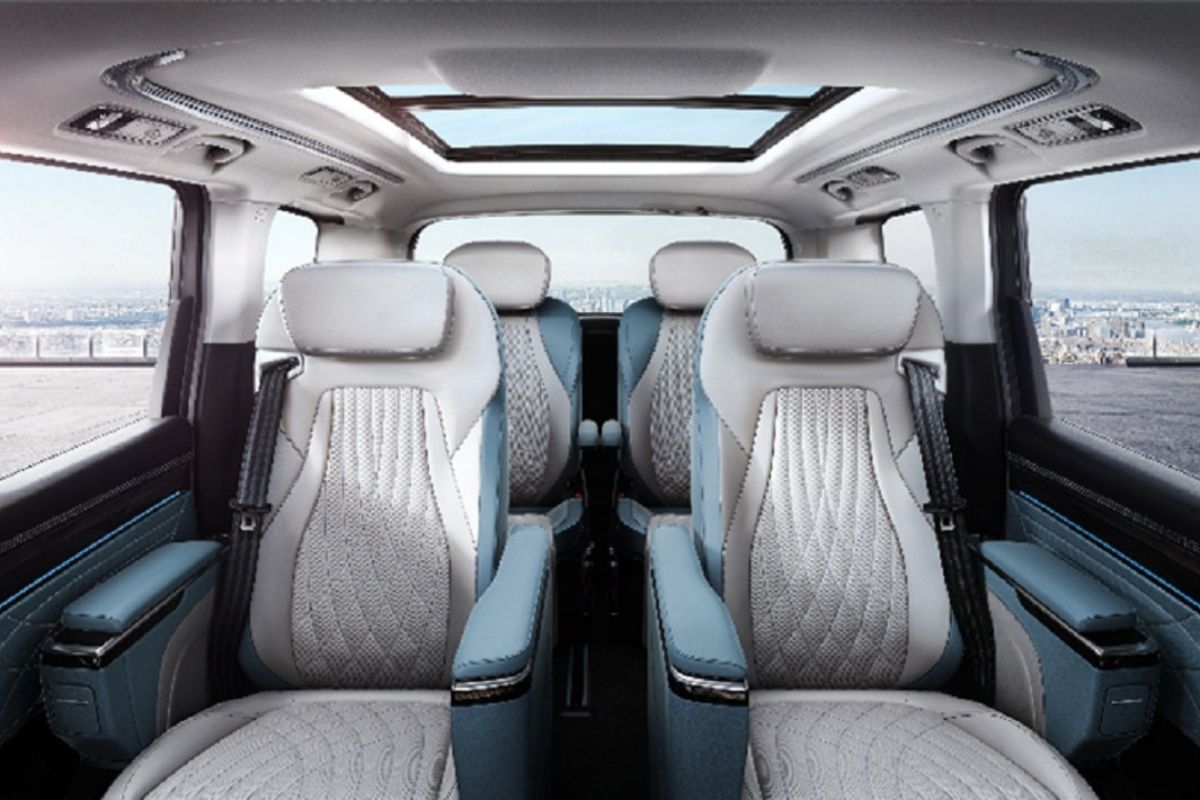 MG Mifa 9 Mileage
The 90kWh battery pack is said to provide the MG MIFA 9 a 560km range. You may anticipate it to offer a 6.22kmpu of mileage with this range. This indicates that using 1 unit, or 1 kWh, of electricity, you can drive the car 6.22 kilometers.
Maserati Ghibli Price in India, Colors, Mileage, Specs, Features and More
MG Mifa 9 Top Speed
The MG Mifa 9's electric motor can go at a top speed of 180 km/h and can produce a maximum of 245 horsepower and 350 nm of peak torque. The WLTP-certified integrated 90kWh battery in the Mifa 9 gives it a combined range of up to 440 kilometers.
Toyota Electric SUV Price in India, Colours, Mileage, Specs and More
MG Mifa 9 Specification
| | |
| --- | --- |
| Battery Capacity | 90kWh |
| Power | 245PS |
| Torque | 350Nm |
| Transmission | Single speed |
| Range (Claimed) | 560km |
| Charging Time | ~8.5 hours |
| Mileage | 6.22kmpu |
MG Mifa 9 Features
The MG Mifa 9 is a seven-seat electric multipurpose vehicle (e-MPV), measuring 5,720mm in length, 2,000mm in width, and 1,840mm in height. Other characteristics include split headlights, a contemporary grille, substantial front and rear bumpers, gunmetal-colored alloy wheels, vertically stacked LED tail lights, an integrated spoiler with a high-mounted stop lamp, and an LED light bar extending the length of the boot lid. These features are also referred to as the Maxus 90 on international markets. Furthermore, chrome inlays are extensively used throughout.
The MG Mifa 9's available interior features include a roomy freestanding touchscreen infotainment system, comfortable captain seats for the second and third rows, a two-spoke steering wheel, a fully digital instrument console, a floating armrest with storage in the front row, and a dual-pane panoramic sunroof window.
Design
Although the Mifa has the same boxy shape as the majority of MPVs, it boasts numerous visually arresting design features. The front of the car has a lot of chrome, a sizable lower air dam, and a slim LED Daytime Running Light (DRL) that runs the length of the car. The diffuser at the back and the window frames on either side are both decorated with chrome. The MPV's wide-spreading taillight is an exact replica of the front LED DRLs.
Dimension
With dimensions of 5,270mm in length, 2,000mm in width, 1,840mm in height, and 3,200mm in wheelbase, the Mifa 9 is larger than the Kia Carnival. Due to its huge size, the MG Mifa 9 incorporates four captain seats with electric adjustment for the center and third row. The lesser variations, however, add benches in place of the captain chairs in the third row, boosting seating capacity to seven from six. The Mifa 9 sports a big touchscreen that, once more, spans the whole width of the dashboard, as well as a two-spoke steering wheel up front.
MG Mifa 9 Competitors
Its rivals include the Mercedes-Benz GLE, Mercedes-Benz EQC, Mercedes-Benz AMG E53, and Toyota Vellfire.
Like read about MG Mifa 9 car in this article, in the same way follow abcd to read about more upcoming cars.
FAQ's
What is MG Mifa 9?
A MUV is the MG Mifa 9. In India, it will debut in September 2024. In India, Mifa 9 will cost between 1 and 10 crore rupees. Its rivals include the Mercedes-Benz AMG E53, Volvo XC90, Audi e-tron, and Toyota Vellfire.
Is MG EV Made in China?
MG Motor manufactures automobiles in its sites in China, Thailand, and India while designing, developing, and marketing vehicles sold under the British MG marque.
Is MG car reliable?
Reliability Study placed ninth out of 32 brands, ahead of Citroen, Skoda, and Ford but just below Mazda and Kia. Better than nearly everything else you'll find, MG vehicles come with a seven-year factory warranty (even Hyundai's five-year warranty falls short).