Maserati Ghibli Price in India, Colors, Mileage, Specs, Features and More
Maserati Ghibli is a luxury sports sedan that epitomizes the Italian brand's style, sophistication, and performance. First introduced in 1966, the Ghibli has evolved over the years to become one of the most desirable vehicles in its class, known for its stunning design, thrilling driving experience, and exceptional craftsmanship.
Maserati Ghibli Price in india
Depending on the variant chosen, the price of the Maserati Ghibli ranges from 1.20 crore to 1.99 crores (ex-showroom).
Variants
Ghibli GT Hybrid (electric+petrol)

Ghibli top model in petrol

Ghibli automatic version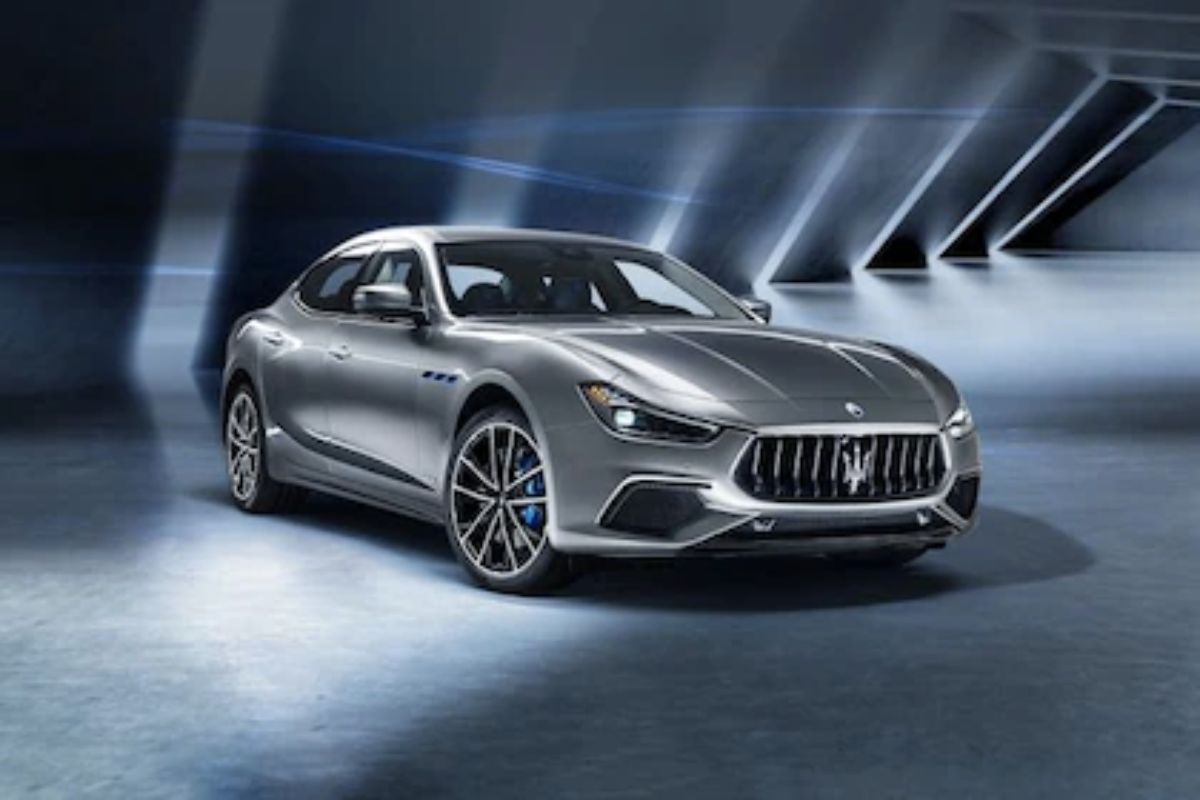 Maserati Ghibli Colours
Bianco

Bianco Alpi

Blu Emozione

Blu Passione

Grigio Maratea

Nero

Nero Ribelle

Rosso Folgore

Grigio

Blu Nobile
2023 Tata E-Vision Price in India, Colours, Variants, Specs, competitors and More
Maserati Ghibli Mileage
Maserati Ghibli mileage is 8 to 11.4 km per liter, according to ARAI. The gasoline version gets 8 to 9.3 kilometers per gallon. The hybrid model gets 11.4 kilometers per gallon.
Fuel Type
Transmission
ARAI Mileage

Hybrid (Electric + Petrol)

(1998 cc)

Automatic (TC)

11.4 kmpl

Petrol

(2979 cc)

Automatic (TC)

9.3 kmpl

Petrol

(3799 cc)

Automatic (TC)

8 kmpl
Maserati Ghibli Specifications
Design and Styling
The Maserati Ghibli boasts a sleek and elegant design that is both modern and timeless. From the iconic Trident emblem on the grille to the aerodynamic curves and lines of the body, the Ghibli exudes a sense of power and refinement. The interior is equally impressive, with premium materials and cutting-edge technology that create a comfortable and engaging driving experience.
Performance and Handling
At the heart of the Maserati Ghibli is a powerful engine that delivers a thrilling driving experience. The base model comes with a 3.0-liter V6 engine that produces 345 horsepower, while the S and S Q4 models have a twin-turbocharged version of the same engine that produces 424 horsepower. The Ghibli can go from 0 to 60 mph in just 4.7 seconds and has a top speed of 177 mph. The Ghibli also features Maserati S Q4 all-wheel-drive system, which enhances handling and stability on the road.
How to Make an Electric Race Car 2023? Step by Step Full Guide
Maserati Ghibli Features
Technology and Features
The Maserati Ghibli is packed with advanced technology and features that make driving safer and more enjoyable. The standard infotainment system includes an 8.4-inch touchscreen display, navigation, and a 10-speaker audio system.
Optional features include a 15-speaker Harman Kardon sound system, a panoramic sunroof, and adaptive cruise control. The Ghibli also comes with a host of safety features, including forward collision warning, blind-spot monitoring, and lane departure warning. It is more contemporary in terms of the comfort of the driver because it comes standard with electric power steering (EPS).
2023 Lamborghini Huracan EVO Price in India, Images, Colours, Mileage, Specs and More
Maserati Ghibli Competitors
Mercedes AMG-E53.

2022 Genesis G80.

Mercedes E-Class.

Audi A7.

Audi A6.

Lucid Air.

Tesla Model S.

The Infiniti Q50.
The Maserati Ghibli is a luxury sports sedan that combines Italian style, performance, and craftsmanship. With its stunning design, thrilling driving experience, and advanced technology, the Ghibli is a vehicle that is sure to turn heads and impress even the most discerning drivers. Whether you're looking for a daily driver or a weekend cruiser, the Ghibli is a vehicle that delivers on all fronts.
If you are fond of gaining knowledge about cars then stay with Autohexa.com for more updates.
FAQ's
Is Maserati Ghibli a 4×4?
In the Indian market, the Maserati Ghibli does not have a four-wheel drive transmission.
What are the colour options of Maserati Ghibli?
Red, grey are the color options of Ghibli.