2023 How to Clean Car Plastic? Step by Step Full Guide
How to Clean Car Plastic- If you take good care of your car, including its interior and exterior, it will preserve its market value and become an object of your pride. The inside and outside of your car are both made of plastic. Before wiping it off with a soft cloth and a plastic cleaner, vacuum the inner plastic. Before applying a degreaser to clean the external plastic, you should wash the car. At the end of each cleaning session, be sure to apply a protective coating. Dusting a smooth plastic surface is easier than trying to get into all the nooks and crannies of a textured plastic interior.
Many motorists would prefer to avoid having to clean the plastic components of their vehicles. In contrast, plastic can easily become soiled if not cleaned correctly. In this article, we'll go over some of the best methods for keeping your car's plastic in pristine condition. We'll also go through the various plastics used in automobiles and which ones are the most likely to become discolored over time. This post is for you if you're a motorist who wants to maintain their car looking nice or a mechanic who needs a simple method to clean the plastics in cars.
How to Clean Car Plastic?
Most people don't give the plastic in their cars much thought, but you shouldn't. Plastic, like every other part of your car, needs to be kept clean for optimal performance and appearance. In this article, we'll go over some of the most common auto cleaning blunders and the most effective techniques to get the plastic in your vehicle looking like new again. We'll also go over several tricks for removing tough stains and protecting your car's plastic from further wear and tear. Continue reading to find out the best methods for cleaning the plastic in your automobile.
Then, how do you clean a car with a textured plastic interior? The plastic interior of the car should be vacuumed, wiped down with a moist microfiber towel, treated with a cleaning solution, and finally protected with a plastic interior protectant. But, you should also use soft tools when cleaning the plastic to prevent scratching. Car interior plastic is notoriously prone to collecting dust, filth, debris, and stains. These impurities are more visible on black plastic, thus cleaning it every few months is recommended. How do you keep your car's plastics in pristine shape to prevent costly repairs? You'll feel good about yourself because finishing the work won't be difficult or time-consuming.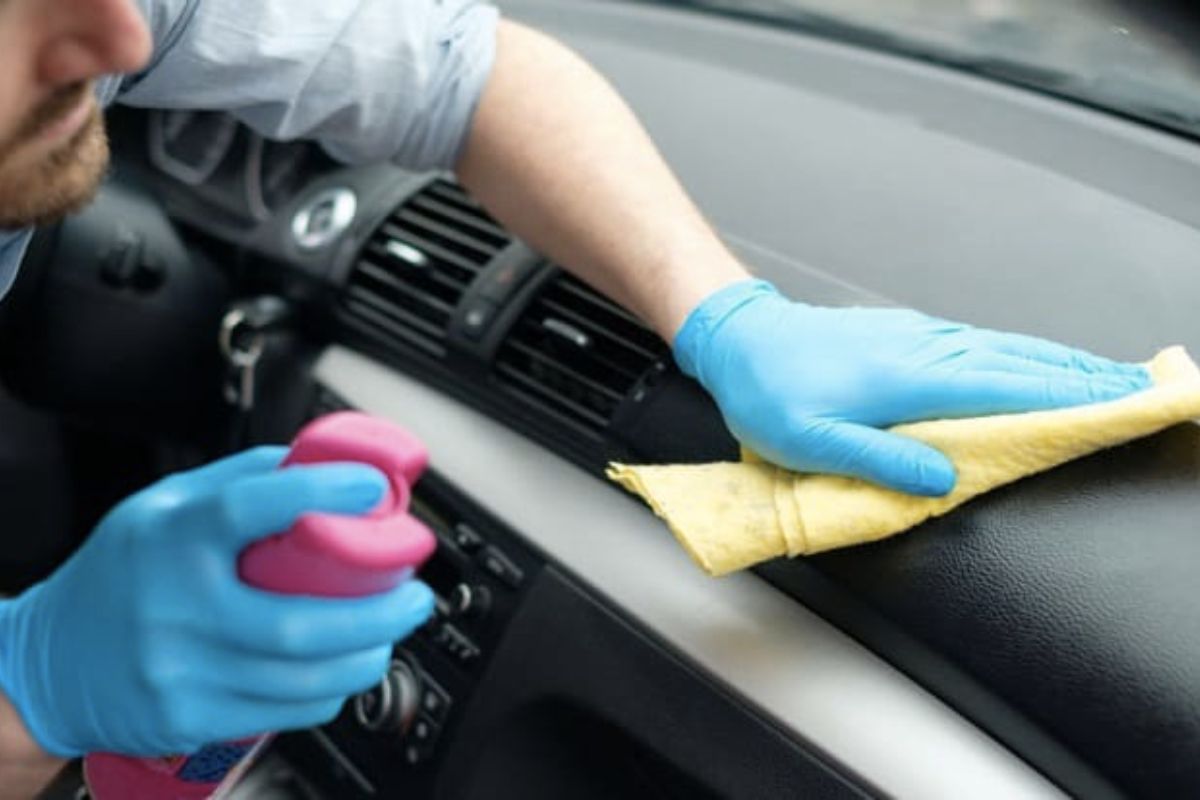 How to Clean Car Plastic Details
| | |
| --- | --- |
| Article for | How to Clean Car Plastic 2023 Step by Step Full Guide |
| How to Clean Car Plastic 2023 | Click Here |
| Category | How to guide |
| Official website | Click Here |
How to Clean Car Plastic 2023? Step by Step Full Guide
Do you despise having to clean the plastic window frames in your car? Do you never seem to have the time or energy to clean it up? If so, you're in good company. Plastic car windows can be a pain to clean, but that's not necessarily the case. Here, we'll walk you through the straightforward steps required to clean the plastic windows in your car. We'll also go through several tricks for cleaning the less-obvious parts of your automobile, such the dashboard and the seats. This article is for you whether you're brand new to washing the plastic windows in your car or you believe you've tried it everything.
Soft brushes and cloths are ideal cleaning equipment for the interior of textured plastic containers because of their gentle nature. A high-quality cleanser, which can take several forms, is also required.
Here's a list of the necessary items this:
Vacuum Cleaner
Soft Brush Vacuum Attachment
Microfiber Towels
Cotton Buds or Soft Toothbrush
Cleaner for Car Interior Plastic (Mild Soap, Laundry Detergent, or Car Detailing Cleaner)
Soft-Bristled Brush
Plastic Interior Protectant
Step by Step Instructions
Stickers, sun damage, and other forms of dust and filth blanket your automobile, if it's anything like most people's vehicles. It's 2023, so it's time to clean your car the right way using our simple instructions. Here, we'll show you how to clean the plastic in your car without damaging it. We'll lay out the entire procedure for you, down to the materials you'll need. Thus, if you want to clean your automobile or just learn how, this book has you covered.
Now that you know what supplies and equipment you'll need, we can get started on the right way to clean. Follow these instructions carefully to ensure a spotless and undamaged textured plastic interior.
1. Vacuum Clean the Plastic Interior
The average American home has a lot of plastic furniture and decorations. Most of the things we use every day, from chairs to lamps, are made out of plastic, and they're built to last. So what happens when the plastic cabin stops looking futuristic and instead looks dated? Cleaning the plastic by using a vacuum is one option. This will not only disinfect the area, but also return it to its original state visually. If you do this on a regular basis, you may keep your car's plastic interior looking like new for longer.
Take things like seat covers, floor mats, and other items that could get in the way of cleaning the plastic interior out.
You can use the soft brush attachment to clean your car's corners and other nooks and crannies by attaching it to the vacuum cleaner nozzle. You will be able to get rid of all debris, including food crumbs, and you won't have to worry about scratching the plastic inside.
2. Wipe the Plastic Interior Using a Damp Microfiber Towel
Do you despise the idea of using a dirty rag to clean your car? A damp microfiber towel could be a better option for cleaning the plastic car interior. It's better for the environment, plus it leaves your automobile spotless and shiny. We'll teach you how to clean the plastic surfaces inside your automobile using a damp microfiber towel in this post. In addition, we'll go over several strategies for maintaining the plastic components of your vehicle's interior. If you want to know how to clean the plastic surfaces inside your automobile, read on!
Use a damp microfiber towel to clean the plastic interior. It will make it easier for the cleaning solution to work and help get rid of any contaminants that the vacuum hasn't picked up.
Keep wiping until there is no more dirt on the fabric. Clean nooks and crannies with cotton buds to remove dirt and grime; Alternately, employ a brush with supple bristles.
Take a dry towel and wipe dry the areas you have already cleaned. It is not a good idea to leave the towel's moisture on the vehicle.
3. Clean the Plastic Interior With Your Desired Cleaning Solution
Cleaning the grime from the inside of your plastic bottles and storage tubs will make them look and feel brand new again. In this article, you will learn how to clean the inside of plastic containers so that they smell and look brand new again by using your preferred cleaning solution. We'll go through the various plastics available, the best cleaning products for each, and how to clean plastic storage containers in general. This blog post offers all you need to know about cleaning a water bottle, food storage container, or even the cup holder in your automobile!
Using an All-Purpose Cleaner
If you decide to use an all-purpose detailing cleaner, the best way to clean the plastic in your car's interior is to apply it with a soft-bristled brush or microfiber towel, not directly on the plastic. This will prevent any damage or adverse reactions.
Additionally, this would prevent the cleaner from running down the electronics and vents and allow for better control over the amount of solution used.
Using a microfiber towel, remove the cleaner and any contaminants it removed from the plastic interior after you've scrubbed the surface.
Using a Mild Soap or Laundry Detergent
You can use a mild detergent or soap to clean the interior of your car for a low cost. For this method, it would be best to test it first in a dark place.
It should be tested first to see if it has any negative effects on your plastic interior. Apply a quarter-sized amount of it to a microfiber towel if there is no significant damage.
Keep in mind to only apply detergent to the fabric when absolutely necessary and to work on a single piece of plastic at a time. In this instance, less is more.
Rub the plastic's interior with the cleaning solution-soaked microfiber towel to remove contaminants. A soft toothbrush can be used to scrub hard-to-reach areas.
Finally, wipe the solution and contaminants off with a damp microfiber towel. If the soapy water is not removed completely, it will leave marks that are difficult to remove.
Additionally, it is simple to clean car seats with laundry detergent.
It is best to wait for the mud to dry before cleaning the interior plastic of a car because working with wet mud only makes it spread. Use a brush with soft bristles to remove it once it has dried.
Wash the affected area with a towel and one of the aforementioned solutions after brushing off the mud.
Step 4: Apply a Plastic Interior Protectant
Is your furniture made of plastic? If that's the case, you could use a plastic inner protector to keep it safe from wear and tear. Water, UV light, and cracking can all cause damage to plastic furnishings. To prevent these marks and scratches from appearing on your plastic interior, use a plastic interior protector. To keep your plastic dashboard, door panels, and other interior components in pristine condition, use a protectant made for that purpose.
Use a plastic protectant to keep your plastic interior clean. It will shield the interior of the plastic from UV damage and prevent oils, dirt, and dust from adhering to it. It can also give the interior plastic of a car a new look and shine.
Apply a few sprays of the protectant to a microfiber towel and evenly apply it to the interior of the plastic. After about one to three minutes of letting the protectant sit on the surface, buff it with a second microfiber towel.
Conclusion
You probably don't have much time to clean your automobile, if you're like the average person. It's understandable; washing an automobile isn't always a breeze. Nevertheless, you don't need a professional detailer because there are numerous easy and effective ways to clean the plastic in your automobile. In this article, we'll go over the three most popular ways to clean auto plastic and offer advice on how to do it right. If you're looking for a quick and cheap way to clean the plastic in your automobile, we hope this post has given you some ideas. Have fun with it and report back with your findings!
A dirty car's interior is unpleasant to look at and may even be scratched if not cleaned properly. This is why we put together this article on maintaining a car with a plastic interior. Our goal is to help motorists and their passengers have a pleasant, germ-free car ride. To remove stubborn stains, start by cleaning the area down with a damp microfiber cloth, and then use an all-purpose cleaner. Remember that electricity and water do not mix, so conserve water by spraying products directly onto the cloth rather than on the inner surfaces. If you found this post helpful, please consider sharing it with your friends.
Read More:
Frequently Asked Questions
What is the best thing to clean car plastic?
A good first step is to clean the surface with an All Purpose cleaner, and then use a damp microfibre cloth to wipe it down. Remember to avoid using copious amounts of water and make certain you spray goods onto the cloth rather than over the inside surfaces. Remember, water and electricity don't mix.
How do I clean the plastic front of my car?
To remove any loose debris, wash the plastic first. And of course, road grime. Next, to eliminate any oils that might prevent the dye from adhering, spray all-purpose cleaner liberally onto the plastic.
How do I make my car interior plastic look new?
Scrub with a scuff pad and apply SEM Soap to vinyl and plastic surfaces. Textured and recessed places should receive extra attention. A clean, damp, lint-free cloth should be used to wipe the surface.
How do you brighten plastic on a car?
Clean the plastic trim with isopropyl alcohol to remove any residues and only have bare plastic for optimum results. Solution Finish Trim Restorer should be applied to the plastic using a microfiber applicator or foam applicator. After drying for six hours, wipe off the extra product with a clean towel.