2023 Subaru Solterra Price, Colors, Features, Specs and More
The Subaru Solterra in 2023 is the company's first electric vehicle and contains signature elements such all-wheel drive as standard. This compact SUV was developed in partnership between Subaru and Toyota, and its platform will also serve as the basis for the next Toyota bZ4X and other future models. The Solterra's projected driving range is between 222 and 228 miles, and it comes with some cool off-road tricks and a lot of conventional driver assistance. While the 2023 Solterra currently faces little competition in the non-luxury EV compact-ute sector, that could alter dramatically over the next year or so.
2023 Subaru Solterra Pricing
The Premium version of the 2023 Solterra electric SUV costs $44,995 (MSRP), not including the additional $1,225 for delivery. The base Limited is $48.495 while the highest Touring variant is at $51.995. That will set you back $890 for the highest-end two-tone premium paint job.
The federal government offers a tax credit of up to $7,500, and several states offer additional incentives. Purchasers and lessees of electric vehicles in California can receive a $2,000 rebate through the state's Clean Vehicle Rebate programme (EV).
A Qmerit 240-volt home charger or an EVgo charging credit is what Subaru is working on providing. A free 10-day Subaru rental plan is included with every new Solterra purchase or lease (at participating Subaru dealers).
The new Toyota bZ4X, introduced in 2023 and based on Solterra's basis, has a lower starting price of $42,000. Nevertheless, that's for a front-wheel-drive model. Also, Toyota is getting close to the point where its electrified vehicles will no longer qualify for a federal tax credit (Tesla passed it a few years back). Subaru, on the other hand, has a long way to go.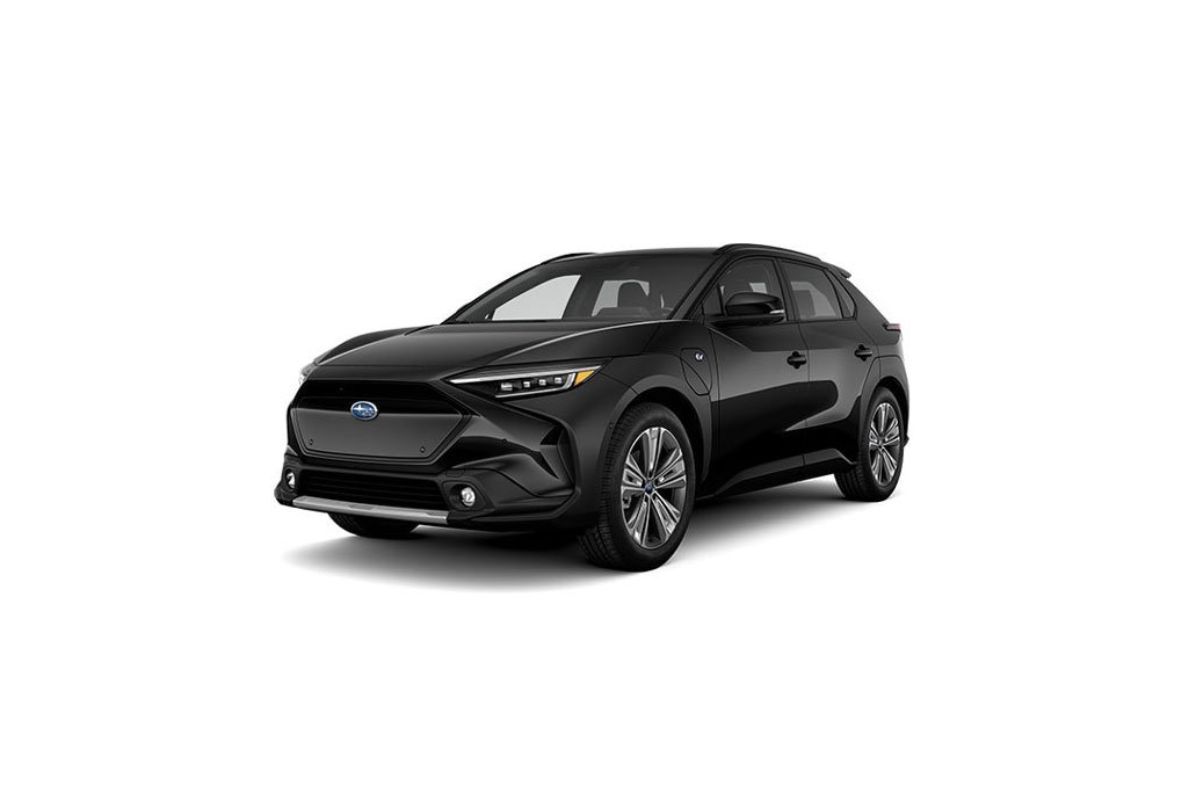 Subaru Solterra Colors
To complement its cutting-edge body lines and futuristic design cues, the Subaru Solterra offers a wide range of paint colours that allow for seamless blending with its surroundings or striking contrast, depending on your preference.
The first is a highlighted colour combination called Harbor Mist Gray Pearl Two-Tone. Its two-tone colour scheme of cool blues and greys with a dramatic black roof is sure to make an impression. It'll fit in well as you blaze through the woods in search of a secret waterfall along the trail.
Elemental Red Pearl is the next Subaru Solterra colour available. Those who like to make a fashion statement while venturing into the wild will appreciate this shade. It will leave an impressive legacy as you explore places that other EV drivers would consider inaccessible.
Cosmic White Pearl, the third colour option as of this writing, is stunning. It's a colour that evokes the cool confidence with which the Subaru Solterra faces adversity.
Possibly other hues will be added to the mix in the future, but for now, this power trio is certain to make every time you look out into your driveway an unforgettable one.
EV Motor, Power, and Performance
The Solterra is a fully electric vehicle that features an all-wheel-drive system driven by two electric motors that provide a combined 215 horsepower and 249 pound-feet of torque. There are four alternative driving modes (Eco, Normal, Power, and X) that allow for diverse applications of that power, such as X-mode, which is designed to aid in slippery circumstances or on uneven terrain by varying the amount of power delivered to each wheel. The Solterra boasts 8.3 inches of ground clearance and a "Grip Control" feature that acts like a low-speed cruise control for people who want to take it off-road. Altering the intensity of the regenerative brakes is done with paddles on the steering wheel. The version we drove on Arizona's off-roading trails handled the terrain with ease, and we were even able to do a donut on an unpaved surface thanks to the Solterra's ability to send 60 percent of its torque to the rear axle.
Range, Charging, and Battery Life
Suburu estimates the Solterra's battery pack's gross capacity at 72.8 kWh. Range for models on 18-inch wheels is assessed at 228 miles, while for versions on 20-inch wheels it is rated at 222 miles. Subaru claims the Solterra's integrated 6.6 kWh charger can fully recharge the battery in nine hours when connected to a Level 2 charging station. If you use a 100 kW DC fast charger, you can supposedly get an 80 percent charge in roughly 56 minutes.
Fuel-Economy and Real-World MPGe
According to the EPA, the 2023 Solterra may get a combined 104 MPGe. We can determine its true MPGe once we have the chance to test drive one on our 75 mph fuel-economy route as part of our comprehensive testing protocol.
Interior, Comfort, and Cargo
The Solterra's cabin is equipped with a rotary-looking shift knob on an up-high console, a large touchscreen for the infotainment system, and a set of digital gauges situated high on the dashboard. It appears that the spacious interior is a result of the tall windscreen, the big side windows, and the panoramic sunroof. The pleasant appearance is further enhanced by the variety of appealing materials used throughout. With up to 30 cubic feet of cargo space when the rear seats are folded flat, the Solterra is a practical travel companion in addition to its several storage locations, including the huge bin under the centre console.
Infotainment and Connectivity
The Solterra offers an infotainment system with a 12.3-inch touchscreen that may be found in the middle of the dashboard. Apple CarPlay, Android Auto, and a wireless phone charger are all included on every model. Using a mobile app, passengers can lock and unlock the doors, pre-condition the cabin's climate control, and more. It is also likely that a high-quality audio system will be an available upgrade alongside the navigation system.
2023 Subaru Solterra Competitors
Other contenders include the Kia EV6, Hyundai Ioniq 5, Volkswagen ID.4, and Ford Mustang Mach-E — all with useful ranges.
Read More:
Specifications
2023 Subaru Solterra
Vehicle Type: front- and rear-motor, all-wheel-drive, 5-passenger, 4-door wagon
PRICE (C/DEST)
Base: $40,000
POWERTRAIN
Front Motor: permanent-magnet synchronous AC, 107 hp, 125 lb-ft
Rear Motor: permanent-magnet synchronous AC, 107 hp, 125 lb-ft
Combined Power: 215 hp
Combined Torque: 249 lb-ft
Battery Pack: liquid-cooled lithium-ion, 72.8 kWh (gross)
Onboard Charger: 6.6 kW
Transmissions: direct-drive
DIMENSIONS
Wheelbase: 112.2 in
Length: 184.6 in
Width: 73.2 in
Height: 65.1 in
Cargo Volume: 30 ft3
Curb Weight (C/Dest): 4400–4500 lb
PERFORMANCE (C/DEST)
60 mph: 6.5 sec
1/4-Mile: 15.2 sec
Top Speed: 110 mph
EPA FUEL ECONOMY
Combined/City/Highway: 102–104/111–114/93–94 MPGe
Range: 222–228 mi