When it was in production from 1983 until 2002, the Hindustan Contessa was a wildly popular automobile in India. The Contessa was initially introduced in 1976 as part of Vauxhall's VX Series. Following suit, the VX series borrowed heavily from the Vauxhall Victor FE. In 1983, the Contessa made its way to India, where it was immediately hailed as a symbol of wealth and status.
As a competitor to the Premier 118 NE, the HM Contessa was a formidable opponent. The government's official car for very important people (VIPs) and VIPs was a Contessa. Competition from the Maruti Esteem and the Daewoo Cielo ensured rapid decline for the Contessa.
Car collectors and aficionados place a great value on the Contessa today. Its current-day cult status is largely due to the attention to detail shown in the vehicle's sparse body panels, comparatively brief rear overhang, and lengthy bonnet. Take a look at this Dodge Challenger–inspired Contessa!
A automobile customization shop in Chennai is responsible for the shown Contessa. The Contessa was styled to evoke memories of classic muscle cars. Clearly, the old Dodge Challenger served the inspiration for this tuned Contessa. The 'Grey Hound,' as the name for this customised Contessa suggests, is a bit ominous.
This one-off vehicle's redesigned front fascia includes a lengthy grille and LED-based headlight lights. It also has a diffuser installed in place of a metal bumper. New 18-inch alloy wheels with a chrome lip are included. Flat tyres adorn these rims. The rear end has been updated with new LED taillights and a spoiler that's built right in. The exterior of the vehicle is finished in a flat black colour.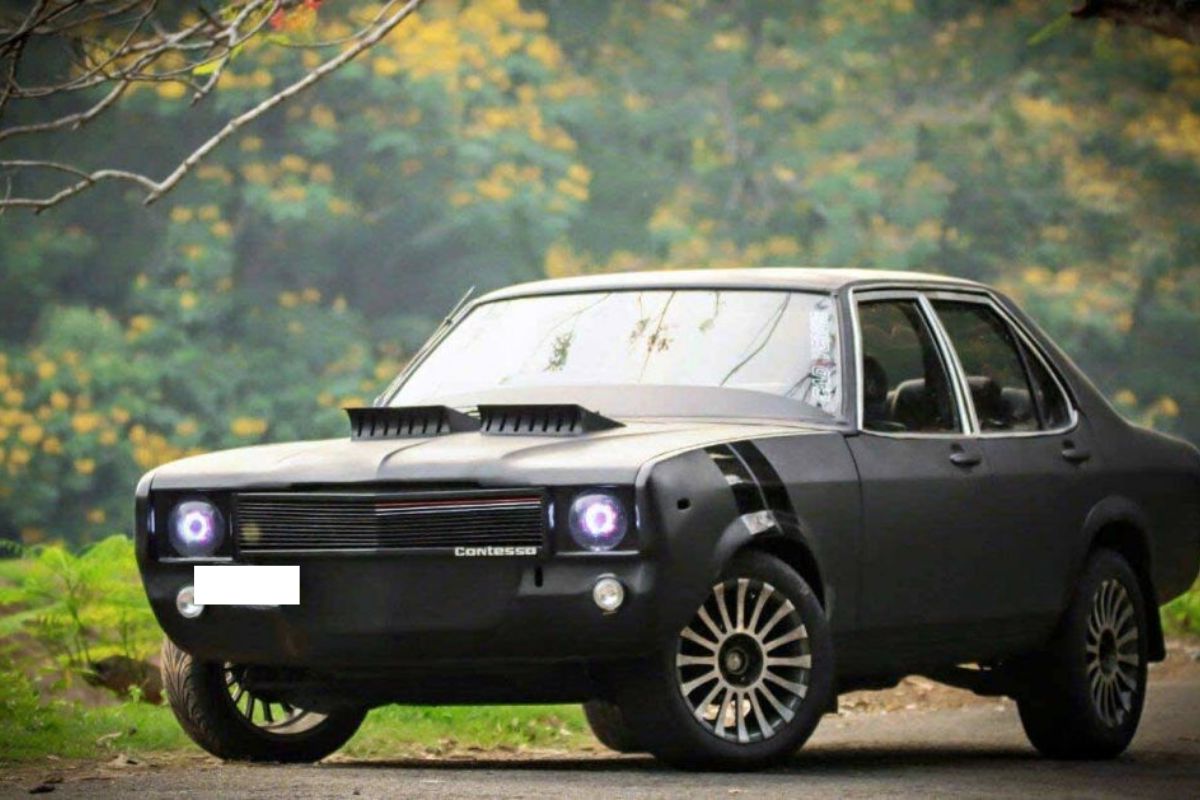 Modified Contessa Car Features
Deatures highlights of the modified Contessa car are-
Metal-Fabricated Wheel Arches
New Grill
LED Headlamp and Tail Lamp integration
FRP Rear Duck Tail Spoiler
Reventon Matte Grey Paint Job
Custom Upholstery
No one knows what kind of performance upgrades have been made to this vehicle. One of the images, however, plainly shows a bespoke end can. The modified HM Contessa definitely has some sort of performance upgrades, as evidenced by the car's delicious exterior.
The Contessa was available with gas and diesel engines ranging in size from 1.5 to 2.0 litres. The most potent engine was a 1.8-liter Petrol unit made by Isuzu. It was coupled to a 5-speed gearbox. Fuel injection, somewhat revolutionary at the time, helped this engine perform better. Its maximum horsepower was 85 at 5,000 rpm, while its maximum torque was 13.8 kg at 3,000 rpm.
| | |
| --- | --- |
| Manufacturer | Hindustan Motors |
| Production | 1984–2002 |
| Class | Large family car |
| Body style | 4-door sedan |
| Layout | FR layout |
| Related Vehicle | Vauxhall VX Series |
| Engine | 1.8 L 4ZB1 I4; 2.0 L 4FC1-T turbodiesel I4 |
| Transmission | 4-speed manual; 5-speed manual |
| Wheelbase | 2,667 mm (105.0 in) |
| Length | 4,591 mm |
| Width | 1,699 mm |
| Height | 1,432 mm |
| Kerb Weight | 1,200 kg |
We don't know much more about this modified Contessa car. However, you can stay tuned to Autohexa for more dope on such modified cars.
And Here's Another Tastefully Restored HM Contessa car-
And now we've found another Contessa that's been given the works by Retro Car Restoration in Calicut, Kerala. The guys at this mod shop did a great job of giving the Conti a new lease of life, and the car looks awesome in this colour scheme. The rims, though, are a little excessive.
Nonetheless, the bling factor is still over the roof, and the restorers did a good job overall. Unfortunately, we don't have any information about the engine's upgrades at the time, but it seems likely that it has undergone some sort of refurbishment in order to be functional in the modern era. We'll just let the pictures do the talking, then.
Read More: