2022 Eicher Tractors Price in India Lists, Specifications And Auto Facts
If you're looking for a quality tractor, go no further than Eicher. In addition to their reliability and productivity, Eicher tractors are also well-known. In this piece, we'll detail every possible model of Eicher tractor, along with their prices and main features.
As of this writing, you can choose from one of Eicher's 13 tractor models. Eicher tractors can be purchased for anywhere from INR 4.5 M to INR 7.8 M.
Please note that the prices may get vary in various places.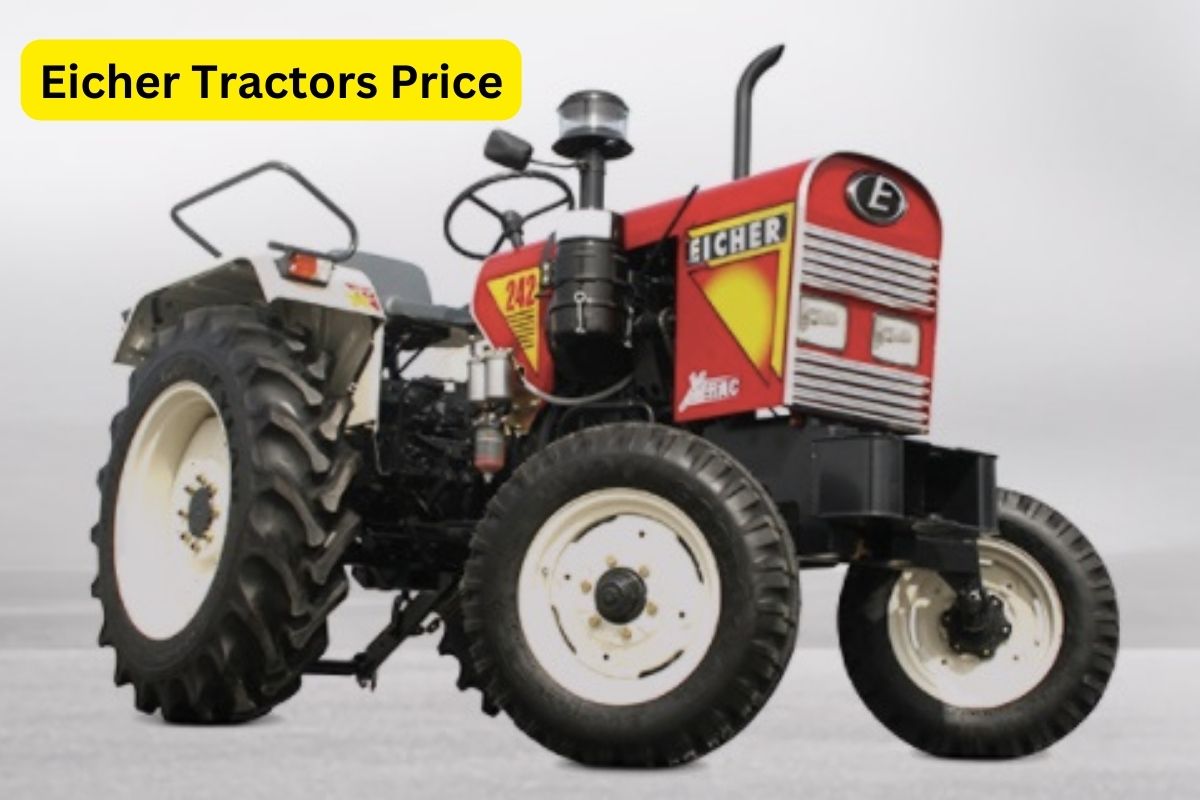 | | |
| --- | --- |
| MODEL NAME | PRICE LIST |
| Eicher 241 Mini Tractor | Rs.4.50 Lakh |
| Eicher 242 Mini Tractor | Rs.4.50 Lakh |
| Eicher 312 Tractor | Rs.5.40 Lakh |
| Eicher 333 Tractor | Rs.5.80 Lakh |
| Eicher 364 Tractor | Rs.5.65 Lakh |
| Eicher 368 Tractor | Rs.6.15 Lakh |
| Eicher 380 Tractor | Rs.6.60 Lakh |
| Eicher 480 Tractor | Rs.3.50 Lakh |
| Eicher 485 Tractor | Rs.6.70 Lakh |
| Eicher 548 Tractor | Rs.6.15 Lakh |
| Eicher 551 Tractor | Rs.6.00 Lakh |
| Eicher 557 Tractor | Rs.6.10 Lakh |
| Eicher 5660 Tractor | Rs.7.80 Lakh |
Now we are giving we Full specifications of all the Eicher Tractors
Eicher 241 Tractor
| | |
| --- | --- |
| hp Range | 25 |
| Cylinders | 1 |
| Cubic Capacity | 1557 cc |
| Fuel Injection Pump | Inline |
| Clutch Type | Single |
| Transmission Type | Central shift, Sliding Mesh |
| Number of Speeds | 5 Forward + 1 Reverse |
| Tyre Dimensions | Front: 6.00 x 16, Rear: 12.4 x 28 |
| Forward speed @ rated RPM | 25.5 kmph |
| PTO Type | Live |
| PTO Speed (Standard) | 519@ 1650 erpm |
| PTO – Multispeed & Reverse | No |
| Lifting Capacity (Lower links at hitch position) | 700 Kg |
| Three point linkage and controls | Automatic depth and draft control |
| Brake Type | Disc Brake |
| Steering Type | Mechanical |
| Electricals | 12V, 88Ah |
Eicher 242 Tractor
| | |
| --- | --- |
| hp Range | 25 |
| Cylinders | 1 |
| Cubic Capacity | 1557 cc |
| Fuel Injection Pump | Inline |
| Clutch Type | Single |
| Transmission Type | Central shift, Sliding Mesh |
| Number of Speeds | 8 Forward + 2 Reverse |
| Tyre Dimensions | Front: 6.00 x 16, Rear: 12.4 x 28 |
| Forward speed @ rated RPM | 27.6 kmph |
| PTO Type | Live |
| PTO Speed (Standard) | 1000 |
| PTO – Multispeed & Reverse | No |
| Lifting Capacity (Lower links at hitch position) | 900 kg |
| Three point linkage and controls | Automatic depth and draft control |
| Brake Type | Disc Brake |
| Steering Type | Mechanical |
| Electricals | 12V, 88Ah |
Eicher 312 Tractor
| | |
| --- | --- |
| hp Range | 30 |
| Cylinders | 2 |
| Cubic Capacity | 1963 cc |
| Fuel Injection Pump | Inline |
| Clutch Type | Single |
| Transmission Type | Central shift, Combination of constant & sliding mesh |
| Number of Speeds | 8 Forward + 2 Reverse |
| Tyre Dimensions | Front: 6.00 x 16, Rear: 12.4 x 28 |
| Forward speed @ rated RPM | 30 kmph |
| PTO Type | Live |
| PTO Speed (Standard) | 1000 |
| PTO – Multispeed & Reverse | No |
| Lifting Capacity (Lower links at hitch position) | 1200 kg |
| Three point linkage and controls | Automatic depth and draft control |
| Brake Type | Disc Brake |
| Steering Type | Mechanical |
| Electricals | 12V, 75Ah |
Eicher 364 Tractor
| | |
| --- | --- |
| hp Range | 35 |
| Cylinders | 2 |
| Cubic Capacity | 1963 cc |
| Fuel Injection Pump | Inline |
| Clutch Type | Single |
| Transmission Type | Central shift, Combination of constant & sliding mesh |
| Number of Speeds | 8 Forward + 2 Reverse |
| Tyre Dimensions | Front: 6.00 x 16, Rear: 12.4 x 28 |
| Forward speed @ rated RPM | 28 kmph |
| PTO Type | Live |
| PTO Speed (Standard) | 1000 |
| PTO – Multispeed & Reverse | No |
| Lifting Capacity (Lower links at hitch position) | 1200 Kg |
| Three point linkage and controls | Automatic depth and draft control |
| Brake Type | Disc Brake |
| Steering Type | Mechanical |
| Electricals | 12V, 75Ah |
Eicher 368 Tractor
| | |
| --- | --- |
| hp Range | 36 |
| Cylinders | 3 |
| Cubic Capacity | 2945 cc |
| Fuel Injection Pump | Inline |
| Clutch Type | Single, Dual (Optional) |
| Transmission Type | Central shift – Combination of constant & sliding mesh, Side Shift (Optional) |
| Number of Speeds | 8 Forward + 2 Reverse |
| Tyre Dimensions | Front: 6.00 x 16, Rear: 13.6 x 28, 12.4 x 28 (Optional) |
| Forward speed @ rated RPM | 28 kmph (with 12.4 tires) |
| PTO Type | Live |
| PTO Speed (Standard) | 540 |
| PTO – Multispeed & Reverse | Yes optional |
| Lifting Capacity (Lower links at hitch position) | 1149 kg |
| Three point linkage and controls | Automatic depth and draft control |
| Brake Type | Disc Brake, Oil Immersed Brakes (Optional) |
| Steering Type | Mechanical |
| Electricals | 12V, 75Ah |
Eicher 380 Tractor
| | |
| --- | --- |
| hp Range | 38 |
| Cylinders | 3 |
| Cubic Capacity | 2500 cc |
| Fuel Injection Pump | Inline |
| Clutch Type | Single, Dual (Optional) |
| Transmission Type | Central shift – Combination of constant & sliding mesh, Side Shift (Optional) |
| Number of Speeds | 8 Forward + 2 Reverse |
| Tyre Dimensions | Front: 6.00 x 16, Rear: 13.6 x 28, 12.4 x 28 (Optional) |
| Forward speed @ rated RPM | 30.8 kmph (with 13.6 tires) |
| PTO Type | Live |
| PTO Speed (Standard) | 540 |
| PTO – Multispeed & Reverse | Yes Optional |
| Lifting Capacity (Lower links at hitch position) | 1200 kg |
| Three point linkage and controls | Automatic depth and draft control |
| Brake Type | Disc Brake, Oil Immersed Brakes (Optional) |
| Steering Type | Mechanical, Power Steering (Optional) |
| Electricals | 12V, 75Ah |
Eicher Tractor 480
| | |
| --- | --- |
| hp Range | 42 |
| Cylinders | 3 |
| Cubic Capacity | 2500 cc |
| Fuel Injection Pump | Inline |
| Clutch Type | Single, Dual (Optional) |
| Transmission Type | Central shift – Combination of constant & sliding mesh, Side Shift (Optional) |
| Number of Speeds | 8 Forward + 2 Reverse |
| Tyre Dimensions | Front: 6.00 x 16, Rear: 14.9 x 28, 13.6 x 28 (Optional) |
| Forward speed @ rated RPM | 32.3 kmph (with 14.9 tires) |
| PTO Type | Live |
| PTO Speed (Standard) | 540 |
| PTO – Multispeed & Reverse | Yes Optional |
| Lifting Capacity (Lower links at hitch position) | 1300 kg |
| Three point linkage and controls | Automatic depth and draft control |
| Brake Type | Disc Brake, Oil Immersed Brakes (Optional) |
| Steering Type | Mechanical, Power Steering (Optional) |
| Electricals | 12V, 75Ah |
Eicher Tractor 485
| | |
| --- | --- |
| hp Range | 45 |
| Cylinders | 3 |
| Cubic Capacity | 2945 cc |
| Fuel Injection Pump | Inline |
| Clutch Type | Single, Dual (Optional) |
| Transmission Type | Central shift – Combination of constant & sliding mesh, Side Shift (Optional) |
| Number of Speeds | 8 Forward + 2 Reverse |
| Tyre Dimensions | Front: 6.00 x 16, Rear: 14.9 x 28, 13.6 x 28 (Optional) |
| Forward speed @ rated RPM | 32.3 kmph (with 14.9 tires) |
| PTO Type | Live |
| PTO Speed (Standard) | 540 |
| PTO – Multispeed & Reverse | Yes Optional |
| Lifting Capacity (Lower links at hitch position) | 1300 kg |
| Three point linkage and controls | Automatic depth and draft control |
| Brake Type | Disc Brake, Oil Immersed Brakes (Optional) |
| Steering Type | Mechanical, Power Steering (Optional) |
| Electricals | 12V, 75Ah |
Eicher Tractor 333
| | |
| --- | --- |
| hp Range | 33 |
| Cylinders | 3 |
| Cubic Capacity | 2365 cc |
| Fuel Injection Pump | Inline |
| Clutch Type | Single, Dual(Optional) |
| Transmission Type | Central shift, Combination of constant & sliding mesh |
| Number of Speeds | 8 Forward + 2 Reverse |
| Tyre Dimensions | Front: 6.00 x 16, Rear: 12.4 x 28, 13.6 x 28 (Optional) |
| Forward speed @ rated RPM | 27.7 kmph (with 12.4 tires) |
| PTO Type | Live |
| PTO Speed (Standard) | 540 |
| PTO – Multispeed & Reverse | No |
| Lifting Capacity (Lower links at hitch position) | 1200 kg |
| Three point linkage and controls | Automatic depth and draft control |
| Brake Type | Disc Brake, Oil Immersed Brakes (Optional) |
| Steering Type | Mechanical |
| Electricals | 12V, 75Ah |
Eicher 548 Tractor
| | |
| --- | --- |
| hp Range | 48 |
| Cylinders | 3 |
| Cubic Capacity | 2945 cc |
| Fuel Injection Pump | Inline |
| Clutch Type | Single, Dual (Optional) |
| Transmission Type | Side shift sliding, Combination of constant mesh and sliding mesh |
| Number of Speeds | 8 Forward + 2 Reverse |
| Tyre Dimensions | Front: 6.00 x 16, 7.50 x 16 (optional), Rear: 14.9 x 28 |
| Forward speed @ rated RPM | 32.3 kmph (with 14.9 tires) |
| PTO Type | Live |
| PTO Speed (Standard) | 540 |
| PTO – Multispeed & Reverse | Yes |
| Lifting Capacity (Lower links at hitch position) | 1300 Kg |
| Three point linkage and controls | Automatic depth and draft control |
| Brake Type | Disc Brake, Oil Immersed Brakes (Optional) |
| Steering Type | Mechanical, Power Steering (Optional) |
| Electricals | 12V, 75Ah |
Eicher 551 Tractor
| | |
| --- | --- |
| hp Range | 49 |
| Cylinders | 3 |
| Cubic Capacity | 3300 cc |
| Fuel Injection Pump | Inline |
| Clutch Type | Single, Dual (Optional) |
| Transmission Type | Side shift sliding, Combination of constant mesh and sliding mesh |
| Number of Speeds | 8 Forward + 2 Reverse |
| Tyre Dimensions | Front: 6.00 x 16, Rear: 14.9 x 28 |
| Forward speed @ rated RPM | 32.9 kmph (with 14.9 tires) |
| PTO Type | Live |
| PTO Speed (Standard) | 540 |
| PTO – Multispeed & Reverse | Yes |
| Lifting Capacity (Lower links at hitch position) | 1700 kg |
| Three point linkage and controls | Automatic depth and draft control |
| Brake Type | Oil Immersed Brakes |
| Steering Type | Power Steering |
| Electricals | 12V, 88Ah |
Eicher 557 Tractor
| | |
| --- | --- |
| hp Range | 50 |
| Cylinders | 3 |
| Cubic Capacity | 3300 cc |
| Fuel Injection Pump | Inline |
| Clutch Type | Dual, Single (Optional) |
| Transmission Type | Side shift synchromesh |
| Number of Speeds | 8 Forward + 2 Reverse |
| Tyre Dimensions | Front: 6.00 x 16, 7.50 x 16 (optional), Rear: 14.9 x 28, 16.9 x 28 (optional) |
| Forward speed @ rated RPM | 30.3 kmph (with 16.9 tires) |
| PTO Type | Live |
| PTO Speed (Standard) | 540 |
| PTO – Multispeed & Reverse | Yes |
| Lifting Capacity (Lower links at hitch position) | 1470 kg |
| Three point linkage and controls | Automatic depth and draft control |
| Brake Type | Oil Immersed Brakes |
| Steering Type | Power Steering |
| Electricals | 12V, 88Ah |
Eicher 5660 Tractor
| | |
| --- | --- |
| hp Range | 50 |
| Cylinders | 3 |
| Cubic Capacity | 3300 cc |
| Fuel Injection Pump | Inline |
| Clutch Type | Single, Dual (Optional) |
| Transmission Type | Central shift – Combination of constant mesh and sliding mesh / Syncromesh (Optional), Side Shift |
| Number of Speeds | 8 Forward + 2 Reverse |
| Tyre Dimensions | Front: 7.50 x 16, Rear: 14.9 x 28, 16.9 x 28 (Optional) |
| Forward speed @ rated RPM | 33.8 kmph (with 16.9 tires) |
| PTO Type | Live |
| PTO Speed (Standard) | 540 |
| PTO – Multispeed & Reverse | Yes |
| Lifting Capacity (Lower links at hitch position) | 1470 kg |
| Three point linkage and controls | Automatic depth and draft control |
| Brake Type | Disc Brake, Oil Immersed Brakes (Optional) |
| Steering Type | Mechanical, Power Steering (Optional) |
| Electricals | 12V, 88Ah |