Even in its best-selling SUV, the 2022 XC60, Volvo's distinctive Swedish perspective shines through. The XC60 has been selected as an Editors' Choice because its sleek exterior and refined interior enable it cut a dashing figure on the road while also providing a luxurious haven from the stresses of the contemporary workday.
There are three engine options available, one of which is a high-performance plug-in hybrid. Although its cargo area is smaller than those of competitors like the Audi Q5, BMW X3, and Mercedes-Benz GLC-class, most purchasers should still find it to be functional. The XC60 comes equipped with cutting-edge technology like as a 9.0-inch touchscreen for the infotainment system, a 12.3-inch digital instrument cluster, and a slew of driver assistance systems.
What is Coming in 2022?
The T5 and T6 powertrains in the XC60 have been discontinued and replaced by the B5 and B6 powertrains, both of which use a 48-volt hybrid system; the plug-in hybrid T8 powertrain remains the top powertrain in the SUV but gains a larger battery pack that extends the SUV's electric driving range to 35 miles. Volvo is also updating the XC60's infotainment system, the Sensus, with the same Google Android interface used in the XC40 Recharge plug-in hybrid.
The 9.0-inch vertical display remains the same, but updated software adds customization features like a voice assistant and Google Maps navigation. Additional stylistic updates for the 2022 model year include a revised grille, front bumper, new wheel designs, and the first-ever availability of Volvo's City Weave cloth upholstery in the XC60. Volvo states that the XC60's various radar, video, and ultrasonic sensors that supply data for the SUV's driver-assistance systems have been upgraded in addition to the SUV's appearance being updated and a new infotainment system is added.
Price:
The SUV is priced at Rs 65.90 lakh (ex-showroom, pan-India).
Volvo XC60 models
Depending on your preference, you can choose from the Base, Plus, Ultimate or Polestar Engineered trim of the Volvo XC60, a compact luxury SUV. In addition to the standard exterior, you can choose from two other styles that are exclusive to higher trim levels: a blacked-out "Dark" exterior and a chrome/metallic "Bright" exterior. The XC60 Recharge plug-in hybrid has identical trim levels.
Furthermore, you can pick from four different engines. The B5 is propelled by a 48-volt mild hybrid system and a turbocharged 2.0-liter four-cylinder engine (247 horsepower and 258 lb-ft of torque). To the same base engine, the B6 adds a supercharger, resulting in significantly higher output (295 hp, 310 lb-ft). It is projected that the Recharge T8, a plug-in hybrid with a 455-horsepower, 523-pound-foot torque, and an 18.8-kilowatt-hour battery, will travel 35 miles on electric power alone.
The eight-speed automatic transmission works with any of the available engines. The B5 engine comes standard with FWD and may be upgraded to AWD. All-wheel drive is standard on the B6 and Recharge T8 engines.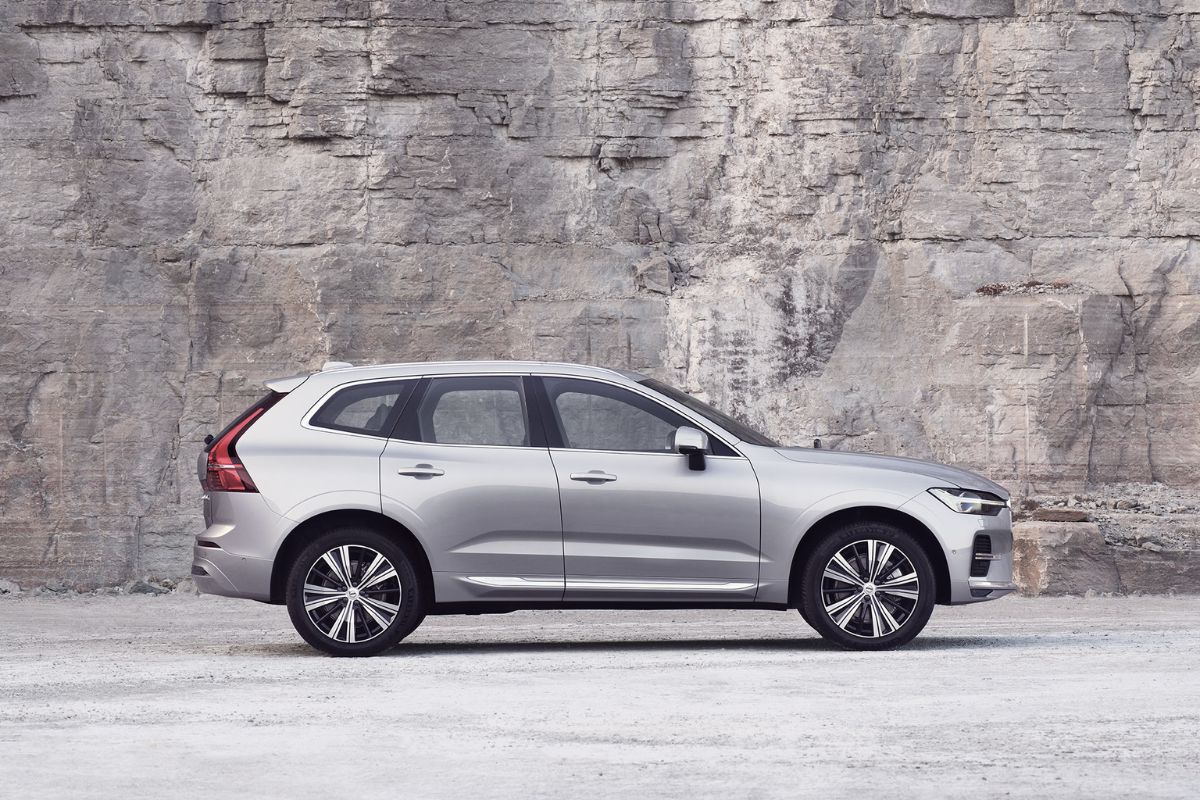 Engine, Transmission, and Performance
Volvo equips the XC60 with an eight-speed automatic transmission and all-wheel drive and provides a choice of three powertrains (B5, B6, and T8). The standard B5-badged XC60 has a 48-volt hybrid system and a turbocharged 2.0-liter four-cylinder engine good for 247 horsepower. Like the B5, the B6 is powered by a turbocharged 2.0-liter four-cylinder, but it has an additional supercharger for more output.
The B6 powertrain has 295 horsepower and is noticeably more powerful than the base B5 found in previous generations, but it lagged behind the outgoing T6 model in our acceleration testing, taking 6.6 seconds to reach 60 miles per hour. The T8 plug-in hybrid powertrain in the Recharge versions is based on the B6's engine and mates it with electric motors to produce 455 horsepower. We haven't put this model through its paces yet, but our initial experience with the T8 powerplant impressed us with its swift acceleration and faultless performance. The XC60 handles curves effectively, maintains a solid connection to the road at highway speeds, and executes lane changes with assurance, but it won't turn heads as a Porsche Macan would. On rougher roads, the ride can be uncomfortable, but on smoother roads, it's relaxing and comfortable.
Range, Charging, and Battery Life
Either the Recharge or Polestar model can be upgraded with the T8 plug-in hybrid powertrain, which increases the EV-only range to 35 miles. Volvo delivers a convenient function that can juice the batteries of the XC60 T8 using energy generated from the SUV's gasoline engine in addition to the standard means of charging it from a public charging station or a household 110- or 220-volt outlet.
Fuel Economy and Real-World MPG
EPA testing indicates that front-wheel drive B5 vehicles should achieve 22 mpg in the city and 28 mpg on the interstate. The fuel economy ratings for the more powerful B6 are 21/27, while those for the plug-in hybrid T8 are 63 MPGe.
Interior, Comfort, and Cargo
The XC60 lets you "have your kladdkaka" because its luxurious cabin looks and feels like that of a more expensive Volvo. The place is quiet and comfortable, with seats large enough for adults in both rows. The interior of the XC60 is as modern and sleek as one would hope for in a Volvo, with clean lines and premium materials. When we tested cargo capacity, the XC60 ranked in the middle of its class; with the rear seats folding, we were able to stow 20 of our carry-on luggage. The Cargo area bin is one of the smallest we've seen, and there aren't many interior storage options overall.
Infotainment and Connectivity
A 9.0-inch infotainment touchscreen with Volvo's latest Android-based user interface is standard on all XC60 models. The system is very configurable and even supports voice commands through Google Assistant. It's responsive, and we've used it in the Polestar 2 electric vehicle, although the menus can be confusing at first. In addition to the usual fare of Bluetooth and a 4G LTE-enabled Wi-Fi hotspot, this vehicle also comes with Apple CarPlay and Android Auto pre-installed.
Specifications
2022 Volvo XC60 B6 AWD
Vehicle Type: front-engine, all-wheel-drive, 5-passenger, 4-door wagon
PRICE
Base/As Tested: $56,195/$65,890
ENGINE
turbocharged, supercharged, and intercooler DOHC 16-valve inline-4, aluminum block, and head, direct fuel injection
Displacement: 120 in3, 1969 cm3
Power: 295 hp @ 5400 rpm
Torque: 310 lb-ft @ 2100 rpm
TRANSMISSION
8-speed automatic
CHASSIS
Suspension, F/R: control arms/multilink
Brakes, F/R: 13.6-in vented disc/12.6-in vented disc
Tires: Pirelli Scorpion Zero All Season PNCS
255/40R-21 102V M+S VOL
DIMENSIONS
Wheelbase: 112.8 in
Length: 185.4 in
Width: 74.9 in
Height: 65.3 in
Passenger Volume: 100 ft3
Cargo Volume: 26 ft3
Curb Weight: 4378 lb
C/D TEST RESULTS
60 mph: 6.6 sec
1/4-Mile: 15.0 sec @ 93 mph
100 mph: 17.5 sec
The results above omit a 1-ft rollout of 0.3 sec.
Rolling Start, 5–60 mph: 7.2 sec
Top Gear, 30–50 mph: 3.2 sec
Top Gear, 50–70 mph: 4.6 sec
Top Speed (gov ltd): 113 mph
Braking, 70–0 mph: 164 ft
Road holding, 300-ft Skidpad: 0.86 g
C/D FUEL ECONOMY
Observed: 20 mpg
2022 Volvo XC60 T8 Polestar Extended Range
Vehicle Type: front-engine, rear-motor, all-wheel-drive, 5-passenger, 4-door wagon
PRICE
Base/As Tested: $71,095/$71,990
POWERTRAIN
turbocharged and intercooled DOHC 16-valve 2.0-liter inline-4, 312 hp, 295 lb-ft + 2 AC motors, 46 and 143 hp, 111 and 228 lb-ft (combined output: 455 hp, 523 lb-ft; 14.9-kWh lithium-ion battery pack; 3.7-kW onboard charger)
Transmissions, F/R: 8-speed automatic/direct drive
CHASSIS
Suspension, F/R: control arms/multilink
Brakes, F/R: 15.7-in vented disc/12.6-in vented disc
Tires: Pirelli P Zero PZ4
255/40R-21 102V Extra Load VOL
DIMENSIONS
Wheelbase: 112.8 in
Length: 185.4 in
Width: 75.4 in
Height: 65.3 in
Passenger Volume: 103 ft3
Cargo Volume: 30 ft3
Curb Weight: 4731 lb
C/D TEST RESULTS
60 mph: 4.2 sec
100 mph: 10.2 sec
1/4-Mile: 12.6 sec @ 111 mph
The results above omit a 1-ft rollout of 0.2 sec.
Rolling Start, 5–60 mph: 4.7 sec
Top Gear, 30–50 mph: 2.5 sec
Top Gear, 50–70 mph: 3.2 sec
Top Speed (gov): 113 mph
Braking, 70–0 mph: 165 ft
Road holding, 300-ft Skidpad: 0.86 g
C/D FUEL ECONOMY
Observed: 29 MPGe
75-mph Highway Driving, EV/Hybrid Mode: 60 MPGe/30 mpg
75-mph Highway Range, EV/Hybrid mode: 31/560 mi
EPA FUEL ECONOMY
Combined/City/Highway: 28/28/28 mpg
Combined Gasoline + Electricity: 63 MPGe