To reach out to a younger demographic, Volvo released the 850 series in 1992, followed by the sporty 850 R the following year.
The Swedish automaker had faith that its already-reliable vehicles could manage the increased power of its newest model. Therefore, it challenged its engineering division by releasing a turbocharged 850 and making it available in sedan and station wagon body styles. Moreover, in 1994, the company entered the BTCC (British Touring Car Championship) with the wagon-shaped version. Along with the 850 R, a more typical four-door sedan, it debuted that year.
The Swedish automaker made great strides with the 850's groundbreaking design. Getting rid of the wedge-like forms was not a simple task, but it was a step in the right direction. The automobile had a slanted hood with softened edges and corners, a curved windscreen, and a lower front apron with fog lights and three air-intakes, although only on the R model. The car was outfitted with a little wing on the trunk at the back.
Since it was no longer a front-wheel drive vehicle, the cabin became more spacious. The front and back seat occupants both have sufficient legroom. Although the towering center stack was designed with straight lines, the carmaker's design team did not totally abandon the squared shape.
Volvo put a five-cylinder turbocharged engine with 240 PS under the hood (237 hp). Standard power delivery was to the front wheels via a five-speed manual transmission. In comparison to its less potent siblings, the 850 R had a more rigid suspension and bigger light alloy wheels.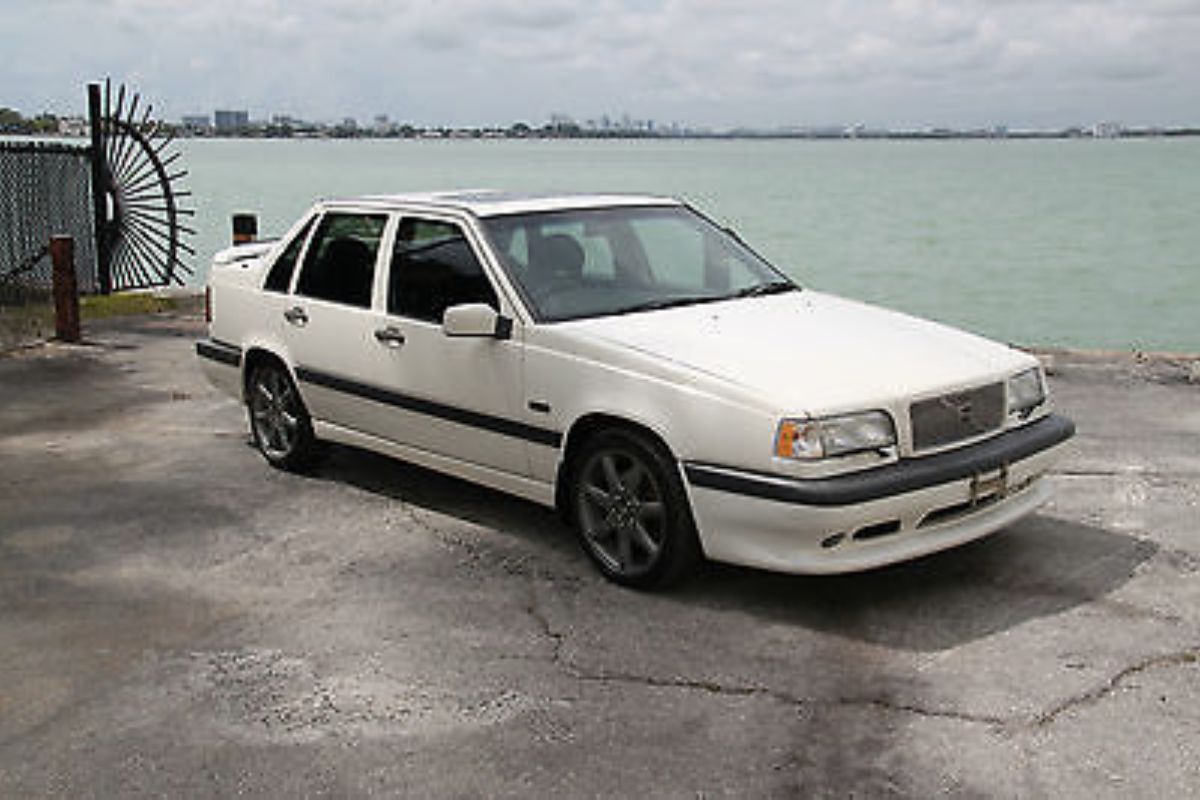 ENGINE SPECS  –  
2.3I TURBO 4AT (241 HP)
CYLINDERS

L5

DISPLACEMENT

2319 cm3

POWER

177 KW @ 5600 RPM
240 HP @ 5600 RPM
237 BHP @ 5600 RPM

TORQUE

243 lb-ft @ 3000 RPM
330 Nm @ 3000 RPM

FUEL SYSTEM

Turbocharged Multipoint Injection

FUEL

Gasoline
TOP SPEED

152.2 mph (245 km/h)

ACCELERATION 0-62 MPH (0-100 KPH)

6.9 s
DRIVE TYPE

Front Wheel Drive

GEARBOX

5-Speed Manual
FRONT

Ventilated Discs

REAR

Discs
LENGTH

183.9 in (4671 mm)

WIDTH

69.3 in (1760 mm)

HEIGHT

55.5 in (1410 mm)

FRONT/REAR TRACK

59.8/57.9 in (1,519/1,471 mm)

WHEELBASE

105.1 in (2670 mm)

GROUND CLEARANCE

5 in (127 mm)

CARGO VOLUME

15.7 cuFT (445 L)

AERODYNAMICS (CD)

0.32
UNLADEN WEIGHT

3245 lbs (1472 kg)

GROSS WEIGHT LIMIT

4255 lbs (1930 kg)
HIGHWAY

26.1 mpg-US (9 L/100Km)

COMBINED

24.2 mpg-US (9.7 L/100Km)