The colour of this Jeep Wrangler is simply sweltering! In 2021, the Tuscadero Pink Jeep Wrangler was quickly sold out. The hot pink Wrangler models, which were in high demand, were quickly sold out and will be available again in 2022.
The Tuscadero Pink Jeep Wrangler is sticking around
Due to popular demand, the 2022 Jeep Wrangler is now available in Tuscadero Pink. Tuscadero may be considered a hipster term by those of a younger generation. Tuscadero, on the other hand, is a Happy Days reference for the generation that is ageing like fine wine. The Fonz had feelings for the mechanic, Tuscadero.
Jeep usually introduces and removes special editions and unique colours cyclically, while maintaining a core palette of colours for each model year. About 30,000 people ordered the Tuscadero Pink colour. It was expected to end in December, but now it will remain in place until 2022 at the earliest.
Two or four doors are available for the Tuscadero Pink Jeep. All of these vehicles — as well as the 4xe and 392 — come equipped with it. That's a lot of options, and it's the first Rubicon 392 colour to be offered.
So far, Tuscadero is only available for the Jeep Wrangler, but we believe it would look great on the Jeep Gladiator. It costs $395, which is more expensive than the $245 upgrade for others.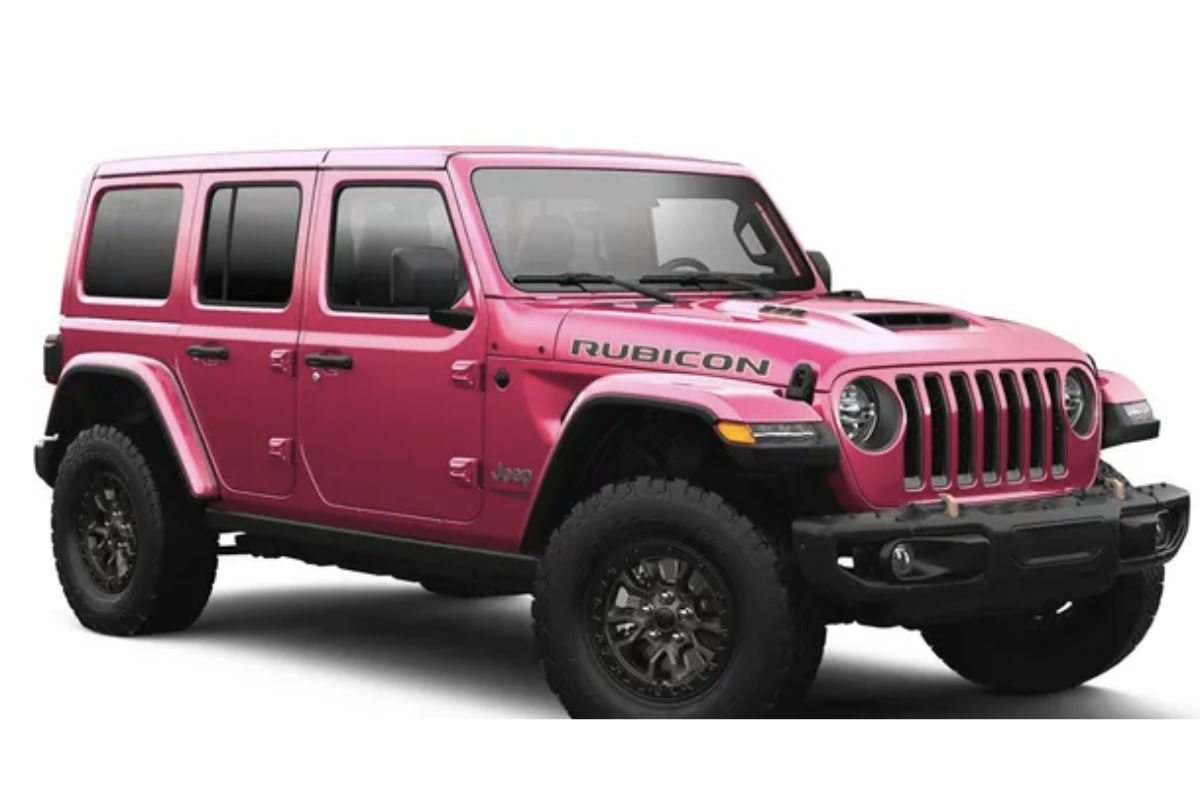 What's new for the 2022 Jeep Wrangler?
Additionally, the 2022 Jeep Wrangler is offered in a variety of bright colours, including Tuscadero Pink and a slew of other eye-catching hues.
The Willeys model was added to the Wrangler lineup as part of the Xtreme Recon package. The 35-inch BF Goodrich KO2 all-terrain tyres mounted on 17-inch wheels are ready for adventure.
A 1.5-inch suspension lift, improved brakes, and a sleek blacked-out exterior trim and badges round out the package.
Uconnect 4 comes preinstalled on the 7-inch touchscreen in the Sport and Sport S trim levels. Keyless entry is now standard on the Sahara and Rubicon trims.
The Wrangler 4xe now comes standard with blue tow hooks, while the wheels on the High Altitude 4xe have a blue pad print. The outside mirrors on both vehicles have integrated turn signals.
In addition, the 3.6-litre V6-powered Wrangler Rubicon models come with either a 4.88 axle ratio or a manual transmission. Except for a few minor changes, the 2022 Wrangle is a largely unchanged model.
Read More:
How much is the 2022 Wrangler?
The 2022 Jeep Wrangler will set you back at about $29,725. A destination fee and dealer markups aren't included in the MSRP.
285 horsepower and 260 lb-ft of torque are generated by the standard engine in the 3.6-litre V6 model. A 2.0-litre turbocharged four-cylinder engine with 270 horsepower and 295 pound-feet of torque is an available option. The 3.0-litre turbodiesel V6 with 260 horsepower and 442 lb-ft of torque is not to be overlooked.
If you're looking for a vehicle that can get you up to 49 MPGe, the Jeep Wrangler 4xe is for you. A 375-horsepower V8 and 470-lb-ft of torque are on tap. 470 hp and 470 lb-ft of torque are on tap in the Wrangler Rubicon 392's 6.4-litre V8 engine. Tuscadero Pink is available for all of these models.