GMC Typhoon Price, Facts, Figures, Specs And More Facts
Extremely powerful SUVs have long since cemented their place in the automotive industry as a respected and highly sought-after subset of the performance car market. The SUV, which was originally built around the idea of sheer utility and off-road capability, has evolved over the years to become a spacious and frequently plush daily driver for the whole family.
The SUV market has proven that it is possible to pack in a monster engine and still have a vehicle that is comfortable and easy to drive in everyday situations; vehicles like the Jeep Trackhawk and Alfa Romeo Stelvio Quadrifoglio are currently on the market and lay down the kind of power and acceleration that was once reserved for supercars.
However, most SUVs lacked any sort of performance or luxury cred back in the 1990s because they hadn't yet undergone the whole change from tough practical to well-appointed commuter vehicle. However, GMC would completely reverse this trend with the release of the Syclone pickup truck and the subsequent Typhoon performance-oriented well-trimmed SUV, both of which have now been shown to have been years ahead of their time.
GMC Typhoon Price
Since the Typhoon was on the market for an extra year, its manufacturing numbers were higher than those of its truck sibling, the Syclone, which only saw 2,995 units produced in 1991. The 1992 base price of $29,530 would be equivalent to $55,750 in today's money. This is in line with the pricing of contemporary performance SUVs, such as the 475 horsepower Dodge Durango SRT, which begins at roughly $66,000. The base 2-door GMC Jimmy cost $15,022 in 1992, which is equivalent to $28,360 today.
The Typhoon, which was ahead of its time and has seen tremendous growth in the class it predicted, is now establishing itself as a real classic and receiving a great deal of attention and admiration. There is some range in price, but a nice model would probably set you back $20,000-$45,000.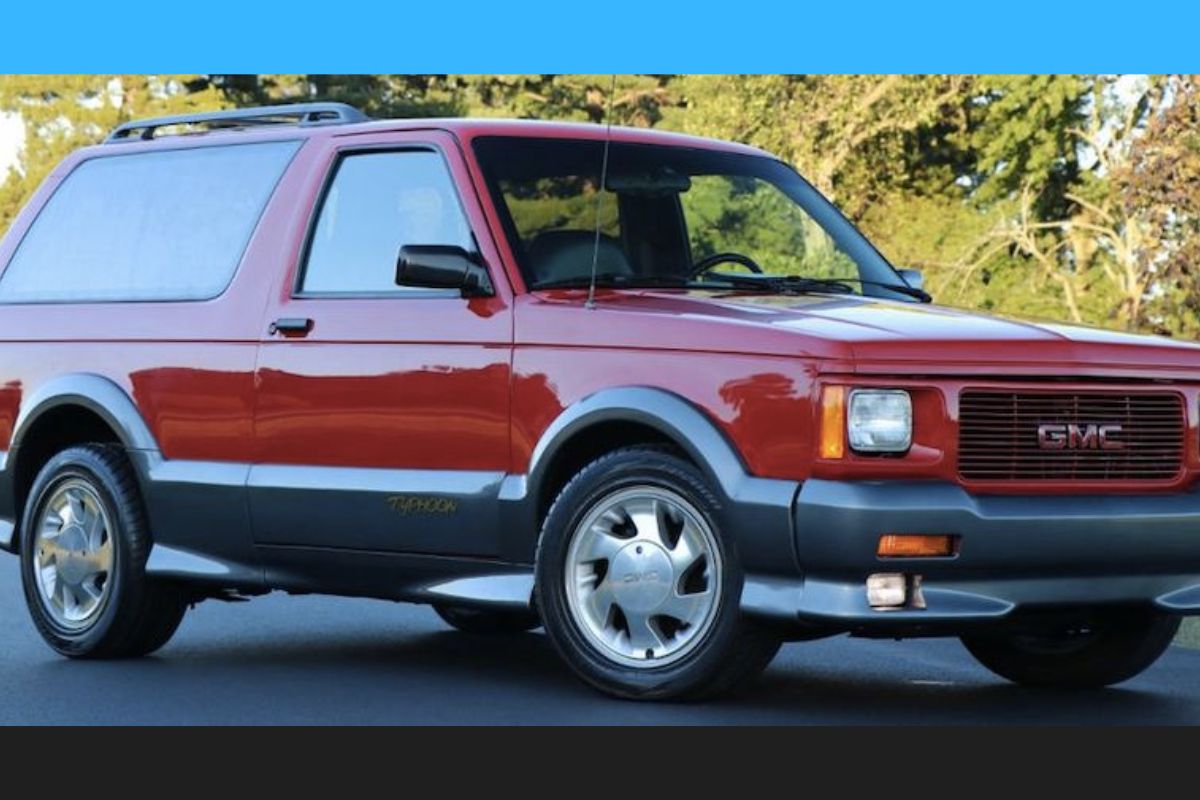 GMC Typhoon Colours
The GMC Typhoon was only available in three colors during its production run from 1992 to 1993:
Black
Frost White
Apple Red
GMC Typhoon Is the Original Performance SUV
There is a thin dividing line between the outrageous and the ridiculous in the world of four-wheeled conveyances. A Lamborghini Diablo, to provide just one example, is outlandish. On the other hand, spending $1.6 million on a street-legal Schuppan Porsche 962CR is ridiculous. Something as absurd as an AMG Hammer is beyond belief. Like a Dodge Stealth R/T Turbo. On the other hand, a Geo Metro convertible with a V-8 engine is not. The idea is completely absurd.
There is a thin line between being effective and being excessive, between going to extremes and going too far, between the sublime and the ridiculous.
Finally, we arrive at GMC's newest vehicles: the Syclone pickup (C/D, September 1991) and the Typhoon sport utility vehicle. Both are extremely rapid enhancements of relatively slow pickups. However, neither of these extremes falls on the ridiculous side of the equation. Allow us to elaborate.
You are well aware that the Syclone is the most formidable and aggressive production pickup in the country. It's a four-wheel-drive system with 280 horsepower. It can reach 60 miles per hour from a standstill more quickly than a Ferrari 348ts. Amazing. While the Syclone is undeniably exciting to drive, the question remains: who wants a pickup truck that can reach 60 mph faster than a Ferrari? Sure, you could squash your eyes by circling all day in an empty car. Nonetheless, what happens if you put it to use as a pickup? The Syclone has a unique suspension that limits the cargo bed's weight to 500 pounds. Your load of firewood and Old Yeller will go flying over the tailgate if you even so much as touch the Syclone's throttle.
The Typhoon, though, was truly shocking. What's the dissimilarity? The primary factor is the Typhoon's primary mission. Today's SUVs are less rugged off-roaders and more luxurious all-weather limos. If you look inside the average SUV, you won't see an outdoorsman in Orvis gear on his way to the duck blind, but rather an advertising executive in Armani chit-chatting on his cell phone. What aspiring young politician wouldn't be intrigued by a vehicle that can be driven anywhere and at any time despite smelling like a dead rat? There is a clear need for a hyperfast sport utility vehicle, therefore the concept makes perfect sense.
Up until now, Jeep's 4.0-liter Cherokee has been the top dog in the sport-utility lighting drags. Of ten Cherokee owners, eight would reply, "It's a fast mutha. " The modern 4.0-liter straight six produces 190 horsepower, enough for 0-60 mph times of 8.2 seconds. The sum is remarkable for a four-by-four. Very impressive, but hardly shocking in any way.
If you're looking for an SUV, go no further than the new Typhoon. It's an S-15 Jimmy with two doors, but first impressions can be deceiving. Tires measuring 245/50VR-16 on alloy wheels bulge out from behind the fender flares. There's a big air dam up front with some fog lights on it. The sheet metal has a sinister, Darth Vader vibe, and the whole thing appears like it was doused in black epoxy. The Typhoon's attitude is unlike anything else in the SUV world as well.
There's enough black leather inside to cover the highly sculpted seats and the thick four-spoke steering wheel, so the whole Whitesnake crew can ride in style. All of the interior components, including the dashboard, carpet, and headliner, are also black. Is there any doubt about the severity of this Typhoon?
Yes, the Typhoon is deadly serious, and its threatening appearance is matched by a lethal arsenal. The same 4.3-liter V-6 that powers the Syclone is installed here as well, turbocharged and intercooled. This monstrous motor generates 280 horsepower at 4400 rpm and an incredible 350 pound-feet of torque at 3600 rpm. Torque is distributed 35/65 front/rear via a central differential and a viscous coupling in a full-time four-wheel drive system. Standard anti-lock brakes work in tandem with four massive brakes (front discs and rear drums) to ensure safe stopping in any conditions.
The Typhoon performs as seriously, no, as outrageously, as its specs would lead you to believe. Run the engine up against the brake for maximum acceleration right from the start. Put the car in drive, keep your left foot on the brake, and ease off the gas pedal until the boost needle reaches its full travel. All set for takeoff? You need only release your left foot from the brake while keeping your right foot planted firmly on the ground. Whhooooossh! 0% tyre smoke. Hardly a rubber chirp at all. And now you're history! Take note, SUV experts: it takes only 5.3 seconds to go from zero to sixty. It's fast enough to embarrass the Ferrari 348ts and the Ford Mustang V-8, and it's fast enough to pummel the once-unstoppable Jeep Cherokee.
Hold on a second. The story isn't over yet. At such a rate, the quarter-mile will be completed in just 14.1 seconds. Supercar enthusiasts, take note: That's only slightly below the speed of an Acura NSX. Sadly, the show ends not long after that. The governor, in a wise move, caps the speed to 124 miles per hour. You probably shouldn't go any faster than that in an SUV anyway.
The GMC Typhoon's acceleration on a roll is just as stunning as its acceleration from a stoplight, such as while passing an 18-wheeler on a narrow two-lane. When in top gear, the Typhoon has one of the fastest acceleration times we've ever observed, with a sprint from 30 miles per hour to fifty miles per hour taking just 2.9 seconds. The truck driver will be certain he was recently buzzed by an alien spaceship.
There are additional maneuvers available for the Typhoon. Thanks to the excellent traction provided by the Firestones and the anti-lock braking system (ABS), the Typhoon can slow from 70 miles per hour to a stop in just 185 feet. (We clocked a longer stop time in the Ferrari 348ts.) In addition, 0.79 g of cornering grip is available (try to find another SUV that can manage that). Though it can't be maneuvered as precisely as a two-seater, the Typhoon is a breeze to push to its limits. This massive beast can be driven with the agility of a sports car and through curves with surprising speed.
There are several aspects in which the Typhoon is similar to other SUVs. The motor turns over and operates without a hitch. The ride is robust without being uncomfortable. Comfortable seating is a standout feature. The Typhoon reminds me of a sleek, modern luxury car. Unlike that bothersome two-seater in the next lane, this luxury sedan can power through any storm.
The list of conveniences available on the Typhoon is extensive. Everything you'd expect to find in a luxury cruiser is included as standard, from power locks with keyless entry to an AM/FM cassette player with a graphic equalizer. Even a CD player is discretionary. The plastic cutouts that cover the instruments, for example, fit badly and seem cheap, but other than that, it's a terrific location to get down to work behind the wheel.
Unfortunately, the Typhoon is not devoid of all humor. The Typhoon's driver will have to watch the other SUVs go boulder hopping because the vehicle's low-slung suspension and low-profile Firestones aren't up to the task. The towing capacity of a Typhoon is zero pounds, which is great news for individuals who own recreational vehicles like campers or boats. This SUV can't tow anything but your privates.
The Typhoon, however, is capable of doing all that an SUV is often put to use for and more. The base price of $29,530 will get you a vehicle that towers over the competition, has enough storage space for a month's worth of groceries, pampers its occupants with leather trim and power appointments, ploughs through snow and ice with ease, grabs attention at every stoplight, and can keep up with the likes of the Corvette LT1 and the Nissan 300ZX Turbo in terms of straight-line speed. We can't think of anything more outrageous than that.
Specifications
Fuel & MPG
Fuel & MPG
Fuel type
Regular unleaded
EPA city/highway MPG
13/17 MPG
EPA combined MPG
14 MPG
Range in miles (city/hwy)
260.0/340.0 mi.
Fuel tank capacity
20.0 gal.
Engine
Engine
Base engine size
4.3 L
Cylinders
V6
Base engine type
Gas
Horsepower
285 hp @ 4,400 rpm
Torque
350 lb-ft @ 3,600 rpm
Towing & Hauling
Towing & Hauling
Max Towing Capacity
0 lbs.
Drivetrain
Drivetrain
Transmission
4-speed automatic
Drive Type
All wheel drive
Dimensions
Dimensions
Length
170.3 in.
Overall width without mirrors
68.2 in.
Height
60.0 in.
Wheelbase
100.5 in.
Maximum towing capacity
0 lbs.
Safety
Safety
side-mounted airbags
Not available
head airbags
Not available
GMC Typhoon Competitors
Sure, here's a table comparing the GMC Typhoon with its main competitors in the high-performance SUV market:
| SUV Model | Engine | Power | Torque | 0-60 mph Time | Top Speed | Production Years |
| --- | --- | --- | --- | --- | --- | --- |
| GMC Typhoon | 4.3L turbocharged V6 | 280 hp | 360 lb-ft | 5.3 seconds | 126 mph | 1992-1993 |
| Jeep Grand Cherokee Trackhawk | 6.2L supercharged V8 | 707 hp | 645 lb-ft | 3.5 seconds | 180 mph | 2018-present |
| BMW X5 M | 4.4L twin-turbo V8 | 567 hp | 553 lb-ft | 3.8 seconds | 155 mph | 2010-present |
| Mercedes-AMG GLE 63 S | 4.0L twin-turbo V8 | 603 hp | 627 lb-ft | 3.7 seconds | 174 mph | 2015-present |
| Porsche Cayenne Turbo S | 4.8L twin-turbo V8 | 570 hp | 590 lb-ft | 3.6 seconds | 176 mph | 2006-present |
GMC Typhoon FAQs
Q: What is the GMC Typhoon?
A: The GMC Typhoon is a high-performance SUV that was produced by General Motors in the early 1990s. It was based on the GMC Jimmy compact SUV and was known for its powerful engine and sporty performance.
Q: What engine does the GMC Typhoon have?
A: The GMC Typhoon is equipped with a 4.3L turbocharged V6 engine, which was quite advanced for its time. It produced 280 horsepower and 360 lb-ft of torque.
Q: What makes the GMC Typhoon special?
A: The GMC Typhoon stood out for its impressive performance capabilities. It featured all-wheel drive, sport-tuned suspension, and a limited-slip rear differential, allowing it to accelerate quickly and handle well. Its aggressive styling and unique features also contributed to its appeal.
Q: How fast is the GMC Typhoon?
A: The GMC Typhoon could accelerate from 0 to 60 mph in approximately 5.3 seconds, which was very quick for an SUV of its time. Its top speed was around 126 mph.
Q: How many GMC Typhoons were produced?
A: GMC produced a total of 4,697 Typhoons during its production years of 1992 and 1993. Due to its limited production, the Typhoon has become a sought-after collector's vehicle.
Q: Is the GMC Typhoon still in production?
A: No, the GMC Typhoon was only produced for two years, from 1992 to 1993. It has since been discontinued, but it remains an iconic vehicle among enthusiasts.
Q: Are there any modern SUVs similar to the GMC Typhoon?
A: While there are no direct successors to the GMC Typhoon, there are modern high-performance SUVs available from various manufacturers. Examples include the Jeep Grand Cherokee Trackhawk, BMW X5 M, Mercedes-AMG GLE 63 S, and Porsche Cayenne Turbo S.