Porsche Taycan Cross Turismo Model Review with Prices, Photos, & Specs & Auto Facts
Combining an untamed personality with precision-crafted performance, the all-electric Porsche Taycan Cross Turismo is the perfect companion to driving aficionados who also live busy lifestyles. Complementing its beautiful design is a functional rear liftgate arrangement, increasing everyday usage. Joining the growing roster of Porsche E-performance vehicles, the Taycan Cross Turismo is driven by a sophisticated all-electric powertrain combining two permanent magnet synchronous motors, 93.4 kWh Performance Battery Plus, and a two-speed transmission. You'll have access to a choice of charging alternatives to assist you get where you need to be fast and conveniently.
The same breakthrough technology that power the Porsche Taycan Cross Turismo can be found within the interior as well. Showcased in the centre of the dash is a spectacular free-standing 16.8-inch curved display with customisable readouts. Standard Porsche Communication Management (PCM) acts as your unified centre for all of your favourite apps and media. Another subtle sign of how driving a Taycan Cross Turismo benefits our environment, the inside comes standard with Race-Tex leather-free upholstery.
Porsche Taycan Cross Turismo Price
The base price for the 2022 Porsche Taycan Cross Turismo is $93,700, with the top-of-the-line model costing more than $200,000.
Luxury electric vehicle that stands out from the crowd, the Porsche Taycan Cross Turismo is unlike anything else on the road. This luxurious station waggon is an electric powerhouse. Although the Taycan sedan competes with the likes of the Tesla Model S and the Audi e-tron GT, the Cross Turismo version may not have any direct competition in the electric luxury car market.
The Taycan Cross Turismo is distinguished from the Taycan sedan by its waggon form and the absence of a rear-wheel-drive option. All-wheel drive is standard on all Cross Turismo models. Its exhilarating performance, opulent, high-tech interior, and plenty of desired choices are all shared with the Taycan sedan, as are its few drawbacks. The main drawback, though, is the rather poor driving range.
In addition to its 590 hp, the adaptive air suspension and active suspension management of the new 2022 Porsche Taycan Sport Turismo GTS have been tuned for increased responsiveness and agility. It also comes with black satin finishes on the external trim and wheels, as well as Porsche Torque Vectoring Plus and the Sport Chrono Package.
Notable improvements are made to the 2022 Porsche Taycan Cross Turismo, in addition to the new Sport Turismo GTS trim. You may get your all-electric Porsche station waggon painted in any colour you can imagine with features like Paint to Sample and Remote Park Assist as standard equipment.
Porsche Taycan Cross Turismo Colours
Carrara white Metallic, Jet Black Metallic, Volcano Grey Metallic, Cherry Metallic, Dolomite Silver, Frozenberry Metallic, Coffee Beige Metallic, Gentian Blue Metallic, Frozenblue Metallic, Mamba Green Metallic, Mahogany Metallic, Black, White, and Black are just some of the Porsche Taycan Cross Turismo's available colours.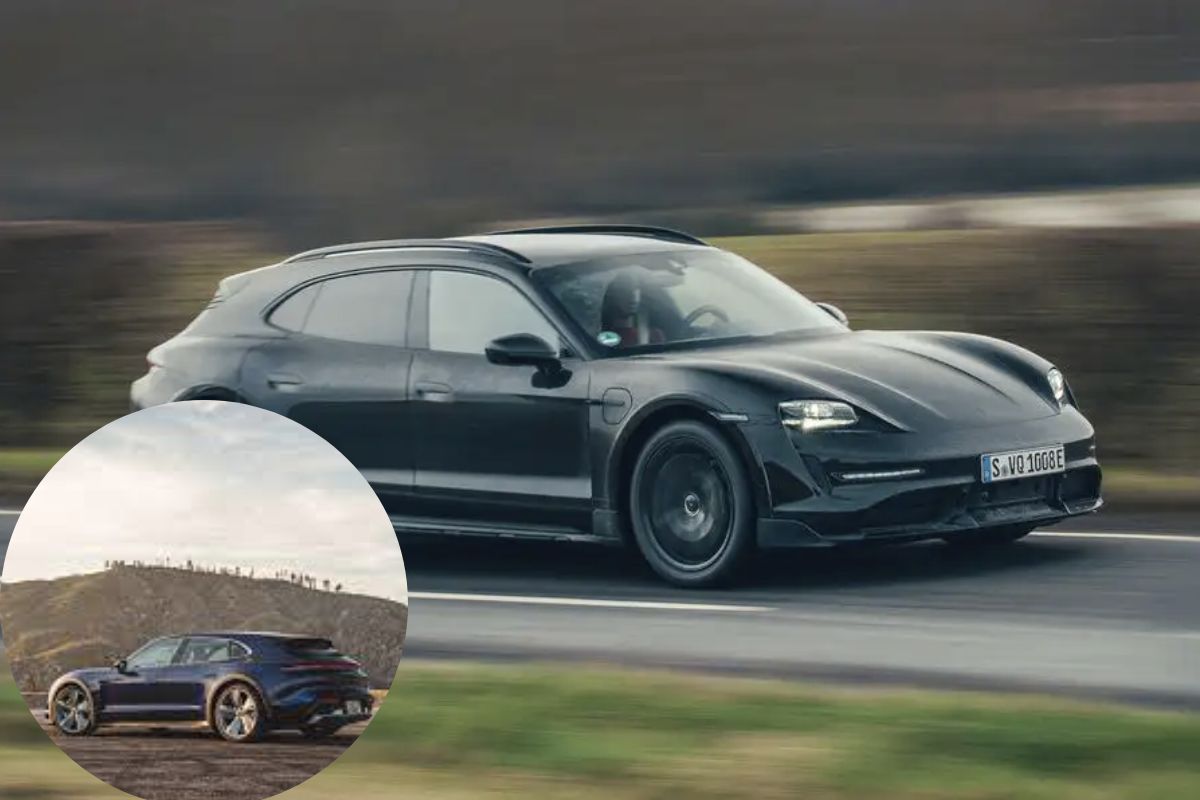 What's New for 2023
The year 2023 will see a number of adjustments. New features include a wirelessly functioning infotainment system that is both speedier and more colourful, as well as Android Auto. The most exciting development, however, is that DC fast chargers no longer require the battery to be fully charged before usage. As a result, it will be able to reach the 270 kWh charging capacity faster. You can now filter your charging station search results by output, making it simpler to track down the DC fast charging stations that offer those incredible recharge times.
Porsche Taycan Cross Turismo Features
Adventurous Styling
The distinctive exterior of the Porsche Taycan Cross Turismo is both beautiful and functional, having been sculpted with a blend of young excitement and everyday use in mind. There is no mistaking the Taycan Cross Turismo's familial ties to the Tacan sedan, but the car's appearance also features some strikingly original touches. The Cross Turismo has its own special set of exterior features, such as its own lower valence, side skirts, slatted rear diffuser, and wheel arch covers. Its unique rear liftgate layout makes hauling heavy luggage or cargo a breeze. It has a fixed rear roof spoiler and the option of roof rails to increase its luggage capacity even further. To top it all off, it has 20mm more clearance under its wheels than the Taycan sedan. Lastly, a bike carrier that can hold up to three bicycles is an available extra on this thrilling all-electric sports waggon.
Electric Performance
The Porsche Taycan Cross Turismo is the most aesthetically pleasing way to make the transition to an all-electric premium vehicle. The Taycan Cross Turismo is propelled by two permanent magnet synchronous motors and a 93.4 kWh performance battery and mated to a sophisticated two-speed transmission, striking a balance between remarkable efficiency and exhilarating performance. The total system horsepower ranges from 469 to 750, depending on which of the four available trims you choose, and the response time to the throttle is practically quick across the board. Adaptive air suspension with PASM allows you to alter the ride height to suit different terrains. There's also a specialised "Gravel" setting for use on tougher pavement. The Porsche Charging Service (App) and standard Mobile Charger Plus (9.6 kW) with 3 years of Electrify America DC Fast charging make it simple to locate and keep a full charge before setting out on the road.
Bespoke Interior
The Porsche Taycan Cross Turismo's cabin has been redesigned with larger dimensions to improve comfort and capability, making it more adaptable to the specific demands of your everyday life. Taycan Cross Turismo has 3.62 inches more rear headroom and 1.4 cubic feet more load space than the Taycan sedan. The standard Porsche Communication Management (PCM) system features a high-resolution 10.9-inch touchscreen as well as a 16.8-inch curved display that may be used independently. Club Leather OLEA, which is tanned in a sustainable manner, or the leather-free Race-Tex inside are also excellent options for upholstery.
Interior Comfort
The Porsche Taycan Cross Turismo's cabin is opulent and well-equipped. You can relax on the front seats for hours, and yet they're bolstered just enough to be fun to drive quickly. The cockpit is reminiscent of classic Porsches, but it also features a cutting-edge digital curve display.
If you've never used a device with such delicate touch controls before, you could find some of them annoying. There is an adjustment period if you're used to the more conventional controls.
The waggon form provides extra space for passengers in the rear, both in terms of legroom and headroom, compared to the Taycan sedan. The Cross Turismo's increased load capacity over the sedan gives it virtually SUV-level utility.
Exterior Styling
Seeing a Porsche Taycan Cross Turismo in person, you might have to pinch yourself to be sure it's not a computer rendering. The hope for an all-electric Porsche station waggon, however, is not a pipe dream. The Taycan EV looks similar to the Porsche Panamera Cross Turismo, but with a more advanced and futuristic design.
The Taycan Cross Turismo's exterior, like its cabin, evokes classic Porsche design cues while maintaining a totally contemporary aesthetic.
Paint to Sample and Paint to Sample Plus are two of our favourite exterior options for the Taycan Cross Turismo. You can use Porsche's Paint to Sample service to select from a wide variety of the company's historically available hues, such as Acid Green and Riviera Blue. The paint colour can be customised to your liking with Paint to Sample Plus. Porsche can customise your electric waggon to match any colour scheme or design scheme you like.
The Off-Road Design Package is a fantastic add-on that is only available on the Cross Turismo version of the Taycan. These modifications raise the wagon's ride height and add protective bodywork, giving the Porsche an air of ruggedness befitting its name.
Porsche's Taycan Cross Turismo shares proportions with the Tesla Model S and Audi e-tron GT.
Porsche Taycan Cross Turismo Key Specifications
| | |
| --- | --- |
| Price | ₹ 1.74 – 2.34 Crore |
| Fuel Type | Electric |
| Driving Range (km) | 452 km |
| Seating Capacity | 5 People |
| NCAP Rating (Best – 5 Star) | Not Tested star NCAP Rating |
| Warranty | 3 Years or 60000 km |
| Battery Warranty | 8 Years or 160000 km |
| Battery Capacity | 93.4 kWh |
| Size | 4974 mm L X 1967 mm W X 1409 mm H |
| Ground Clearance (mm) | 146 mm |
How Taycan Cross Turismo fares against competition?
The Porsche Taycan Cross Turismo has the best fuel economy of the Porsche Taycan, Maserati Quattroporte, and Maserati Levante. In terms of looks, comfort, and cost, the Porsche Taycan is unrivalled. In terms of speed and handling, the Maserati Quattroporte is unrivalled.
| | | | | |
| --- | --- | --- | --- | --- |
| | Porsche Taycan Cross Turismo | Porsche Taycan | Maserati Quattroporte | Maserati Levante |
| Styling | 80 | 100 | 100 | 97 |
| Comfort | 60 | 100 | 100 | 97 |
| Performance | 80 | 80 | 100 | 100 |
| Mileage | 100 | 80 | 100 | 86 |
| Value for Money | 60 | 100 | 100 | 91 |
| Overall Score | 80 | 100 | 91 | 93 |