The 2023 Lamborghini Urus is a supercar housed in an SUV body, rather than just an exotic SUV. The new Performance variant, which set a new record for the fastest SUV on Pikes Peak, is more proof of this. Its twin-turbo 4.0-liter V-8 produces between 641 and 657 horsepower, and it has a history of stunning performance on world-famous racetracks. Lamborghini's dedication to making sure the Urus lives up to the brand's exotic reputation is underscored by this new, lighter, and more athletic model.
Only this high-riding Lambo can pull a trailer and carry more than two (presumably very rich) passengers, and it only does so on the few occasions when it is now showing off its intricate bodywork or outrunning practically everything else on the road. There is currently no other SUV like the 2023 Urus, but its quarter-million-dollar price tag makes it unattainable for most of us regular folks, and its inside isn't as remarkable as it should be for such a massive sum.
Lamborghini Urus Price
Urus by Lamborghini costs between Rs. 3.15 Cr and Rs. 3.43 Cr. There are two different Urus models available from Lamborghini: the V8 base model and the Pearl capsule, which costs Rs. 3.43 Cr.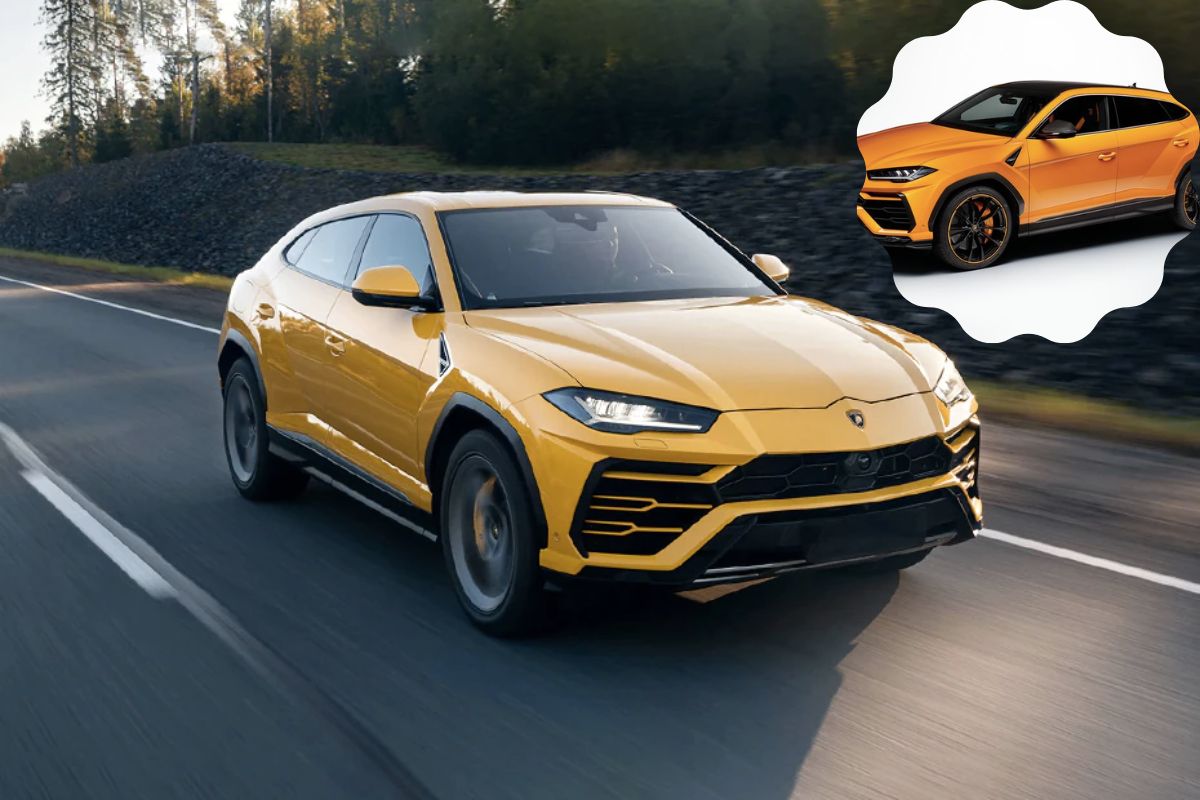 What's New for 2023?
For the 2023 model year, the Urus gains a more powerful trim called the Performante. While it retains the same drivetrain as the standard model, its 657 horsepower constitutes an increase of 16. It uses a unique suspension that is 0.8 inches lower than standard and rides on steel springs rather than air springs.
The Performante can be outfitted with a set of specialized footwear, consisting of a set of 23-inch wheels wrapped in Pirelli P Zero Trofeo R tires in front size 285/40R-22 and rear size 325/235R-22. Lamborghini claims that the Performante is 104 pounds lighter than the regular Urus due to the use of carbon fiber body panels and the elimination of sound-deadening components. Despite this, the Performante still has a heavy curb weight of 5200 pounds. The front and rear fascias of the '23 Perfomante have been updated, and a new, fixed spoiler has been added to the roof of the trunk. It has special seats and interior accents.
Engine, Transmission, and Performance
The standard 2023 Urus has 641 hp, while the Performante has 657 hp; both versions create 627 lb-ft of torque. A 4.0-liter V-8 engine with two turbochargers is the source of power in every Urus. The engine has a deep burble at idle and a tremendous howl at wide-open throttle. Thanks to the permanent all-wheel drive and an eight-speed automatic transmission, all that power can be put to good use in a hurry.
Based on our tests, the Urus can accelerate to 60 miles per hour in 3.1 seconds and can complete a quarter mile in 11.3 seconds at a speed of 121 miles per hour. In the same vein, Lamborghini claims a maximum speed of 190 mph. Driving the Urus is an exciting experience in its own right, thanks to its responsive steering and composed handling at high speeds. The Urus's ride height may be altered according to the selected driving mode thanks to the vehicle's four independently controlled air springs.
The Urus is equipped with standard carbon-ceramic brakes, allowing it to come to a stop from 70 miles per hour in just 149 feet. The new Urus Performante is the perfect choice for those who desire a sportier SUV. There's a modest boost in power, plus its 0.8 inches lower to the ground and supposedly 104 pounds lighter than the regular model. The optional 23-inch wheels are shod with ultra-grippy Pirelli P Zero Trofeo R tires.
In addition, only the Performante features a steel-spring suspension and a unique center differential that channels more torque to the rear wheels than is standard. The ultra-Urus also features a new drive mode called Rally, which is optimized for gravel roads. The prototype driving the 2023 Urus Performante was a lot of fun, but we doubt many owners will smash their six-figure SUV on gravel-covered, off-road tracks. We're delighted to report that the Performante's numerous changes, including a quicker powertrain, more precise steering feel, and a firmer ride, all pay off on the circuit.
Fuel Economy and Real-World MPG
Rich people who can buy a Lamborghini Urus probably don't give a hoot about gas mileage, but this is one thirsty supercar. The 641-horsepower Urus is expected to achieve 12 mpg in the city and 17 mpg on the highway, according to the Environmental Protection Agency. The mpg will vary depending on how you drive, so we haven't tested it at 75 mph on our fuel-economy interstate route.
Interior, Comfort, and Cargo
The inside is as spectacular as one would expect from a Lamborghini. The start button is concealed behind a crimson flip cover, and the shifter is styled after a jet's throttle. Drive mode and performance settings are adjusted with levers to the left of the shifter. Faux leather and carbon fiber are abundant, and the infotainment system and adaptable instrument cluster are also lifted wholesale from Audi. Two or three persons can ride comfortably in the back, depending on how the seats are arranged. Door pockets and a container hidden below the central stack are two very handy cubby spaces inside the vehicle. When the optional rear bucket seats are installed, the Urus's maximum cargo capacity decreases to 20 cubic feet.
Infotainment and Connectivity
Every Urus comes standard with state-of-the-art communication and entertainment capabilities. Besides having an all-digital instrument cluster, the interior may also be controlled via two touchscreens located in the middle stack. Though the screens' images are clear and the icons are big, they lack the intuitiveness of physical controls.
Specifications
2019 Lamborghini Urus
VEHICLE TYPE
front-engine, all-wheel-drive, 5-passenger, 4-door hatchback
PRICE AS TESTED
$243,377 (base price: $203,995)
ENGINE TYPE
twin-turbocharged and intercooled DOHC 32-valve V-8, aluminum block, and heads, direct fuel injection
Displacement
244 in3, 3996 cm3
Power
641 hp @ 6000 rpm
Torque
627 lb-ft @ 2250 rpm
TRANSMISSION
8-speed automatic with manual shifting mode
CHASSIS
The suspension (F/R): multilink/multilink
Brakes (F/R): 17.3-in vented, cross-drilled carbon-ceramic disc/14.6-in vented, cross-drilled carbon-ceramic disc
Tires: Pirelli P Zero PZ4, F: 285/40ZR-22 (110Y) R: 325/35ZR-22 (114Y)
DIMENSIONS
Wheelbase: 118.2 in
Length: 201.3 in
Width: 79.4 in
Height: 64.5 in
Passenger volume: 105 ft3
Cargo volume: 22 ft3
Curb weight: 5314 lb
C/D TEST RESULTS
60 mph: 3.2 sec
100 mph: 7.6 sec
130 mph: 13.4 sec
150 mph: 19.5 sec
160 mph: 23.6 sec
Rolling start, 5–60 mph: 4.4 sec
Top gear, 30–50 mph: 2.4 sec
Top gear, 50–70 mph: 3.2 sec
¼-mile: 11.4 sec @ 121 mph
Top speed (drag limited, mfr's claim): 190 mph
Braking, 70–0 mph: 149 ft
Road holding, 300-ft-dia skidpad: 1.02 g
EPA FUEL ECONOMY
Combined/city/highway: 14/12/17 mpg