2022 Jeep Compass Pricing | Specs | More Details
The base Sport model of the 2022 Jeep Compass starts at $24,995.
There aren't many real off-roaders in the subcompact crossover SUV market. Jeep is a well-known brand, so it makes sense that they would make a small, affordable, and useful crossover that can go off-road very well when it has all-wheel drive. The small but powerful 2022 Jeep Compass fits between the Renegade and the Cherokee as an attractive, affordable, and rugged small SUV.
For 2022, the Compass got a nice mid-life refresh. This is a good chance because it was starting to look old compared to newer competitors like the Subaru Crosstrek and Kia Seltos. Changes to the exterior design, a redesigned interior with more technology, a retuned suspension, and a new Latitude Lux trim level are all part of the update. The result is a small SUV that is more modern and can still go off-road well if it has the right gear.
2022 Jeep Compass Pricing
The starting MSRP for a base Compass Sport FWD is $26,020, plus a destination charge. The next-highest trim level, Latitude, starts at $27,980. AWD now comes as standard on the new Latitude Lux trim, which starts at $30,690. At $35,085, the High Altitude is the most expensive model.
AWD can be added for $1,500 to the Sport and Latitude trims.
SUV
Jeep Compass Models
SPECS
PRICE
80TH Anniversary (4X4)

2.4L

ULP

9 SP AUTO

$47,941
Launch Edition

2.4L

ULP

6 SP AUTO

$37,950
Limited (4×4)

2.4L

ULP

9 SP AUTO

$45,350
Limited (4×4)

2.4L

ULP

9 SP AUTO

$44,350
Night Eagle (fwd)

2.4L

ULP

6 SP AUTO

$39,950
S-Limited (4X4)

2.4L

ULP

9 SP AUTO

$48,350
S-Limited (4X4)

2.4L

ULP

9 SP AUTO

$47,350
Trailhawk (4X4)

2.0L

Diesel

9 SP AUTO

$52,650
Trailhawk (4X4)

2.0L

Diesel

9 SP AUTO

$51,650
Driving The 2022 Jeep Compass
As of this writing, we haven't driven the 2022 Jeep Compass, so we can't say anything about how its suspension has been changed. Jeep says that the updated steering and revised suspension make for "superior on-road driving dynamics." The Jeep Compass used to be pretty easy to drive on the road, and we expect that to get even better.
Only a 2.4-liter inline-4 engine with 177 horsepower is available. It's good enough to get the Compass moving, but there are other cars in this class that are more fun to drive. If speed isn't that important to you, you won't mind this engine.
The Compass is good at going off-road, especially in the Trailhawk trim. Any Compass with AWD can go off-roading in a mild way, but the Trailhawk has more ground clearance, skid plates, and a Rock mode on top of a cool look package. The Subaru Crosstrek is a subcompact SUV, but the Trailhawk is the best off-roader in this class.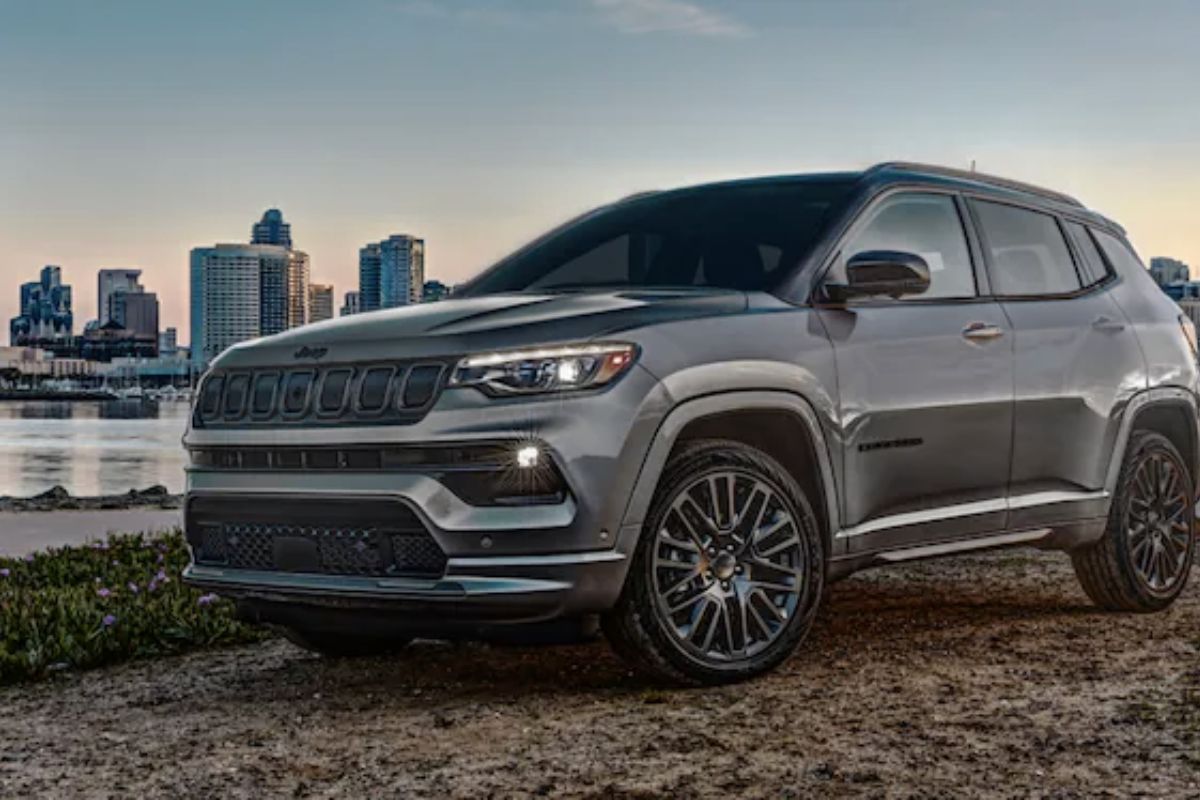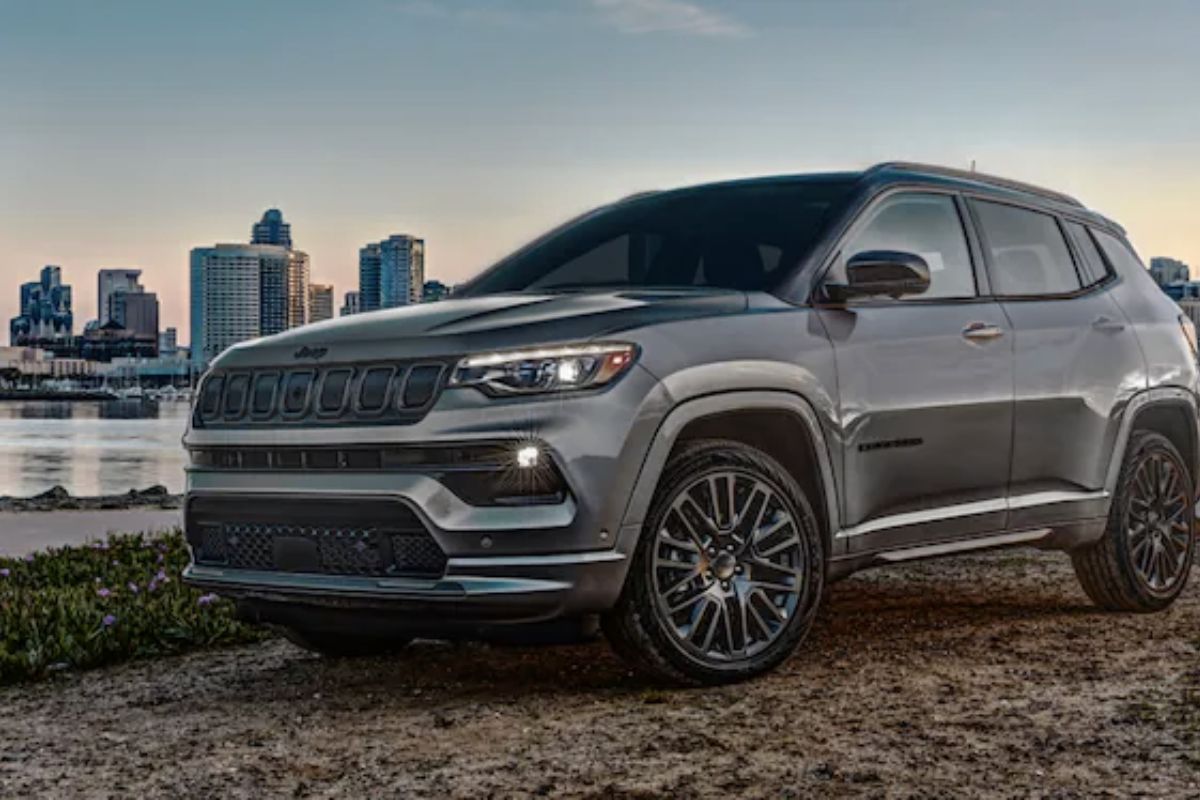 Interior Comfort
For the 2022 model year, the interior of the Jeep Compass has been updated in a big way. Compared to the 2021 model, which had an interior that was getting pretty old compared to the competition, this is a big change. The new interior is sleek and modern. It has a new steering wheel, a new dashboard, and new infotainment systems that come standard and that can be added on. The standard system has a big 8.4-inch screen, which is huge for a standard system in this class. It can be changed to a 10.1-inch unit with more features.
In both rows, the seats are firm and comfortable. The Compass can be used as a small family SUV because the back seats have more legroom than the average midsize sedan. When the back seats are up, you can fit up to 27 cubic feet of stuff in the trunk. When the seats are folded down, you can fit up to 60 cubic feet. Those are good numbers, but some competitors have more space for cargo.
Exterior Styling
The outside of the 2022 Jeep Compass has been changed, but not as much as the inside. It still looks like a Jeep, with the 7-slat grille up front and styling that looks like the bigger Grand Cherokee. The trim can change the way the Compass looks a little. For example, the Trailhawk has a more rugged look that suggests it can go off-road, while the Limited has a more upscale, premium look.
The Jeep Compass is between a subcompact and a compact car in size. It's bigger than the Jeep Renegade but smaller than the Jeep Cherokee. That means it has more options than a subcompact crossover but is easier to drive and less expensive than a compact crossover. If subcompact and compact are too small and too big, respectively, then the Compass is just right.
Read More:
Favorite Features
RUGGED TRAILHAWK TRIM
The Jeep Compass Trailhawk is the best in its class at going off-road. It has an AWD system that works well, off-road tyres, skid plates, and other features that help it do this.
UCONNECT 5 INFOTAINMENT SYSTEM
In 2022, the Compass will have a new infotainment system with two different screen sizes. Apple CarPlay and Android Auto are built in and work wirelessly.
Standard Features
With the 2022 update, the base Sport trim of the Jeep Compass gets some new standard features. Standard equipment includes a big 8.4-inch Uconnect 5 infotainment system with wireless Android Auto and Apple CarPlay, LED headlights, a USB-A and USB-C port in the front, a USB-A port in the back, cloth seats, and 16-inch alloy wheels.
Forward-collision warning, automatic emergency braking with pedestrian and cyclist detection, lane-keep assist, blind-spot monitoring, and a backup camera with rear cross-traffic alert come standard on every 2022 Compass.
The Sport and Latitude trims of the Compass come with front-wheel drive as standard. All-wheel drive is standard on the Latitude Lux, Limited, and Trailhawk trims.
Factory Options
Above the base Sport model, you can choose from four trims, including the new Latitude Lux trim. The Latitude trim adds creature comforts like premium cloth/vinyl seats, a leather shift knob, ambient interior lighting, 17-inch alloy wheels, and automatic headlights. The Latitude model has options like more safety tech, automatic climate control for two zones, heated front seats, wireless charging, a sunroof with two panes, and more. There is also an Altitude Package, which adds gloss black accents to the look of the car.
The new Latitude Lux trim adds more technology and comfort, but the starting price is still less than $30,000. It comes with standard all-wheel drive, leather, heated front seats, 18-inch wheels, a leather-wrapped steering wheel, remote start, and more. This is where the upgraded 10.1-inch entertainment system can be found.
The Compass Trailhawk is the most ready to go off-road of all the trims. It looks tough, and it is. It has skid plates and an extra inch of ground clearance, which are both useful features. A Jeep Active Drive Low 44 system with Rock mode, hill-descent control, and a 30-degree approach angle are some of the other off-road improvements.
The Compass High Altitude is the newest Compass that has the most luxury. It has a premium appearance package with 19-inch alloy wheels and accents in black and grey on the outside. Standard features include all-wheel drive, high-quality leather upholstery, automatic climate control with two zones, a power-adjustable driver's seat with lumbar support, rain-sensing windshield wipers, and more.
On the Latitude and Latitude Lux, you can get adaptive cruise control, parking sensors, and a 360-degree camera, but they come standard on the Trailhawk and Limited.
For the 2022 Compass, there is a Highway Assist system that won't be ready until late. With Highway Assist, driver-assistance technologies like adaptive cruise control and lane-keep assist work together to make driving on the highway feel like it's mostly done by itself. But you still have to pay attention with both hands on the wheel and both eyes on the road. This system comes standard on the Trailhawk but is an extra cost for the Limited.
Engine & Transmission
The 2022 Jeep Compass has only one engine choice: a 2.4-liter inline-4. It has pretty average specs for this class, with 177 horsepower and 172 lb-ft of torque. Front-wheel drive (FWD) and all-wheel drive (AWD) come standard on the Sport and Latitude models, but not on the higher trims.
Models with front-wheel drive (FWD) have a 6-speed automatic transmission, and models with all-wheel drive (AWD) have a 9-speed automatic. As usual, all-wheel drive hurts fuel economy a little, but the 9-speed transmission helps make up for that. The Compass can only pull up to 2,000 pounds, and Jeep doesn't recommend doing it with FWD.
2.4-liter inline-4
177 horsepower @ 6,400 rpm
172 lb-ft of torque @ 3,900 rpm
EPA city/highway fuel economy: 22/31 mpg (FWD), 22/30 mpg (AWD)
Specifications:
VEHICLE TYPE:front-engine, all-wheel-drive, 5-passenger, 4-door hatchback
PRICE AS TESTED:$28,370 (base price: $25,590)
ENGINE TYPE:SOHC 16-valve inline-4, aluminum block and head, port fuel injection
Displacement:144 cu in, 2360 cc
Power:180 hp @ 6400 rpm
Torque:175 lb-ft @ 3900 rpm
TRANSMISSION:9-speed automatic with manual shifting mode
CHASSIS:
Suspension (F/R):struts/struts
Brakes (F/R):12.0-in vented disc/10.9-in disc
Tires:Continental CrossContact LX Sport, 215/65R-16 93H M+S
DIMENSIONS:
Wheelbase:103.8 in
Length:173.0 in
Width:73.8 inHeight:64.6 in
Passenger volume:101 cu ft
Cargo volume:27 cu ft
Curb weight:3470 lb
C/DTEST RESULTS:
Zero to 60 mph: 9.3 sec
Zero to 100 mph: 29.3 sec
Zero to 110 mph: 42.0 sec
Rolling start, 5–60 mph: 9.8 sec
Top gear, 30–50 mph: 5.0 sec
Top gear, 50–70 mph: 6.5 sec
Standing ¼-mile: 17.1 sec @ 82 mph
Top speed (drag limited): 117 mph
Braking, 70–0 mph: 184 ft
Road holding, 300-ft-dia skidpad*: 0.79 g
*stability-control-inhibited
C/DFUEL ECONOMY:
Observed: 21 mpg
EPA FUEL ECONOMY:
Combined/city/highway: 25/22/30 mpg