2023 Nissan Z Release Date: Review, Pricing, and Specs And Check Out More Updates!
Overview
The new Toyota Supra and the flashy mid-engine Corvette, both of which came out last year, show that sports cars are in right now, so it's a great time for Nissan to redesign its old Z coupe. It's also perfect because it's clear that it's outdated. In the past, Nissan's sports cars have had names with letters and numbers, like the outgoing 370Z and the first 240Z from 1969. This generation, however, will just be called Z.
The 2023 Z has a twin-turbocharged V-6 engine with 400 hp that drives the rear wheels through a six-speed manual transmission or a nine-speed automatic transmission. We like how fun the Z is to go and how quickly it picks up speed. It's also great that it's more refined than the car it replaces. The Z also gets an update to its technology, with a new touchscreen infotainment system, a digital gauge display that can be changed, and a bunch of new driver-assistance features. Last time around, the 370Z went up against cheaper sports cars like the Mazda MX-5 Miata and the Toyota 86 in terms of price and performance. This time around, the car moves a little bit upmarket to go after the Supra.
What's New for 2023?
The famous Z-car made by Nissan is all-new for 2023. The Z Proto concept car showed us what the new Z would look like. Its design is based on older models, but its new technology and updated interior give us a look into the future. The new Z will go on sale as a hardtop coupe in the summer of 2022, but a convertible version could come later.
2023 Nissan z Release Date
The 2023 Nissan Z will not come to the United States until the summer of 2022, instead of in the spring.
Nissan said that the delay was caused by "unexpected problems in the supply chain."
The Z will have a 3.0-liter twin-turbocharged V-6 engine with 400 horsepower, and the price should start around $40,000.
After making the Nissan 370Z for eleven years, people have been eagerly waiting for its replacement, which is now just called Z. The Z was supposed to go on sale in the U.S. this spring. It was shown off last fall with a 400-hp twin-turbocharged 3.0-liter V-6 engine. But after a press release said that the Z was being delayed in Japan, Nissan told Car and Driver that the Z's release date in the U.S. has also been pushed back to summer 2022.
In a statement to Car and Driver, a Nissan representative said, "There has been a slight delay until the summer of 2022 because of unanticipated supply chain problems that are affecting the whole industry." Nissan's website for consumers still says that the car will come out in "spring 2022."
Nissan hasn't said how much the 2023 Z will cost, but we think the two-seat coupe will start at around $40,000. The Z will come in three different trims. The base Z Sport has a 12.3-inch instrument display, cloth seats with faux-suede inserts, and a lot of driver-assistance features. When you step up to the Z Performance, the suspension gets stiffer, the brakes get better, and you get 19-inch Rays wheels. Inside, there are now heated leather seats and a better sound system. There will also be a "launch edition" called the "Z Proto Spec," which is a "Z Performance" model with different colors and trim.
Nissan will probably give more information about prices closer to when the Z goes on sale.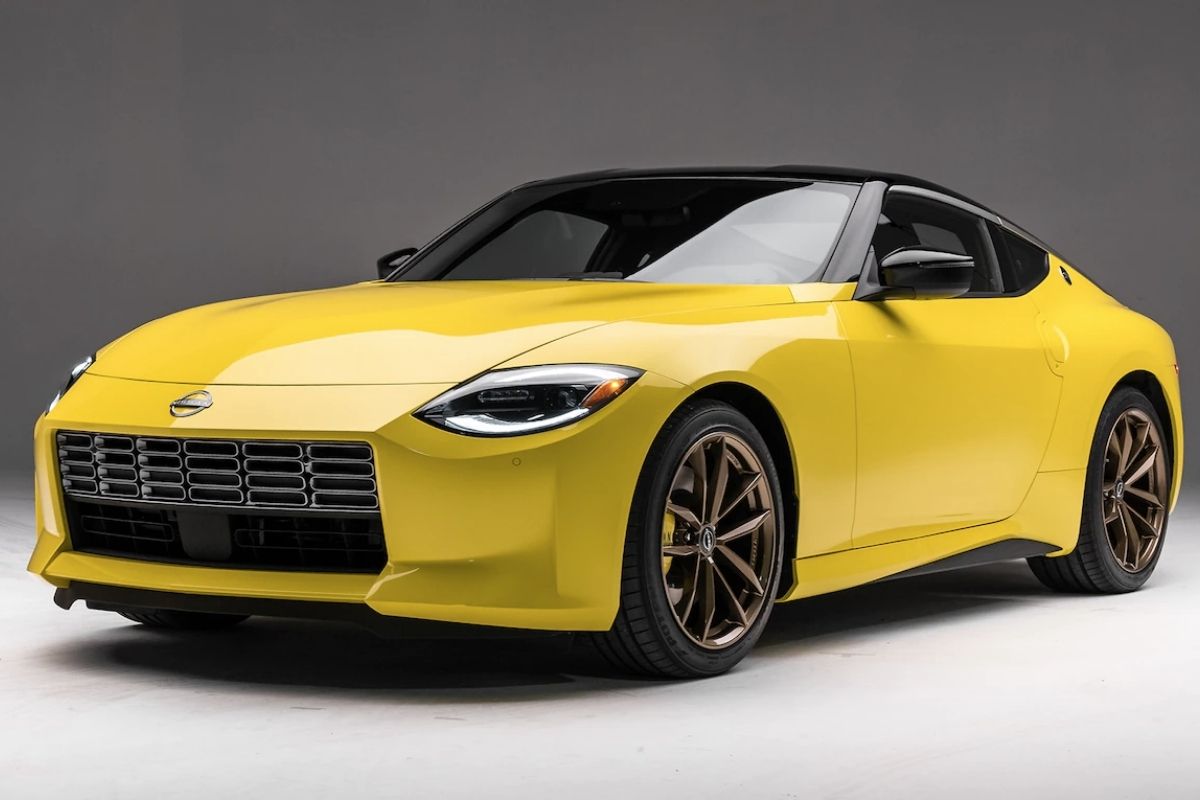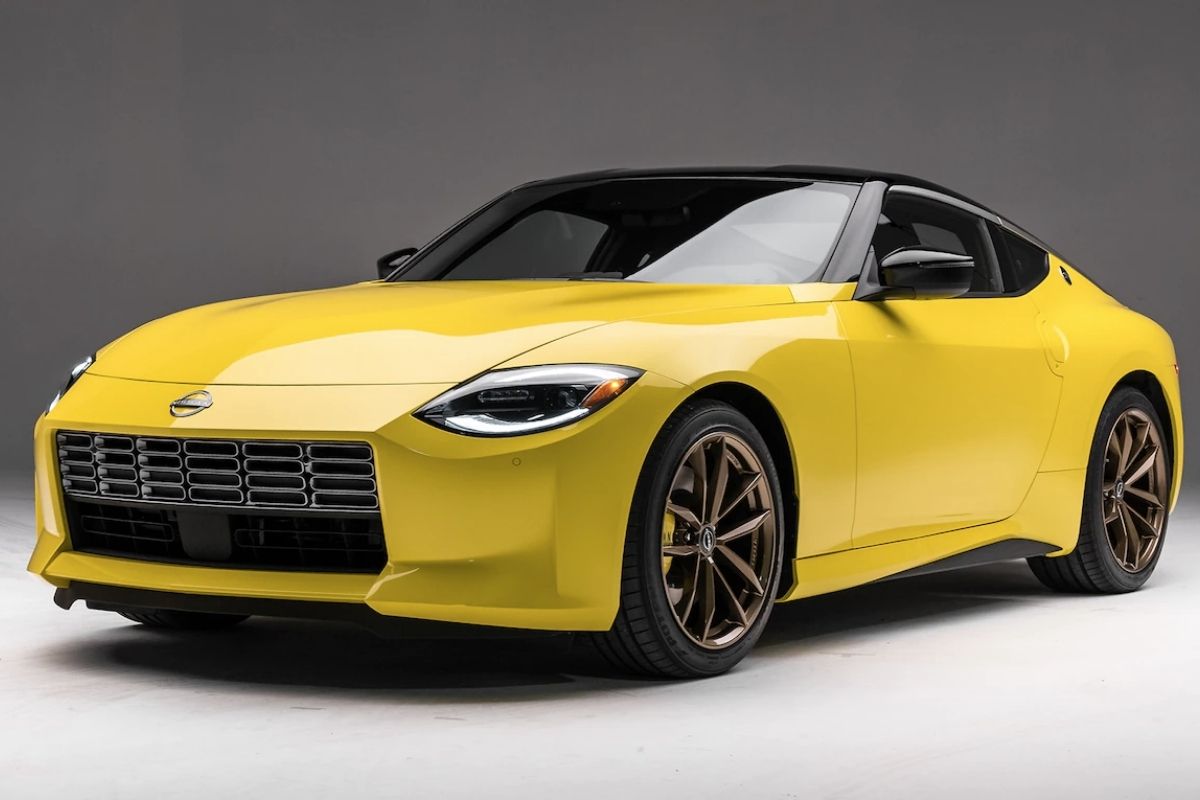 2023 Nissan z Colors
Everest White Tri-Coat
Passion Red Tri-Coat
Brilliant Silver
Seiran Blue
Ikazuchi Yellow
Boulder Gray
Black Diamond Metallic
Gun Metallic
Rosewood Metallic
2023 Nissan z Price and Which One to Buy
Even though the base price of the new Z is higher than that of the old 370Z, it is still a good deal compared to key competitors like the Supra and the Audi TT. To make up for its higher price, the Z adds more luxury features and a more attractive design. We'd go with the mid-range Z Performance trim, which has a sportier suspension tune, a limited-slip differential, better brakes, 19-inch wheels with summer tyres, and power-adjustable seats with faux-suede upholstery.
| Models | 2023 Nissan 400Z | 2022 Toyota Supra 3.0 |
| --- | --- | --- |
| Transmission | 6-speed manual | 8-speed automatic |
| Power | 400 hp @ 6,400 RPM | 382 hp @ 5,800 RPM |
| Torque | 350 lb-ft @ 1,600 RPM | 368 lb-ft @ 1,800 RPM |
| 0-60 MPH | 3.5 secs | 3.8 secs |
Engine, Transmission, and Performance
The Z has a twin-turbocharged V-6 engine, just like its wild brother, the Nissan GT-R. But instead of the GT-fire-breathing R's 565-hp 3.8-liter engine, the Z has a 400-hp 3.0-liter engine from the Infiniti Q60 Red Sport 400. This engine is paired with either a six-speed manual or a nine-speed automatic transmission. Even though the Infiniti has all-wheel drive, Nissan has decided to keep the Z with only rear-wheel drive. The turbo six gives the Z a lot of speed, and we think it should be able to go from 0 to 60 mph in as few as 4.2 seconds. The cornering grip is strong, and the Z's sport-tuned suspension is both eager on twisty roads and soft enough to make commuting comfortable. When we take the Z to our test track, we'll add more driving impressions and test results to this story.
Fuel Economy and Real-World MPG
The EPA hasn't given any estimates for the new Z's fuel economy yet, but if it's anything like the Q60, we can expect highway ratings as high as 28 mpg and city ratings just below 20 mpg. We'll know more when the car goes on sale, and on our 75-mph test route, we hope to test the Z's highway gas mileage. Visit the EPA's website to learn more about the Z's gas mileage.
2023 Nissan z weight
2023 Nissan Z First Drive Specifications
| 2023 Nissan Z First Drive Specifications | |
| --- | --- |
| ENGINE | 3.0L/400-hp/350-lb-ft twin-turbo direct-injected, DOHC 24-valve V-6 |
| TRANSMISSION | 6-speed manual, 9-speed auto |
| CURB WEIGHT | 3,500-3,550 lb (est) |
| WHEELBASE | 100.4 in |
Interior, Comfort, and Cargo
Even though the Z is new for 2023, Nissan hasn't changed how the inside is set up. It's still a two-seater coupe with no extra seats in the back, like the Porsche 911. Everything else, though, has changed. The new Z interior has been updated with new materials, which is a nice change from the old interior of the current 370Z. There are leather seats, power-adjustable seats, and automatic climate control for two zones. We don't know much about the Z's cargo space, but we don't expect it to be a Costco-run champion. The old 370Z could fit three carry-on suitcases in the trunk, which should be enough for most sports-car buyers.
Infotainment and Connectivity
Nissan has brought the Z into the 21st century by making an 8.0-inch infotainment display standard (a 9.0-inch unit with navigation is available as an option), adding a 12.3-inch digital gauge display, SiriusXM satellite radio, Apple CarPlay, and Android Auto, and making a 12.3-inch digital display for the speedometer. Standard is a six-speaker stereo, but audiophiles can pay extra for a premium audio system designed by Bose. There is also an onboard Wi-Fi hotspot.
Safety and Driver-Assistance Features
Nissan includes several driver-assistance features as standard on the Z, such as automatic emergency braking, pedestrian detection, and blind-spot monitoring. Visit the websites of the National Highway Traffic Safety Administration (NHTSA) and the Insurance Institute for Highway Safety (IIHS) to find out more about how the Z did in crash tests. Some important safety features are:
Standard automated emergency braking with pedestrian detection
Standard lane-departure warning
Standard adaptive cruise control
Warranty and Maintenance Coverage
The basic warranty package from Nissan is exactly that: basic. The Supra and the BMW Z4 are both competitors that offer long, free maintenance plans on top of their standard warranties.
The limited warranty covers 3 years or 36,000 miles
Powertrain warranty covers 5 years or 60,000 miles
No complimentary scheduled maintenance
Specifications
2023 Nissan Z
Vehicle Type: front-engine, rear-wheel-drive, 2-passenger, 2-door hatchback
PRICE
Base: Sport, $41,105; Performance, $51,105; Proto, $54,105
ENGINE
twin-turbocharged and intercooled 24-valve V-6, aluminum block heads, direct fuel injection
Displacement: 183 in3, 2997 cm3
Power: 400 hp @ 6400 rpm
Torque: 350 lb-ft @ 1600 rpm
TRANSMISSIONS
6-speed manual, 9-speed automatic
DIMENSIONS
Wheelbase: 100.4 in
Length: 172.4 in
Width: 72.6 in
Height: 51.8 in
Passenger Volume: 52 ft3
Trunk Volume: 7 ft3
Curb Weight (C/Dest): 3500-3600 lb
PERFORMANCE (C/DEST)
60 mph: 4.2-4.4 sec
100 mph: 10.1-10.4 sec
1/4-Mile: 13.0-13.3 sec
Top Speed: 155 mph
EPA FUEL ECONOMY
Combined/City/Highway: 20-22/18-19/24-28 mpg