2023 Volvo EX30 Review: A Stylish and Sustainable Small SUV
When Volvo announced the EX30, it raised eyebrows with its competitive pricing, making this electric SUV an attractive option for those looking to transition to sustainable mobility. Despite its affordability, the EX30 offers premium features and cutting-edge technology. This compact electric SUV is designed to cater to urban driving needs and boasts impressive acceleration and range.
Power and Performance
The Volvo EX30 offers multiple configurations to suit different driving preferences. The base model comes with a 197 kW single motor powering the rear wheels, combined with a 69 kWh battery providing a claimed range of 219 km. For those seeking more performance, there's a Twin Motor Performance Model that offers all-wheel drive and a 460 km range, albeit with a shorter 69 kWh battery. This version can accelerate from 0 to 100 km/h in just 3.5 seconds.
Charging Speeds and Efficiency
Charging the EX30 is a breeze, with both models able to reach an 80% charge in under half an hour using 153 kW charging. The range of the vehicle is optimized for urban driving, making it a perfect choice for city dwellers.
Exterior and Design
The Volvo EX30 carries the brand's distinctive Scandinavian design cues, featuring Thor's Hammer headlights, strong shoulder lines, and high-set rear lights. Notably, the front grille is replaced by a body-colored molding with the Volvo emblem. Darker panels along the sills match the contrasting roof, giving the SUV a sleek, modern appearance. Despite its compact size, the EX30's elevated driving position and excellent visibility make it a comfortable and enjoyable drive.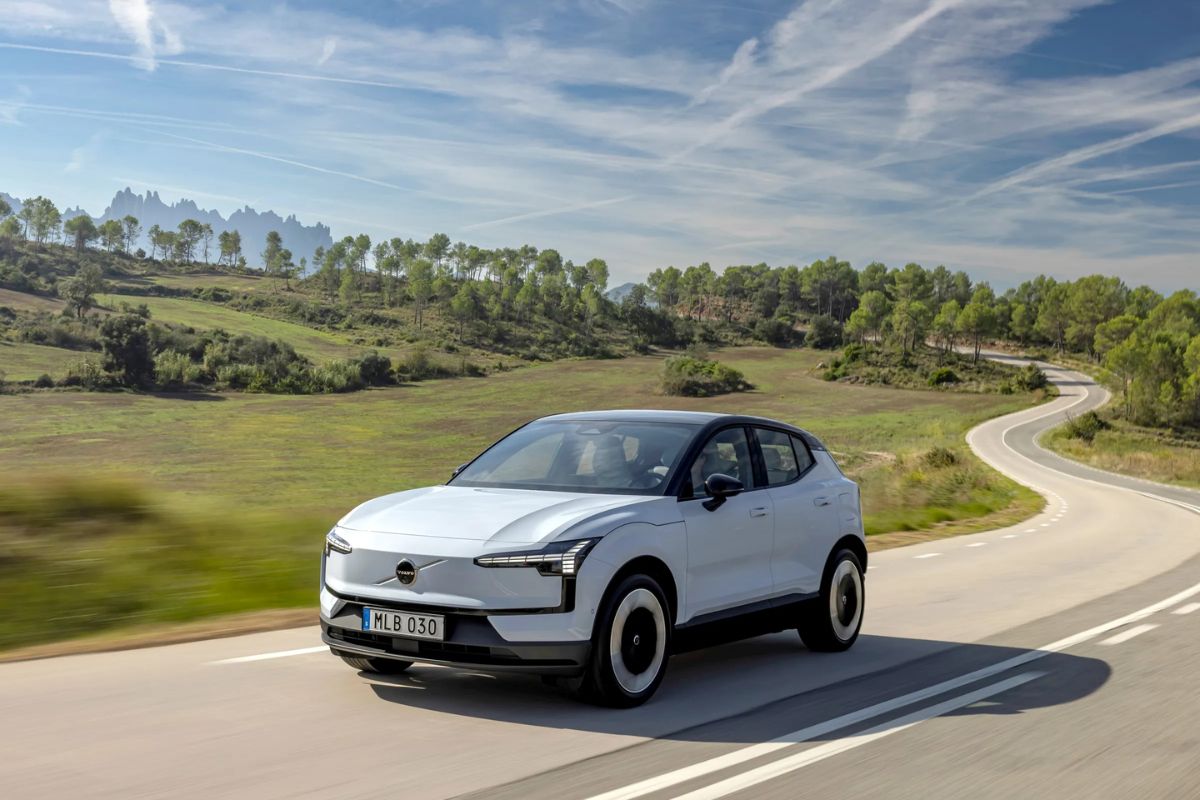 Ride Quality and Handling
The EX30 offers a comfortable and composed ride, effectively masking its weight. While it's not a sports car, the steering is tuned for ease of use, and the vehicle exhibits minimal body lean through corners. The well-designed seats ensure a pleasant driving experience.
Sustainable Materials and Interior
Volvo places a strong emphasis on sustainability, with the EX30 incorporating recycled materials such as 25% recycled aluminum, 17% recycled steel, and 17% recycled plastic. Inside, you can choose from four unique 'room' themes, each featuring distinct textures, colors, and sustainable materials. The car's interior is thoughtfully designed, with high-quality materials used throughout. The cockpit features Volvo's signature minimalist design, and the seats are impressively comfortable.
Usability and Storage
The EX30 provides ample storage options, including a deep tray between the driver and front passenger, cup holders that slide out of the center armrest, and a hidden glovebox. The user-friendly touchscreen controls many vehicle functions, which are supplemented with voice control and Apple CarPlay for seamless connectivity.
Innovative Sound System
Volvo has partnered with Harman Kardon to install a soundbar just beneath the windscreen, delivering a high-quality audio experience. The soundbar eliminates the need for speakers in the doors and features a creative indicator sound inspired by breaking twigs.
Tech-Forward Interface
The vehicle's 12.3-inch touchscreen is powered by Google, making it highly intuitive and responsive. Apple iPhone users can also wirelessly connect to CarPlay. The interior design combines aesthetics with functionality, although it leans toward minimalism and occasionally sacrifices ease of use for a sleek appearance.
Safety and Connectivity
The EX30 is equipped with an array of safety and driver assistance features, ensuring a secure driving experience. While the absence of a display in front of the driver is notable, the touchscreen is supplemented by Google-powered voice control and wireless connectivity.
Compact Dimensions and Limited Rear Space
Given its compact footprint, the EX30 offers limited rear space, which may be tight for taller individuals or when accommodating child seats. However, the doors open widely for ease of access. The 318-liter boot is sensibly designed and can be expanded to 904 liters with the rear seats folded.
Sustainability and Production
Volvo places a strong emphasis on sustainability, with a significant portion of the vehicle constructed using recycled materials. The initial EX30 production will take place in China, with plans to shift production to Europe in 2025.
The Verdict
The Volvo EX30 stands out as an affordable, compact electric SUV that offers a premium driving experience. Its combination of performance, sustainability, and cutting-edge technology makes it an attractive choice in the electric vehicle market. While it has some usability quirks, the EX30's overall desirability and affordability make it a compelling option for those seeking an electric SUV.
Read More:
BYD Batteries to Power KG Mobility EVs

2025 Ram 1500 Ramcharger: Range King

Toyota Land Cruiser FJ Trademark Hints at New Compact Off-Roader