Toyota FT-3e concept: A self-driving electric SUV that's straight out of a sci-fi movie!
The 2023 Tokyo Motor Show has witnessed the unveiling of the Toyota FT-3e concept, which could potentially lead to the creation of a flagship electric SUV. This SUV is envisioned as a contender against renowned models like the BMW iX, Audi Q8 e-tron, Jaguar I-Pace, and the upcoming Polestar 3.
The FT-3e concept measures 4860mm in length, 1955mm in width, and 1595mm in height, with a wheelbase of precisely 3000mm. If these dimensions are any indication, a production version could be comparable in size to its potential rivals, even surpassing the existing Toyota bZ4X mid-size electric SUV in length and width.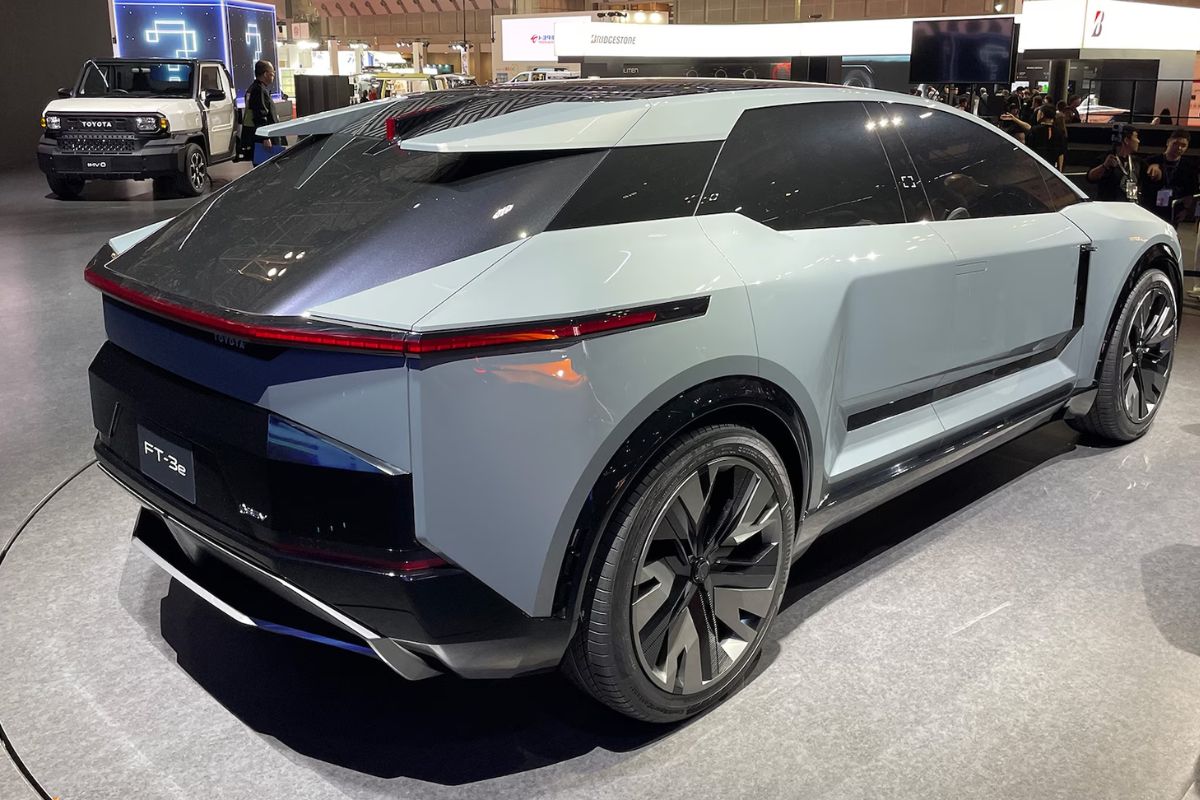 From a design perspective, the front end of the FT-3e concept is an evolution of the bZ4X's design, although it does bear a closer resemblance to the Jaguar I-Pace from certain angles. The Toyota FT-3e boasts a muscular stance, short overhangs for maximizing interior space, and eye-catching full-width light bars at the front and rear, typical of flagship EV concept cars.
The interior of the FT-3e concept is relatively restrained for a concept car but features multiple screens. Along with the standard digital driver's display and a large central touchscreen, there are two smartphone-style screens on either side of the steering wheel. Additionally, there are two more screens at the base of the windscreen, providing the feed from the digital side mirrors. A head-up display and additional information projected onto the dashboard add to the tech-packed interior.
While detailed technical specifications remain undisclosed, Toyota has hinted that the FT-3e shares some key components with the FT-Se two-seat sports car concept also presented in Tokyo. It's likely that both these concepts, or their future production versions, will leverage Toyota's modular electric car architecture shared with the premium brand Lexus. Furthermore, they may utilize Toyota's next-generation battery technology, which includes "performance" and "high-performance" lithium-ion packs.
Toyota is committed to launching 30 new all-electric vehicles by 2030, with the initial models featuring their next-generation batteries set to debut in 2026. This signals Toyota's strong commitment to the electric vehicle market and its pursuit of cutting-edge technology in this field.
Toyota FT-3e Concept
Overview
– Unveiled at the 2023 Tokyo Motor Show
– Potentially a flagship electric SUV
– Competing against BMW iX, Audi Q8 e-tron, Jaguar I-Pace, and upcoming Polestar 3
Dimensions
– Length: 4860mm
– Width: 1955mm
– Height: 1595mm
– Wheelbase: 3000mm
– Comparable in size to potential rivals and larger than the Toyota bZ4X mid-size EV
Design
– Evolution of bZ4X's front end design
– Resembles Jaguar I-Pace from certain angles
– Muscular stance with short overhangs
– Features full-width light bars at the front and rear
Interior
– Relatively restrained for a concept car
– Multiple screens, including a digital driver's display, a large central touchscreen, two smartphone-style screens on either side of the steering wheel
– Two more screens at the base of the windscreen for the feed from digital side mirrors
– Head-up display and additional information projected onto the dashboard
Technical Details
– Specific technical specifications are undisclosed
– Shares key components with the FT-Se two-seat sports car concept
– Likely to utilize Toyota's modular electric car architecture shared with Lexus
– May use next-generation battery technology, including "performance" and "high-performance" lithium-ion packs
Future Plans
– Toyota's commitment to launching 30 new all-electric vehicles by 2030
– Initial models featuring next-generation batteries set to debut in 2026
– Demonstrates Toyota's strong commitment to electric vehicles and advanced technology