Citroen e-C3: The Electric Car That's Breaking the Bank
Citroen has unveiled the new e-C3, challenging the perception that electric vehicles are expensive. This all-electric car is set to launch in Europe for under £23,000 (approximately AUD$44,000) early next year and offers a respectable range of 320km. While petrol-powered C3 models are also in the pipeline, Citroen is taking the lead in offering an affordable EV, potentially heralding a new era of budget-friendly electric cars.
The e-C3 is based on a flexible 'smart car' platform with a 44kWh LFP (lithium ferro phosphate) battery pack located beneath the rear seats. While this battery chemistry may be less efficient in very cold temperatures and lacks a heat pump, Citroen argues that most e-C3 customers will drive less than 80km daily, making ultimate range less critical compared to cost savings.
Charging performance is not compromised, with the e-C3 capable of up to 100kW via DC fast-charging, which can replenish the battery from 20 to 80 per cent in just 26 minutes. AC charging speeds are available at standard 7.4kW and optional 11kW, enabling 20 to 80 per cent charging in slightly over four hours for the base option and just under three hours for the upgraded 11kW system. Citroen also plans to introduce an even more affordable battery option with around 200km of range, possibly starting at approximately $38,000, with specific details to be revealed later.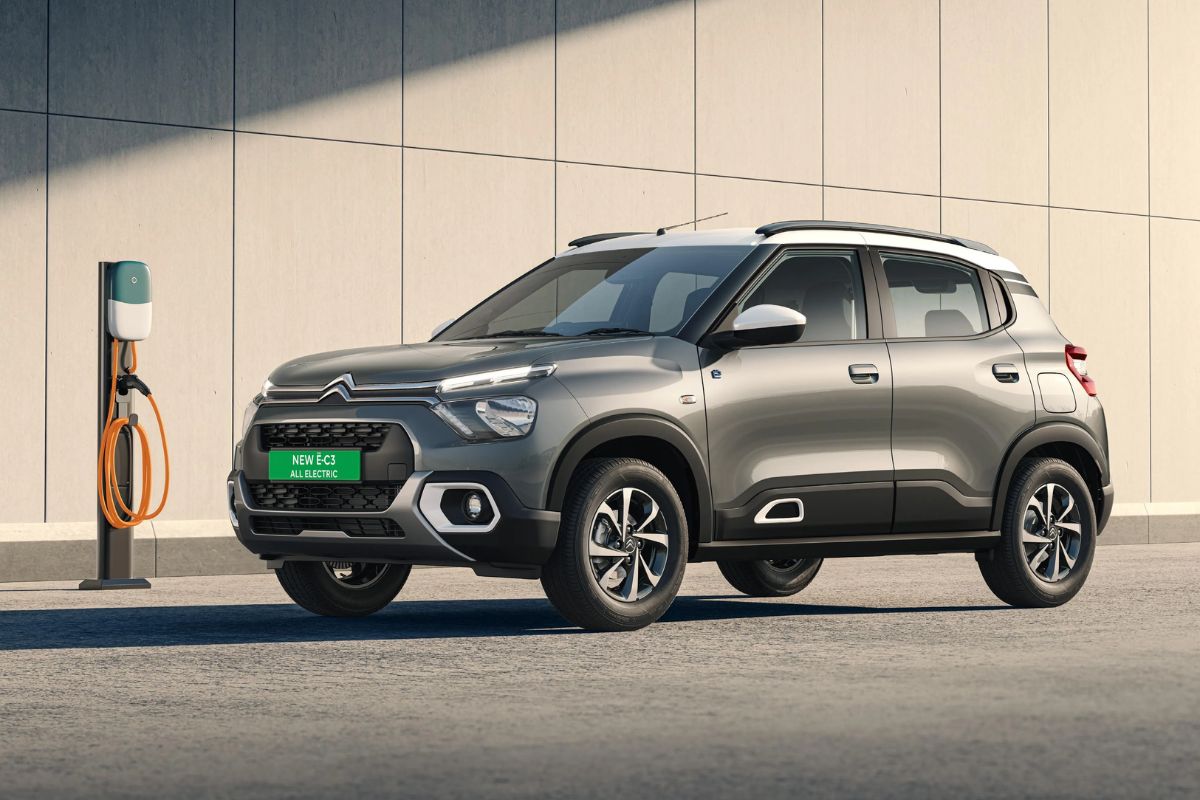 Under the bonnet, the front-mounted electric motor, inverter, and associated electronics generate 84kW, propelling the car to 100km/h in around 11 seconds, with a top speed of 135km/h.
The new C3 is only slightly larger than its predecessor, with improved height and visibility for a more comfortable driving experience. Citroen's hydraulic bump-stops, a first in the supermini class, promise excellent ride quality and refinement.
The interior design is a standout feature, with a fresh and modern appearance. Notably, the e-C3 lacks a traditional instrument binnacle, employing a small head-up display for key information. A compact, contemporary steering wheel complements this approach. The upper dashboard hosts a 10-inch touchscreen for infotainment, while separate heating and ventilation controls are located lower down. Despite its affordability, the e-C3 maintains a distinctive French style with fabric inserts and thoughtful detailing. Citroen's signature Active Comfort seats aim to provide a serene and calming driving experience.
On the exterior, the e-C3 showcases crossover-like styling, with a relatively high ride height, black wheel arch extensions, and a bold upright stance. Some design cues nod to the Oli Concept car, notably in lighting signatures and a new badge. The e-C3 is still visually intriguing, featuring 16-inch (or optional 17-inch) alloy wheels and colored plastic inserts that can be customized to accentuate the two-tone paintwork on higher trim levels.
Details regarding the petrol-powered C3 versions are forthcoming, but it's expected to feature Citroen's 1.2-liter three-cylinder engine with automatic and manual transmission options, along with MacPherson strut front suspension and a torsion beam rear end.
The Citroen e-C3's affordability and practicality could be a game-changer in the EV market, making electric mobility accessible to a broader audience.
Key Highlights
| Model | Citroen e-C3 |
| --- | --- |
| Launch Date | Early next year (Europe) |
| Price | Under £23,000 (Approx. AUD$44,000) |
| Range | 320km |
| Battery | 44kWh LFP (lithium ferro phosphate) |
| Fast Charging (DC) | Up to 100kW |
| Charging Times (AC) | 7.4kW (approx. 4 hours for 20-80%)<br>11kW (approx. 3 hours for 20-80%) |
| Additional Battery | Cheaper option with ~200km range expected (Pricing TBA) |
| Electric Motor | 84kW |
| Acceleration (0-100km/h) | Around 11 seconds |
| Top Speed | 135km/h |
| Dimensions | Slightly larger than the previous generation |
| Ride Quality | Hydraulic bump-stops for excellent ride quality |
| Interior Design | Innovative design with a head-up display, modern steering wheel, and a 10-inch touchscreen |
| Exterior Design | Crossover-style with a high ride height and unique design elements |
| Seating | Slightly tight rear legroom but generous headroom |
| Model Variants | Petrol-powered C3 models planned for the future |