UP Police Launches MotoGP-Inspired Safety Campaign for Two-Wheeler Users
We always appreciate it when our police department uses humor to convey important road safety messages. The latest safety advisory from the UP Police targeting two-wheeler riders is both clever and amusing. In recent times, we've seen our police departments, especially the traffic police, employ humor to effectively communicate important information. With the widespread use of social media, authorities often share humorous content to make it more relatable to the general public. This approach helps raise awareness about the law without coming across as overly serious. In a similar vein, the UP Police has come up with an innovative way to emphasize the significance of wearing a helmet while riding.
UP Police Issues Safety Advisory
This post originally shared by _aani.k on Instagram features the official UP Police handle and an image of Shah Rukh Khan in his role in the latest movie "Jawan" where he is shown with a bandage wrapped around his face, indicating he is seriously injured. While the full context of this look can be understood after watching the movie, the UP Police creatively used this image to convey an important message. In the post, they placed a picture of a helmet alongside SRK's image and added the caption, "Jawan ho ya budhe, two-wheeler par baithne se pehle, helmet kabhi na bhoole," which loosely translates to, "Whether you are young or old, never forget to wear a helmet before riding a two-wheeler."
This creative approach effectively raises awareness among road commuters, as humorous advertisements like these tend to stick in people's minds more easily. It conveys the message in a fun and engaging way, which is often the most effective method. Encouraging such a lighthearted approach from our police authorities helps build trust and rapport with the public, demonstrating that law enforcement can also have a sense of humor.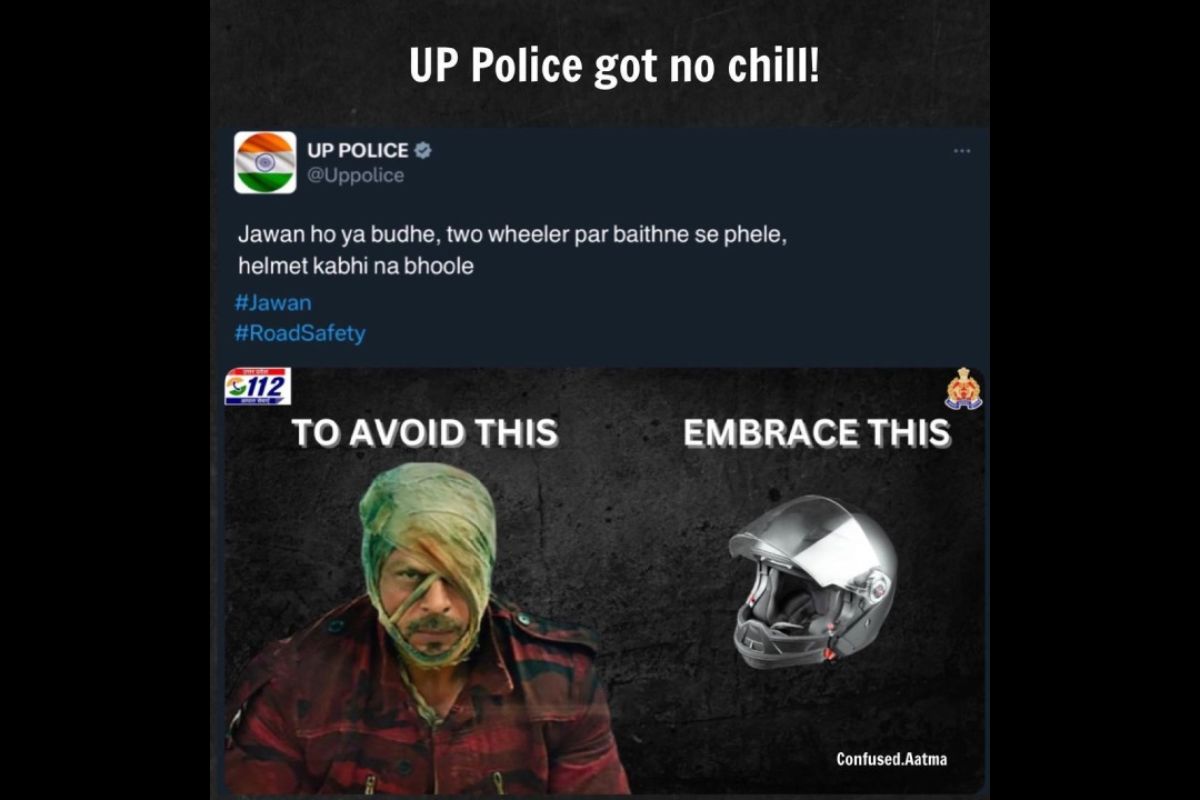 What We Think
India witnesses the loss of countless lives in road accidents each year, making it imperative for us to become more responsible riders in order to significantly reduce these casualties. The majority of accidents occur due to the disregard of traffic regulations, with the failure to wear a helmet being a common violation among two-wheeler riders. It is crucial that we work to change this behavior. If you come across anyone not wearing a helmet, it is essential to report them to the authorities. Remember, wearing a helmet can make the critical difference between life and death. Let's prioritize safety on the roads.
Read More: