How Helpful an Online Post Graduate Program in Electric Vehicle Design
Summary
This article provides an overview of the electric vehicle industry. It discusses the growth of the industry, the drivers of growth, and the challenges that the industry is facing. The report also discusses the opportunities and threats that the industry is facing. Most importantly, it discusses what the job opportunities are in the industry and how an Online Post Graduate Program in Electric Vehicle Design can help you build a successful career in the industry.
What are Electric Vehicles
Electric vehicles are powered by electricity from batteries, fuel cells, or solar panels. They include electric cars, motorcycles, scooters, and bicycles.
Growth of the Electric Vehicles Industry
The electric vehicle industry is growing rapidly with new players and new technologies. The industry is expected to grow, and over 1 lakh new employment is anticipated to be created as a result of the Indian EV industry's anticipated 10x growth to USD 15 billion by 2027. The growth is being driven by the need to reduce emissions, improve fuel economy, and reduce dependence on foreign oil. The industry is also being driven by government incentives, such as tax credits, and regulations, such as the California Zero Emission Vehicle mandate.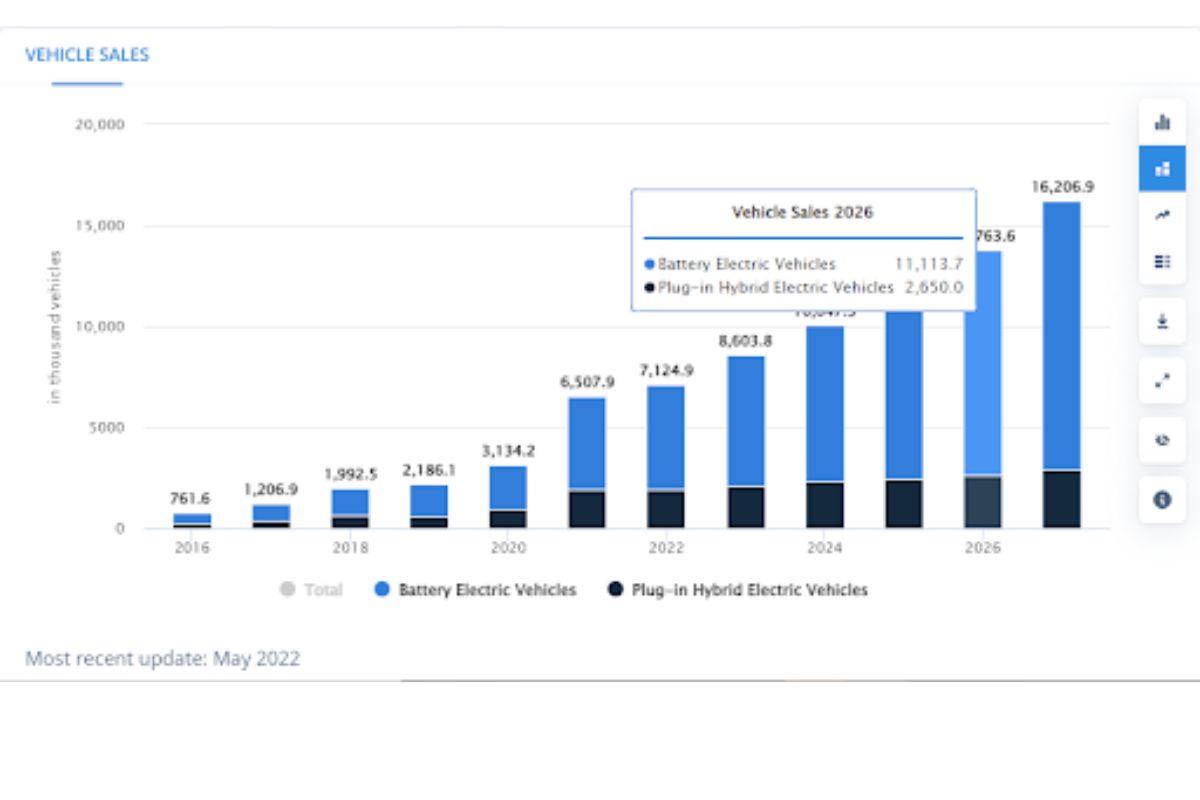 Source: Statista
Statistics about Electric Vehicle Industry
In 2022, the market for electric vehicles is anticipated to generate US$384 billion in revenue.

By 2027, the market is predicted to reach a value of US$869.30 billion, with revenue forecast to rise at a rate of 17.75% annually (CAGR 2022-2027).

In 2027, it's anticipated that the global market for electric vehicles will sell 16,206,9K automobiles.

In 2022, it is anticipated that the market for electric vehicles would have a volume-weighted average price of US$53.90k.

From a global standpoint, it is predicted that China would generate the most money (US$160,400,000,000 in 2022).

The global market for electric vehicles is anticipated to expand by 17.75% between 2022 and 2027, reaching a value of US$869.30 billion.
How is the Electric Vehicle industry Changing?
The industry is consolidating with the recent merger of Tesla and SolarCity. This is expected to create a vertically integrated company that can provide a complete solution for electric vehicles, including batteries, solar panels, and charging stations.
The industry is also seeing the entry of new players, such as Apple, Google, and Uber, who are all investing in electric vehicles. This is expected to bring new technologies and business models to the industry.
The electric vehicle industry is still in its early stages and there are many challenges that need to be addressed. These include the high cost of batteries, the lack of charging infrastructure, and the range anxiety. However, the industry is expected to grow rapidly in the coming years and these challenges will be addressed.
Government policies and regulations are expected to be the main drivers of growth in the electric vehicle industry. The industry is also being driven by the need to reduce emissions, improve fuel economy, and reduce dependence on foreign oil.
Consumer and Government Spending on Electric Vehicle Industry
Consumer Spending
Consumer spending on electric car purchases increased by 50% from 2019 to USD 120 billion in 2020, which translates to a 41% increase in sales and a 6% increase in average costs. The increase in average pricing is due to a greater percentage of new electric car registrations occurring in Europe, where prices are generally higher than in Asia. The average price of a BEV was around USD 40 000 and that of a PHEV was around USD 50 000 in 2020.
Government Spending
Governments throughout the world spent USD 14 billion, or 25% more than the previous year, on direct purchase incentives and tax discounts for electric vehicles in 2020. Despite this, the amount of money the government spends on EV incentives has been declining, from about 20% in 2015 to 10% in 2020.
The only region where government spending increased was in Europe, where several nations implemented incentive programs to stimulate the sale of electric cars in response to the pandemic's effects on the global economy. Government spending fell in China as incentive program eligibility standards became more stringent.
The implementation of price caps in Europe and China, i.e., the refusal of subsidies for automobiles with prices beyond a certain threshold, was a significant innovation in subsidy schemes.
Jobs and Employment in Electric Vehicle Industry
To support the industry expansion, it needs knowledgeable and qualified employees. The electric car business employs individuals from a variety of educational and professional backgrounds, including scientists who do research on electric drive technology, manufacturing workers who construct the vehicles, and automotive maintenance technicians who fix the vehicles. The majority of these jobs necessitate advanced education or practical experience in the creation and upkeep of electric vehicles.
In this section, some of the most popular positions in the electric vehicle industry are described. For each occupation, the job requirements and any necessary qualifications—such as education, training, certification, or licensing requirements stated. A candidate's competency in a skill or set of skills is demonstrated through certification, which is often obtained through work experience, education, passing a test, or any combination of the three. Individual states handle licensing, which often entails passing a test and meeting qualifying standards, including a minimum level of education, job experience, training, or having finished an internship, residency, or apprenticeship.
Source: iStock
According to a study by the Center for Entrepreneurship and Technology at the University of California, Berkeley, employment growth is anticipated in the majority of jobs in the electric car industry during the next several years. As the demand for batteries and charging stations rise, growth is anticipated in the manufacturing and household energy sectors. There will also be new kinds of jobs in the vehicle manufacturing industry. However, many of these positions will be filled by workers already employed in the sector or by people who have just lost their jobs due to industry downsizing.
What can you do to work in the Electric Vehicle industry?
The future of automotive is electric, and it needs highly-skilled engineering professionals to build efficiency. The PG Program in Electric Vehicle Design is designed in collaboration with industry experts and aims to help you build a high-growth career in the Electric Vehicle (EV) industry.
The goal of Great Learning's Postgraduate Program in Electric Vehicle Design is to give professionals like you the necessary knowledge and abilities to launch a lucrative career in the EV sector.
The electric vehicle course trains you to land new-age roles such as those of a Design Engineer, Graduate Engineer Trainee, MBD Engineer, Testing Engineer, Power Electronics Engineer, and many more. Through practical applications, case studies, and projects, it will increase your knowledge of pertinent EV design frameworks, tools, and technologies. To provide hands-on instruction in MATLAB and Simulink, it includes a variety of assignments that simulate both the entire electric vehicle and its various parts.
About the Electric Vehicle Design Course
The PG Program in Electric Vehicle Design spans over a period of 8 months and delivers a cutting-edge curriculum designed and developed by best-in-class industry experts. It offers a blend of online learning with live and recorded lectures, along with access to dedicated career support and rewarding job opportunities.
You can learn anywhere and anytime
Learn from live masterclasses by top industry leaders and online lab sessions every week,
along with 100+ hours of learning content.
Weekly online mentorship sessions from experts
Get assistance on projects and reinforce the concepts you learn through weekly mentorship sessions.
Networking with like-minded individuals
Interact with peers from diverse backgrounds and grow your professional network.
Dedicated program Support
Access dedicated support on your learning journey and resolve all your queries with help from a dedicated Program Manager.
Who can Join this EV Design Course?
The PG Program in Electric Vehicle Design is curated especially for learners who wish to
break into the EV industry with the latest skills and hands-on experience. This program is an ideal fit for you if you are:
Pursuing or have attained an engineering degree in electrical, electronics, mechanical, automobile, or related fields.
A fresh graduate or early-career professional looking to make an immediate impact in the EV industry.
Looking to build user-oriented, technology-driven vehicles to transform the future of mobility
How Online PGP in ELV can help you?
Upon completion of this program, you will be able to:
Have a comprehensive understanding of the technology that governs electric vehicles, their various individual components and overall working mechanism.

Perform system-level simulations of an entire EV using tools such as MATLAB and Simulink.

Design and simulate individual components, such as batteries, power converters, and motors, using industry-relevant tools and techniques.

Design, develop, and test software and hardware components for electric vehicles using C programming and knowledge of embedded systems.

Present yourself as an ideal candidate for various roles in leading EV and component supplier companies and automotive consulting firms.
What Job Roles can you get after completing an Online Post Graduate Program in Electric Vehicle Design?
Successful completion of the program will make you eligible for 12000+ job opportunities at leading automotive and component supplier companies. You can also work at various consulting firms and explore research-oriented roles at relevant research centers. Some of these companies include Ola Electric, Ather Energy, Hero Electric, Renault-Nissan, Mahindra Rise, Tata Elxsi, Tata Motors, Cyient, HCL, Capgemini, TCS, etc.
Some of the job roles you can access are:
Graduate Engineer Trainee

Design Engineer (PCB/Hardware Battery Systems/ADAS)

Embedded Systems Engineer

EV Design Engineer

Power Electronics Engineer

MBD Engineer

Simulation Engineer
Get a Certificate of Completion
This is an electric vehicle course with certificate. You will get a certificate of completion from Great Lakes Executive Learning for completing an Online Postgraduate Program in Electric Vehicle Design.
Conclusion
The online postgraduate program in electric vehicle design will be very helpful in providing the necessary skills and knowledge to design electric vehicles. The program will cover all the aspects of electric vehicle design, including the battery, motor, controller, and charger. It will also provide the students with the necessary skills to test and validate the design of electric vehicles. As the future of the automobile industry is electric, this program is a need of the hour for those who want to build their careers in the electric vehicle industry.