The all-new Grand Vitara is Maruti Suzuki's first serious attempt to break into the midsize SUV market, which is currently the most competitive in the country. Some may think it's too late for a new player to enter the market, but Maruti Suzuki doesn't listen to doubters and is at the forefront of the companies establishing this new normal.
In the midsize-SUV market, the competition has been fierce for some time, with many strong contenders. There's something unique about each one, whether it's the cabin's amenities, the vehicle's performance, or the way it feels to drive. The Grand Vitara, on the other hand, is a great deal for everyone. The SUV can be seen as a game-changer, a decisive element that swung the balance of power in its favour. It's conceivable that the Grand Vitara will be remembered as a game-changer in the annals of automotive history.
A market leader like Maruti Suzuki was the only one capable of democratising Strong Hybrid technology, and it is inspiring to see the company treat its leading position with the seriousness it deserves. The technology is tried and true, and it makes perfect sense for the Indian market; all it needed was a push in the right direction from the right people. To be sure, the Grand Vitara is more than capable of doing its primary function. With its Strong Hybrid technology, it not only surpasses the competition, but also dominates it where it matters most to consumers: in terms of the attributes they value most in a product of this type. The product group who created this should be quite pleased with how effectively it serves our market.
The Grand Vitara is available in no less than ten different trim levels, with prices ranging from Rs 10.45 lakh for the base model to Rs 19.49 lakh for the fully loaded hybrid-powered top trim. An all-electric crossover utility vehicle for less than 20 million rupees? Can you think of anything bad to say about it? But that's not all; there's also an all-wheel-drive (AWD) version, for those who must (or prefer to) venture where few have gone before.
With the Grand Vitara, you have a choice between two different gasoline-only models. The first is the tried-and-true K15C motor, which features a 1.5-liter naturally aspirated four-cylinder unit with mild-hybrid technology and can be had with your choice of a quick 5-speed manual or a smooth 6-speed automatic transmission. The ARAI fuel economy ratings are outstanding for both the 6AT (20.58 kpl) and the manual (21.11 kpl). The SUV's weight of around 1100 kilogrammes is easily handled by the engine's 102 horsepower and 13.97 kg of torque. There are a total of eight possible configurations with this engine, three with a 6-speed automatic transmission and five with a 5-speed manual transmission, plus one with Suzuki's AllGrip all-wheel-drive technology.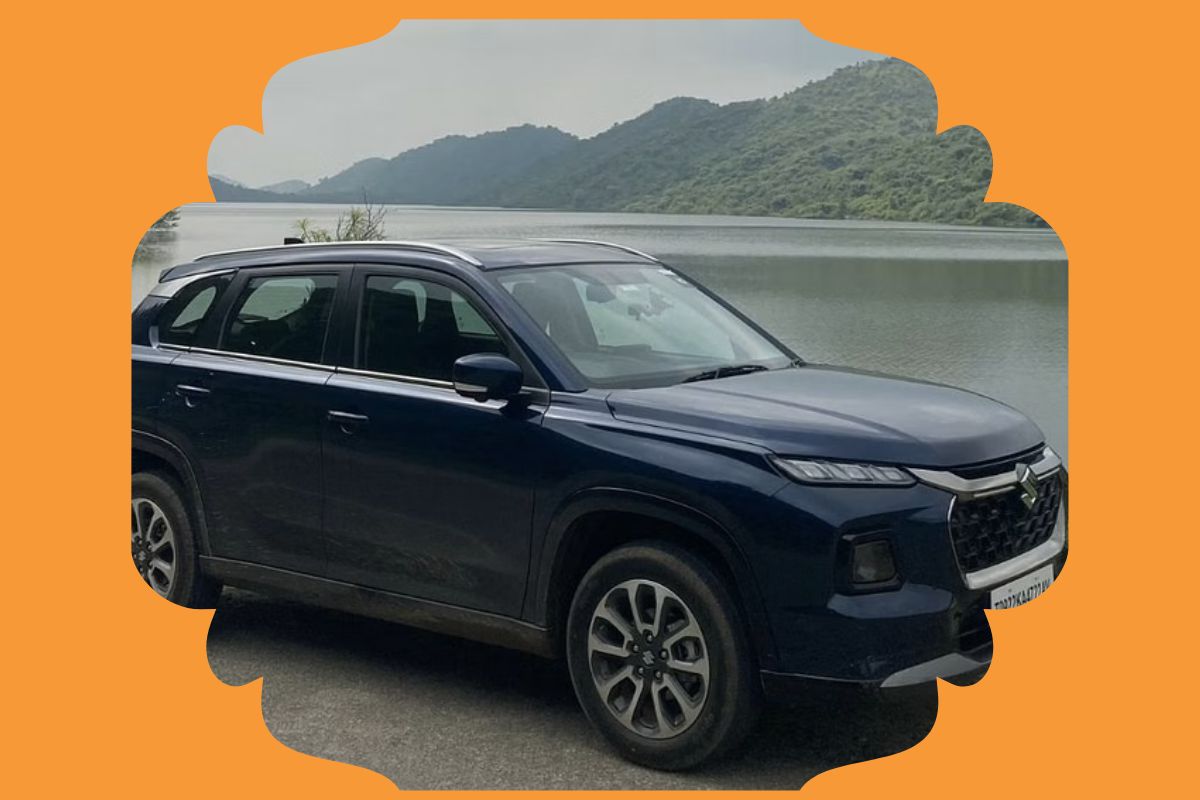 The other available powertrain is a complete hybrid that generates 114 horsepower by combining a 1.5-liter three-cylinder engine based on the Atkinson cycle (91 horsepower and 12.44 kilogrammes of torque) with an electric motor (79 horsepower and 14.37 kilogrammes of torque). The ARAI-verified fuel efficiency for this arrangement is impressive, coming in at 27.97 kpl. Both models labelled as Intelligent Electric Hybrid come standard with an e-CVT that strikes a nice mix between power and comfort.
The Maruti "Intelligent Electric Hybrid" offers a very addicting and noiseless driving experience. In full EV mode, you may listen to your music without the distracting hum of the engine. The system typically begins operation in full electric mode, with the engine starting solely to charge the battery as necessary. Moreover, the B mode provides more powerful braking assistance, allowing the batteries to be charged during deceleration.
On the features front, you get a panoramic sunroof, ventilated seats, a head-up display, and a 360-degree camera, among other creature pleasures. In addition to offering turn-by-turn navigation, caller data, and other useful features, the complete hybrid variants feature a sleek digital MID. A first for Maruti, the panoramic sunroof not only makes the inside feel more open and airy, but also adds a touch of luxury to the car's overall appearance.
The Grand Vitara comes equipped with numerous safety measures, including six airbags, standard anti-lock brakes (ABS), electronic stability programme (ESP) with hill start aid, and plenty of other essential hardware. The TECT platform is used by several Suzuki vehicles around the world. Seats with ventilation systems are a must in the sweltering heat of summer, and heads-up displays (HUDs) are quickly becoming a NEXA hallmark. The Grand Vitara exudes just the perfect amount of authority and athleticism to be instantly recognisable on the road; its big, vertical grille and the broad chrome plate that bears the larger-than-normal Suzuki logo are also hallmarks of this vehicle. Its taillights are undoubtedly the most eye-catching feature of the vehicle's appearance, and we predict that Instagrammers will soon start flooding your feed with nighttime photos taken with them.
Maruti Suzuki's SUV appeal in India has been boosted by improvements to the vehicle's suspension setup and driving qualities, both of which will be difficult for competitors to replicate. It rides smoothly over the bumps that our "average" roads throw at it, and its dependable handling will keep you interested in exploring its capabilities.
The AWD Grand Vitara is the only model in its class to provide all-wheel drive, and it lives up to its reputation as a smooth rider thanks to Suzuki's famed ALLGRIP technology. You can choose between Sport, Snow, and Lock modes, or leave it in Auto mode, which will handle almost any circumstance automatically. This midsize SUV has to be the best option for families looking for something that can handle the harsh stuff off-road.
Despite its tardy arrival, the Grand Vitara has arrived to completely change the game in typical Maruti Suzuki fashion. The Grand Vitara has been very well welcomed, especially the complete hybrid variants, as can be seen from the high booking and sales numbers. It's possible that the long-awaited hybrid revolution in the country has finally begun. Using Twenty20 terminology, this would be equivalent to Maruti Suzuki needing 24 runs to win in the final over, and then hitting four clean sixes to secure the victory.