Volvo C40 Price, images, Specs And auto Facts
The 2022 C40 Recharge is an updated version of Volvo's electric SUV, the XC40 Recharge, with a shorter roofline and improved styling. The standard all-wheel drive and 402 horsepower from its two electric motors are also shared with the XC40 Recharge.
Similarly to the XC40, this model's inside features innovative storage options, a cutting-edge infotainment system powered by Google Android, and comfortable, high seating. An estimated 225-miles-per-charge is possible thanks to a huge battery pack with 75 kWh of useful energy storage. The Audi Q4 e-Tron, Mercedes-Benz EQA, and Tesla Model Y are just some of the small premium EV SUVs that the C40 Recharge will have to compete with. The C40 Recharge will be sold solely through the Volvo online store, so don't look for it at your neighborhood Volvo dealer.
2023 Volvo C40 Recharge Pricing
MSRP for the base 2023 C40 Recharge SUV, the Core trim, is $55,300. Add $750 for delivery. The Plus model costs $56,850, while the C40 Recharge Ultimate costs $60,100.
The federal government offers a tax credit of up to $7,500 as a way to ease the financial burden. The California Clean Vehicle Rebate program offers a rebate of up to $2,000.
In addition, the Electrify America network provides free DC fast charging for a total of 250 kWh over three years.
There are other vehicles than the C40 Recharge that fill the market for luxury compact SUVs that are also all-electric and have a fastback design. A fully charged Audi Q4 e-Tron Sportback costs over $53k and can go 241 miles on a single charge. An all-wheel-drive Polestar 2 starts at roughly $53k and has a range of 260 miles.
The Genesis GV60 costs $59,00 but has a long range of 248 miles on a single charge and several convenient features as standard. The Jaguar I-Pace, which costs $71k and has a range of 234 miles, is even more expensive. The only vehicle on our list that doesn't qualify for the federal tax credit and the California rebate is the Tesla Model Y, which costs around $66K and has a range of 318 miles.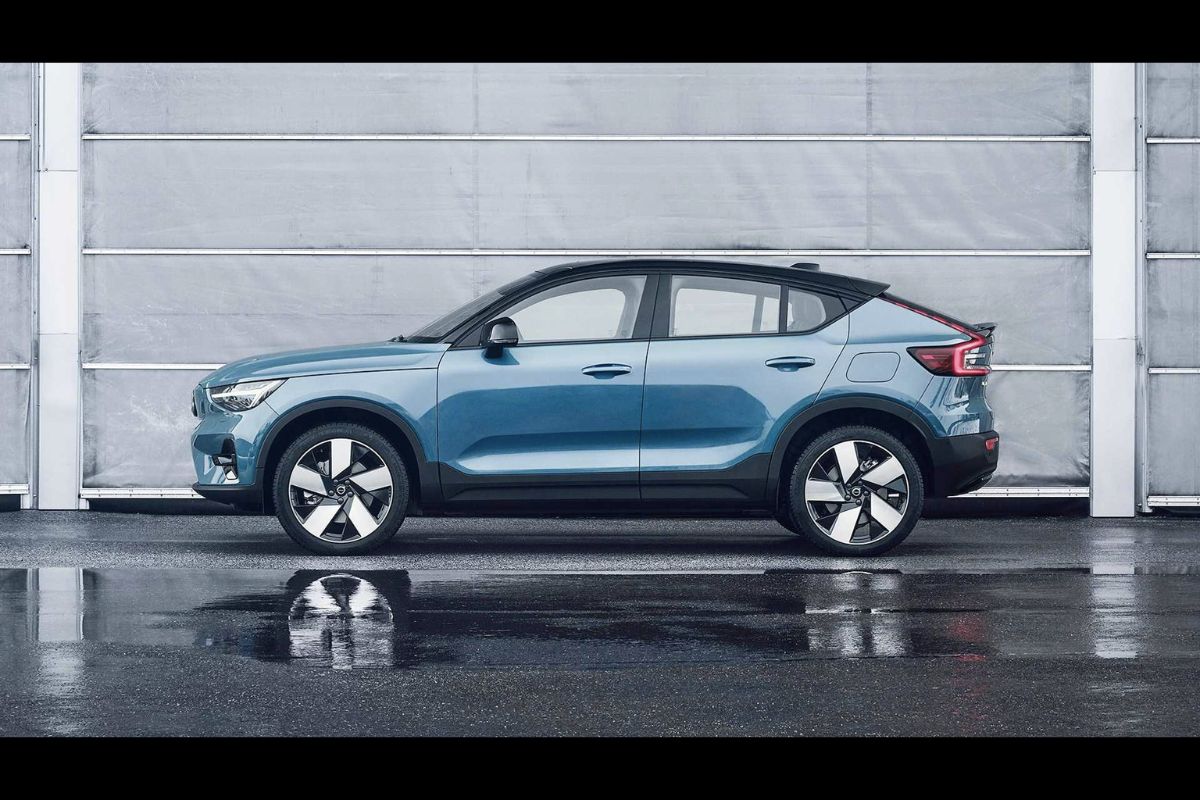 EV Motor, Power, and Performance
Two electric motors, one up front and one in the back, can provide up to 402 horsepower in every C40 Recharge model, and all-wheel drive is standard equipment. Volvo says the C40 Recharge can reach 60 mph in 4.7 seconds when equipped with this powerplant. It comes as no surprise that the C40 Recharge drives similarly to its squareback sister, as its powerplant is used by both the XC40 Recharge and the Polestar 2 electric car. The C40 Recharge performed similarly to the XC40 Recharge on our test track. Both cars reached 60 mph from a standstill in 4.3 seconds. It has a comfortable ride and calm handling, but it lacks the responsive steering and enthusiastic attitude that makes rivals like the Ford Mustang Mach-E so appealing.
Range, Charging, and Battery Life
Volvo estimates the C40 Recharge's range per charge at 225 miles thanks to a battery pack with 75 kWh of usable energy storage located under the vehicle's floor. All C40 Recharge variants will be able to make use of 150-kW DC fast charging, which is expected to give an 80% charge in just 40 minutes. It is also possible to connect the C40 Recharge to a 110-volt or 220-volt household outlet, albeit this would result in longer charging times.
Fuel Economy and Real-World MPGe
According to the EPA, the C40 Recharge achieves 94 city MPGe and 80 highway MPGe, which is somewhat better than the XC40 Recharge's 85 city MPGe and 72 highway MPGe ratings.
Interior, Comfort, and Cargo
The C40 Recharge's interior is virtually identical to that of the XC40. This includes a high driving position, plenty of storage space, a huge panoramic sunroof, and luxurious upholstery and trim. However, leather seats will not be an available upgrade. According to Volvo, the C40 Recharge is the first Volvo vehicle to exclude leather from its interior.
The C40 Recharge is distinguished further by its abstract geography map-inspired LED trim panels on the dashboard and doors. The C40's more pronounced rear roofline is only one distinguishing feature that sets it apart from the XC40. Cargo capacity is diminished little by the coupe-like rake, but drivers are more likely to be distracted by the substantially greater blind zones that this design choice produces.
Infotainment and Connectivity
All new Volvos come equipped with a touchscreen infotainment system that runs Volvo's most recent version of their Google Android-based infotainment system and is capable of getting software upgrades wirelessly. You can use Google Maps for directions, and the integrated Google Assistant lets you make requests with just your voice. Compared to Volvo's previous Sensus system, we've found the new interface to be more responsive; nonetheless, the on-screen buttons are smaller and more difficult to press safely while driving. As more apps are released, they can be found in the Google Play Store. Included also are digital gauges and a high-quality Harmon/Kardon sound system.
Specifications
2022 Volvo C40 Recharge Ultimate
Vehicle Type: front- and mid-motor, all-wheel-drive, 5-passenger, 4-door hatchback
PRICE
Base/As Tested: $59,845/$60,540
Options: Fjord Blue metallic paint, $695
POWERTRAIN
Front Motor: permanent-magnet synchronous AC, 201 hp, 243 lb-ft
Rear Motor: permanent-magnet synchronous AC, 201 hp, 243 lb-ft
Combined Power: 402 hp
Combined Torque: 486 lb-ft
Battery Pack: liquid-cooled lithium-ion, 75.0 kWh
Onboard Charger: 11.0 kW
Transmissions, F/R: direct-drives
CHASSIS
Suspension, F/R: struts/multilink
Brakes, F/R: 13.6-in vented disc/13.4-in disc
Tires: Pirelli Scorpion Zero All Season ELECT
F: 235/45R-20 100H M+S VOL
R: 255/40R-20 101H M+S VOL
DIMENSIONS
Wheelbase: 106.4 in
Length: 174.8 in
Width: 73.7 in
Height: 62.8 in
Passenger Volume: 96 ft3
Cargo Volume: 18 ft3
Curb Weight: 4763 lb
C/DTEST RESULTS
60 mph: 4.3 sec
100 mph: 10.8 sec
1/4-Mile: 12.9 sec @ 108 mph
The results above omit a 1-ft rollout of 0.3 sec.
Rolling Start, 5–60 mph: 4.4 sec
Top Gear, 30–50 mph: 1.6 sec
Top Gear, 50–70 mph: 2.3 sec
Top Speed (gov ltd): 115 mph
Braking, 70–0 mph: 178 ft
Braking, 100–0 mph: 359 ft
Road holding, 300-ft Skidpad: 0.82 g
C/DFUEL ECONOMY
75-mph Highway Range: 200 mi
EPA FUEL ECONOMY
Combined/City/Highway: 87/94/80 MPGe
Range: 226 mi