2023 Ford Ranger Raptor: These Are Our Favorite Features
Ford has finally confirmed that the Ranger Raptor will be sold in the United States for the 2023 model year, despite early rumours to the contrary. The performance truck will have a lot of power and a lot of cool features.
The Ranger Raptor is like the younger brother of the very capable and well-known Ford F-150 Raptor, which will have up to 700 horsepower by 2023. With a price tag of around $45,000, the Ranger Raptor might not be as extreme as the more expensive F-150, but that wouldn't make much sense, would it?
The Ranger Raptor's Power Plant
As of right now, the 2023 Ranger Raptor hasn't been fully released, so we don't know everything about it. Still, we do know that it will have a twin-turbocharged 3.0-litre V6 engine that makes 392 horsepower and 430 pound-feet of torque. Ford hasn't said how long it takes the Ranger Raptor to go from 0 to 60 mph, but it's likely to be much faster than its European predecessor, which took over 10 seconds and was powered by a weak 4-cylinder. The new Ranger Raptor will have the same engine and transmission as the Ford Bronco Raptor. It will have a 10-speed automatic transmission with different turbo boost profiles for each gear.
The Ranger Raptor also has a new anti-lag system that turns on when Baja mode is chosen. It keeps the turbos spinning for up to three seconds after the driver lets off the gas, so when the driver steps on the gas again, the boost starts right away. With an electronic exhaust system, you can choose from 4 different modes, each with a different sound.
The 2023 Ford Ranger Raptor Off-Road
The Ranger Raptor is equipped with a powerful engine and numerous Baja-style features, making it more than capable of venturing off the beaten path and up a treacherous hill. It has four-wheel drive and locking differentials at both ends as standard equipment, and it stands taller and has more ground clearance than the regular Ranger thanks to its larger, more aggressive tyres.
Ford has improved the new Raptor's ability to withstand tremendous force by strengthening the standard Ranger's C-pillar, shock tower, jounce bumper, and rear shock bracket. New generation Fox 2.5-inch Live Valve internal bypass shock absorbers, which adjust to real-time trail conditions and vehicle reactions, help the Ranger Raptor's lightweight aluminium control arms and long-travel suspension provide the best-possible settings at all times.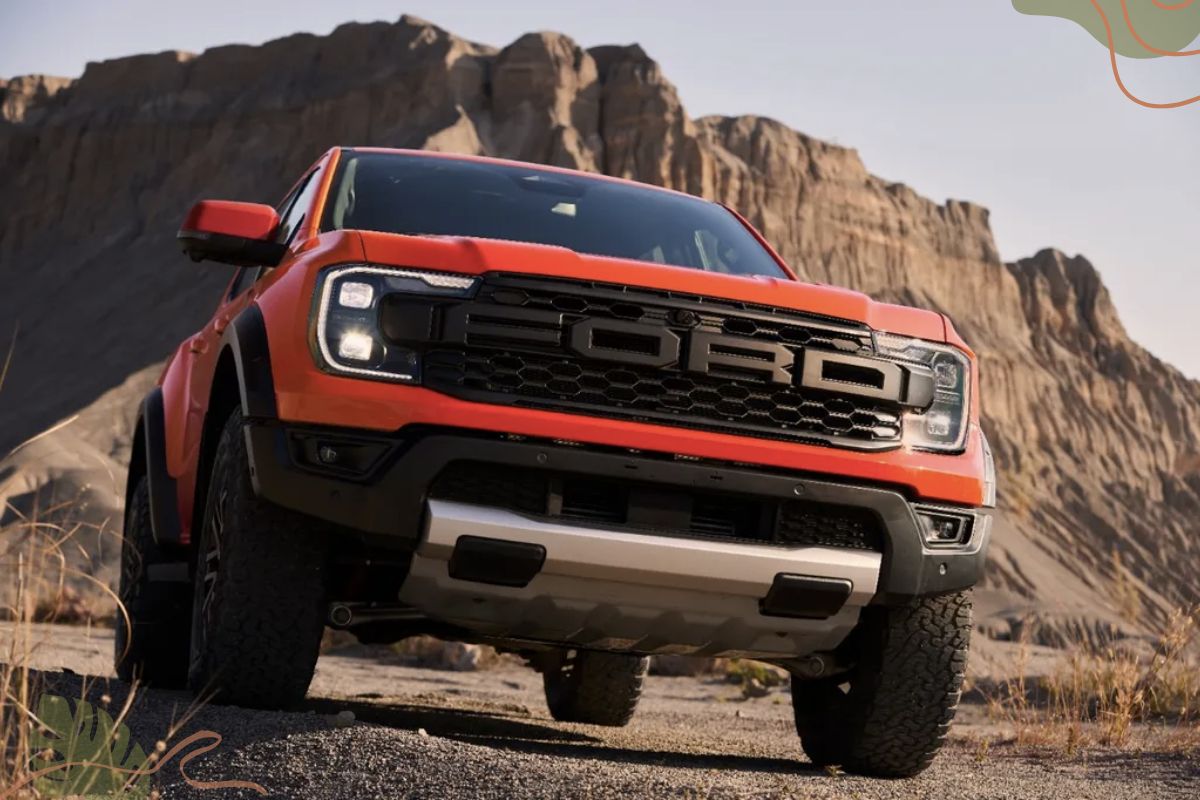 The electronic two-speed transfer case in the 2023 Ranger Raptor's four-wheel drive system is the system's crowning glory. Drivers can choose from 7 different driving modes, including 4 dedicated off-roading modes for rock crawling, sand, mud, and a Baja mode that prepares the Raptor for maximum off-road performance.
Read more:
The All-New Ranger Raptor Looks Rugged And Mean
Ford has done a masterful job of making the 2023 Ranger Raptor's exterior look as tough as it is. It has matrix LED wrap-around headlights, a thick high-strength steel bashplate, and the Raptor-exclusive F-O-R-D lettering on the grille up front. The Ranger Raptor has LED taillights, Raptor badging, a heavy-duty bumper up front, and flared fenders over 17-inch alloy wheels with functional air vents and aluminium side steps down the sides.
The interior of the Ranger Raptor is spacious enough for four adults thanks to its crew-cab layout, and the quality of construction is generally high despite the presence of hard plastics and rubbers in some areas. Heated front seats, dual-zone automatic climate control, a sports leather steering wheel, and cast-magnesium paddle shifters are just some of the many features available. There is also an ambient lighting system, a Bang & Olufsen sound system, and a 10-speaker system in the orange interior.
Ford's latest SYNC 4A entertainment system with Apple CarPlay and Android Auto is featured on a 12-inch portrait-mounted infotainment screen in the centre console, and a 12.4-inch customizable digital driver's display gives you access to all the information you need while behind the wheel.
The all-new 2023 Ford Ranger Raptor is, without a doubt, one of the most comprehensive midsize pickups ever made, and its designers and engineers have paid close attention to every detail. We anticipate the imminent release of the Ranger Raptor to be met with brisk demand.